Entertainment
These Behind-The-Scenes Stories From 'The Sandlot' Are Just As Wholesome As The Film Itself

Updated August 4, 2020
286.7k views
15 items
The Sandlot has been touted as a classic baseball film ever since its release in April 1993. Many of its dedicated fans can watch it again and again, and the film is often regarded as one of the most inspirational sports movies of all time. However, fans may be surprised to learn it wasn't a box office hit upon release. According to Box Office Mojo, the film earned $32.4 million during its theatrical run, making it the 50th biggest hit of the year. For perspective, some of the movies that outgrossed it, including Made in America, Sommersby, and Alive, have essentially faded into obscurity. The Sandlot was even bested in theaters by another kid-centered baseball comedy, Rookie of the Year, which earned $53 million that year.
Despite the film's middling theatrical performance, home video and cable TV have turned The Sandlot, directed by David Mickey Evans, into a beloved classic. The heartwarming comedy has found an appreciative audience over the years, and viewers' love for the story of a ragtag small-town baseball team continues to grow.
Given the film's outward charm, it's no surprise that there are plenty of fun stories from behind the scenes. Not only did the young stars all crush on a female co-star, they also got to meet an acting legend and braved both cold weather and a nauseating amusement park ride for the film. The end result was a family-friendly romp that continues to entertain audiences more than 25 years after its release.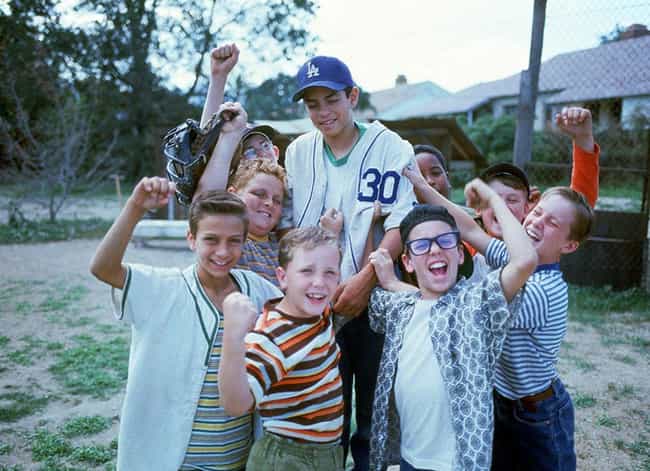 Squints Demanded A 'Playboy' In Exchange For Good Behavior
The Sandlot's director of photography, Anthony Richmond, told The Score that the young stars were "pretty much out of control" during the first week of filming. They didn't listen to director David Mickey Evans and didn't take the film seriously.
Richmond eventually gave the boys a heart-to-heart about acting professionally on a movie set. Chauncey Leopardi, who plays the bespectacled Squints, made Richmond a deal: The kids would behave if Richmond bought them the current issue of Playboy. According to Richmond, he bought one during their lunch break and "everything was fine after that."
Leopardi's own memory is slightly more hazy. "I've heard that story before," he said. "I honestly don't remember, but [it] probably [happened]. Bribery is always the quickest way to somebody's heart, right?"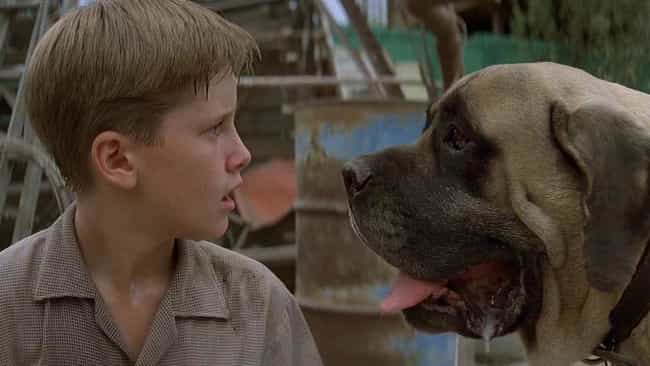 Baby Food Was Used To Get The Beast To Lick Smalls
The Sandlot features one very important non-human character: "the Beast," a large English Mastiff rumored to eat those who break into his owner's junkyard. Ultimately, we learn the Beast isn't actually that vicious at all. After Smalls (Tom Guiry) lifts a fallen fence off the dog, he is rewarded with multiple face licks.
In order to get the dog to lick Guiry, the production team smeared the young actor's face with baby food. Guiry said in an interview:
They put like a whole jar of Gerber baby food on the side of my face. So that scene where I'm looking to the side, the other half of me is just slathered in this baby goo. That dog had a field day on my face. I'm a dog-lover though, so it didn't really bother me.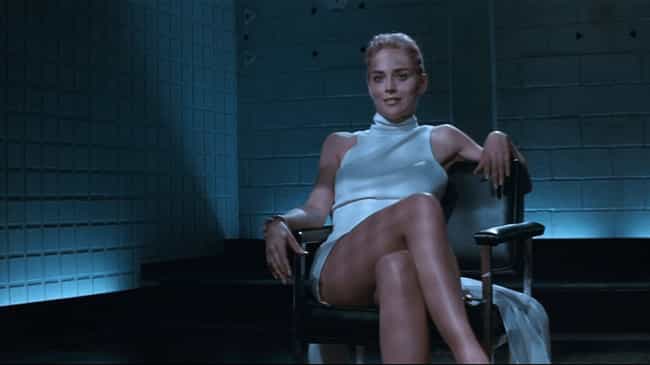 The Boys Snuck Into A Showing Of 'Basic Instinct' During Filming
Although The Sandlot's young stars were filming a major Hollywood motion picture, they were still normal boys - and like many preteens, they were tempted by the forbidden fruit of an R-rated movie.
During a 25th-anniversary cast reunion on ESPN, Marty York, who plays Yeah-Yeah, revealed that Guiry's older brother offered to sneak them into a showing of Basic Instinct. The 1992 film is infamous for its adults-only content, including the notoriously revealing interrogation scene with Sharon Stone.
The moviegoing excursion was quite memorable for the young actors. Victor DiMattia, who plays Timmy, described it as "a big moment for a 12-year-old."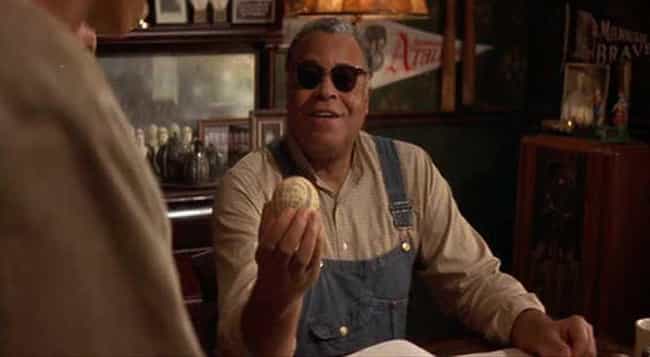 The Boys Were Entranced By 'Star Wars' Actor James Earl Jones
James Earl Jones has a brief supporting role in the film as former ballplayer Mr. Mertle. Although Jones has enjoyed a long and illustrious career, he is particularly beloved for voicing Darth Vader in the Star Wars saga. Because of this association, his presence on the set of The Sandlot was incredibly exciting for the film's young stars.
"When he showed up, we were like, '[Darth] Vader is here!'" Guiry related to an interviewer. "He was great, such a nice guy. It was incredible working with a legend and I'm so glad to have had the opportunity."
Shane Obedzinski, who plays Tommy "Repeat" Timmons, told The Sports Daily, "We all knew who he was, so there was that anticipation of meeting of Darth Vader... I believe he was only on set for a day, so we all had a moment where we got to meet him during the lunch hour before shooting."