Watchworthy
The Sitter Movie Quotes

Updated June 8, 2017
384 votes
296 voters
155.5k views
20 items
'The Sitter' movie quotes, with video clips, include some of the funniest lines from the 2011 Jonah Hill comedy. In 'The Sitter,' Hill plays Noah Griffith, a young man with very little ambition. He winds up agreeing to babysit three unruly kids, and hilarity ensues. Nearly all of the best quotes from 'The Sitter' movie include Noah, but some also include quips from his three young charges: Slater, Blithe and Rodrigo, the biggest troublemaker of all.
'The Sitter' is directed by David Gordon Green, who also directed 2008's 'The Pineapple Express.' 'The Sitter' stars Jonah Hill, but other big name cast members include Ari Graynor, Sam Rockwell and J.B. Smoove. The hellacious kids that Noah is forced to babysit are played by Max Records (Slater), Landry Bender (Blithe) and Kevin Hernandez (Rodrigo).
Noah really bites off way more than he can chew when he agrees to keep Mrs. Pedulla's children. The kids are little monsters, way more than Noah can handle. Things get even worse when Noah agrees to meet his girlfriend, Marisa (Graynor) at a party. He winds up being chased by two drug dealers bent on revenge, all while trying to keep the kids in line. Worst. Babysitter. Ever.
What are the best lines from 'The Sitter'? If you missed 'The Sitter' in theaters, you'll get another chance to see the film when it's released on DVD on March 20, 2012.
2011 was a big year for Jonah Hill. Not only did he star in 'The Sitter,' but his role in 'Moneyball' earned him an Academy Award nomination for Best Supporting Actor.
Looking for more funny movie quotes? Check out these lists for the best lines from
'New Year's Eve,'
'A Very Harold and Kumar Christmas,'
'Jack and Jill,'
'The Muppets,'
'Arthur Christmas'
'Crazy, Stupid, Love'
'Tower Heist,'
'Tower Heist,'
and '30 Minutes or Less.''
Data-driven recommendations based on voting from over 40 million monthly visits to Ranker.
Try the free app

Noah: "My name's Noah Jaybird. Ca caaa! What's your name?"
Soul Baby: "They call me Soul. Soul Baby."
Noah: "Soul Baby?"
Soul Baby: "Yeah."
Noah: "Keep it in control baby. Tears, no fears man."
Soul Baby: "Is that right?"
Noah: "Respect it, don't neglect it. Treat it, don't beat it." (Walks away)
Soul Baby: "You're a bada** motherf**ker."
Noah brings the kiddos to a bar and encounters Mr. Soul Baby. His attempts to fit in and be cool are cringe-worthy, to say the least. Noah Jaybird is just looking to get his a** kicked. Fortunately for him, Soul Baby seems to like him.
Should this be higher or lower?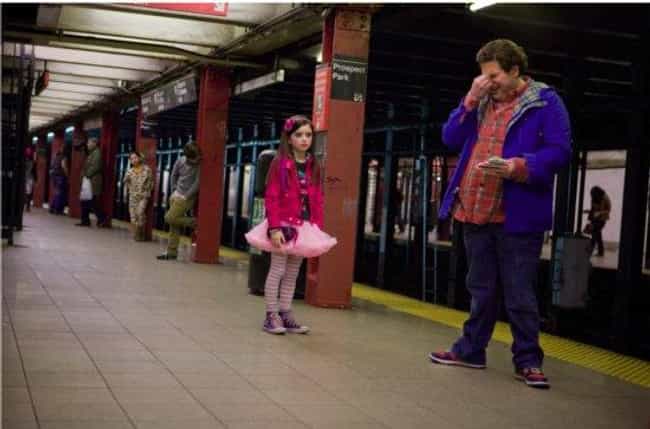 Noah: "What is your deal? Why are you wearing so much makeup?"
Blithe (singing along with the radio): "Lookin' all fly on my way to the club, gonna dance all night, and get f**ked up!' Say whatever you want, I know I look good."
Blithe has got to be one of the most obnoxious children ever. Forget her brother's GPS, she's going to need to be locked UP by the time she's 13.
Should this be higher or lower?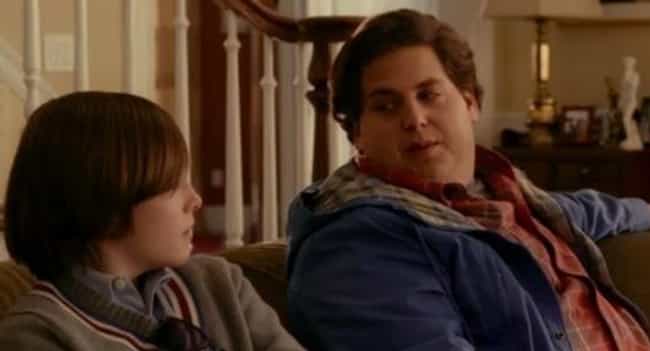 Noah (to Slater): "What's up little tampon?"
Another great quote from Jonah Hill/Noah from 'The Sitter.' I wouldn't recommend this particular nickname for the kiddo if you're babysitting, though. Not unless you never want to do it again.
Should this be higher or lower?

Blithe: "My real babysitter, Nancy, she does what I want her to do."
Noah: "I'm not a real babysitter. I'm more of a sit on the couch, do what I say or I'll kill you type of babysitter."
(Blithe sprays Noah)
Noah: "Ah, you sprayed perfume in my mouth!"
Blithe: "I hate you."
Noah: "I'll destroy you."
(Blithe sprays Noah, again)
Noah: "Ahhh you did it again!!!"
How hard can babysitting be? That's probably what Noah was thinking when he agreed to do it. Not the most glamorous of jobs, particularly for a young guy, but hey, you earn what you can how you can. Unfortunately for Noah, all three of his charges wind up being monstrous little creatures, including sweet-looking little girl Blithe (who enjoys using perfume like pepper spray, apparently).
Should this be higher or lower?