Watchworthy
The Three Stooges Movie Quotes

Updated October 13, 2018
69 votes
36 voters
20.4k views
8 items
'The Three Stooges' movie quotes feature some of the most memorable lines from this long-awaited comedy film directed by the Farrelly brothers. In 'The Three Stooges,' Moe Howard (Chris Diamantopoulos), Larry Fine ( Sean Hayes) and Curly Howard (Will Sasso) attempt to stumble and bumble their way into saving the orphanage where they grew up. Not surprisingly, this movie is filled with funny quotes, so be sure to vote up your favorites (and vote down those knucklehead lines you just can't stand). Have a favorite 'Three Stooges' movie quote that isn't listed? Add it!
Peter and Bobby Farrelly first began developing their 'Three Stooges' movie project a decade ago. After much work, and a lot of casting rumors (everyone from Jim Carrey to Sean Penn was supposedly attached to the film at one point), 'The Three Stooges' is finally hitting theaters. This is not a biopic: 'The Three Stooges' film is much like the old TV episodes, following the (mis)adventures of Larry, Curly and Moe as they try to save their old orphanage and somehow wind up smack in the middle of a murder plot (and as stars of a reality TV show).
'The Three Stooges' features an all-star cast, including Sofia Vergara, Jane Lynch, Jennifer Hudson, Kate Upton and Larry David and several other celebrity cameos (yes, including the stars of 'The Jersey Shore').
Data-driven recommendations based on voting from over 40 million monthly visits to Ranker.
Try the free app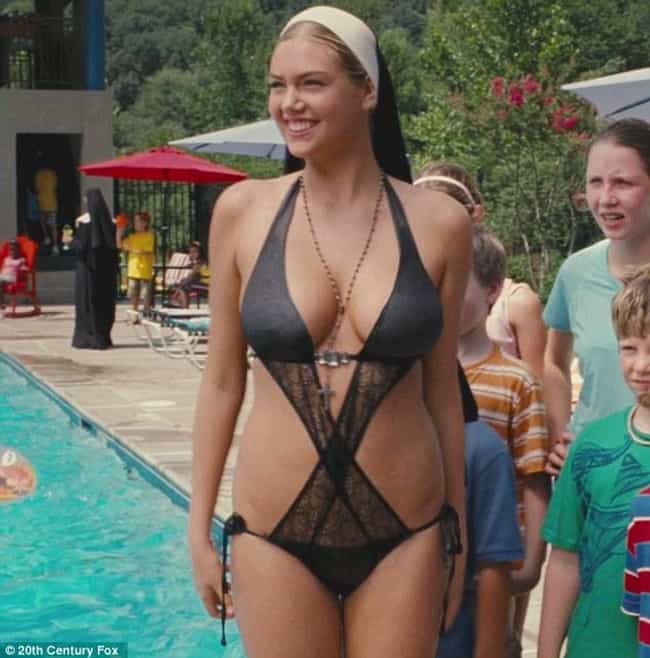 Sister Bernice (steps from pool in a skimpy swimsuit and wearing her nun's habit): "Hey guys!"
Curly: "Oh hiya Sister Bernice. There's something different about you. Did you get a haircut?"
Oh, Sister Bernice, why do you have to be so hot? In case you don't recognize her (and you should), Sister Bernice is played by 'Sports Illustrated' 2012 swimsuit cover model Kate Upton.
Should this be higher or lower?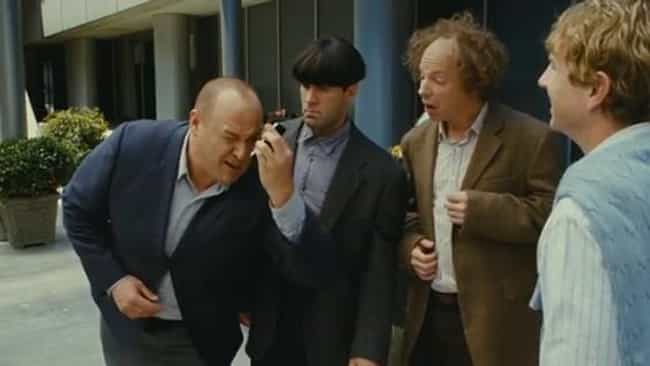 Moe: "What is that gadget?"
Guy on Street: "This is an iPhone."
Curly: "iPhone?" (grabs the phone, puts it to his eye) "Hello? Hello?! There's nobody there..."
Moe, Larry and Curly aren't exactly familiar with today's modern gadgets. Not at all.
Should this be higher or lower?

Larry: "Is that Sister Mary-Mengele?"
Curly: "I don't know, but the face rings a bell." (Said as a giant bell, knocked off by the Stooges, squashes Sister Mary-Mengele)
Look closely: Do you recognize Sister Mary-Mengele? It's Larry David! And he's about to get clocked by a ginormous bell! Nyuk-nyuk.
Should this be higher or lower?

Moe: "Hiya Snook. I got you a present."
Snooki: "Really?!"
Moe: "Yeah, go on, open it." (as Snooki opens the box, Moe pokes her eyes)
Snooki: "Owwwwww!"
The Farrelly brothers always manage to pack their movies with tons of celebrity cameos, and 'The Three Stooges' is no exception. In this case, the 'Jersey Shore' kids make an appearance, and Snooki gets what's coming to her.
Should this be higher or lower?