Historical Entertainment
This Virginia Town's Massive Single-Day Loss During WWII Inspired 'Saving Private Ryan'

The small town of Bedford, VA, suffered greater losses than any other single location in the United States on D-Day. On June 6, 1944, out of the 30 men from Bedford who stormed the beaches of Normandy, 19 died.
A handful more perished in the days following. The Bedford Boys served as the inspiration for Saving Private Ryan, but this unique group had its own distinct story. In the midst of the heroism and horror of World War II, the brave men from Bedford represented the patriotism and courage of thousands.
The Men From Bedford Were Part Of Company A, One Of The First To Land On Omaha Beach
The 30 Bedford Boys were among the first soldiers to set foot on the beaches of Normandy. They loaded onto seven ships on the morning of June 6, 1944, and 19 perished that day. Their families didn't know their husbands, brothers, and sons were part of the D-Day landing, but a month later, notifications arrived.
Western Union operator Elizabeth Teass received numerous telegrams requiring delivery and verification. She recalled:
Mr. Frank Thomas, an employee of the drug store, usually delivered telegrams in town, so he took some. But some of the families lived outside [of] town. Mr. Carder, the undertaker, delivered one of these. Sheriff Jim Marshall took one, and so did Doctor Rucker.

Then Mr. Roy Israel, who operated the town taxi service, told me not to hand out any more, that he would deliver the rest. Each telegram that was delivered had to have a verification of delivery slip come back. Bedford was one quiet little town. Everyone's heart was broken.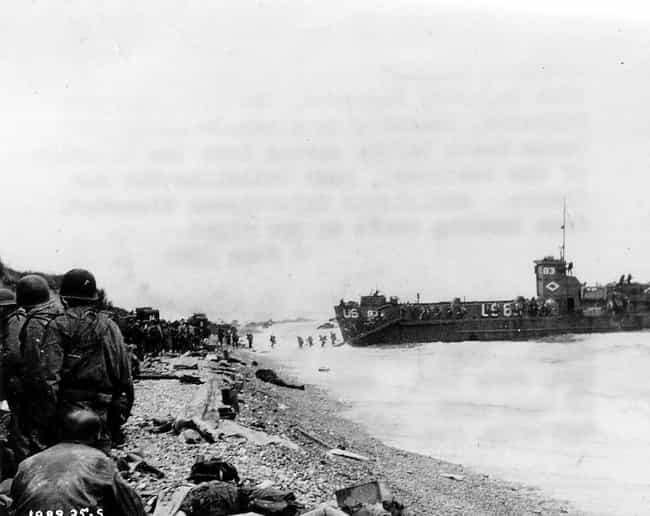 Twin Brothers Roy And Ray Stevens Stormed The Beach - And Only One Survived
Roy Stevens's daughter remembered, "Ray wanted to shake hands with [his brother], and Pop wouldn't because he said, 'I'm going to see you when we get to Normandy,' and 'course, Ray didn't make it, he was one of the first ones out."
Roy Stevens felt haunted by this memory throughout his life. As he and his brother boarded separate crafts on D-Day, Ray offered to shake his brother's hand. All of the men from Bedford were doing the same, wishing each other luck.
Roy refused, telling his twin, "I'll shake your hand in Vierville-sur-Mer up at the crossroads above the beach, later this morning sometime."
Ray replied that he wasn't going to make it, but Roy still refused. He felt determined to shake his brother's hand on the other side of the battle.
Roy heard about his brother's demise three days later from a medic. Struck in the stomach by enemy fire, Ray passed on the shore.
Brothers Bedford And Raymond Hoback Perished During The D-Day Invasion
Bedford and Raymond Hoback were on the same craft. When they got to shore, machine guns shot them down quickly. They perished alongside their commander, Capt. Taylor Fellers, and the rest of the men aboard the ship.
According to their sister Lucille Boggess, who was 14 years old at the time, their parents never recovered from the loss of her brothers, Bedford and Raymond. Boggess recollected how her family received the news: "We were getting ready to go to church on Sunday, and the sheriff brought the first telegram. The second telegram was delivered by a cab driver."
Raymond's remains were never found, though his Bible made its way back to the family, thanks to a soldier who found it on Omaha Beach. Bedford's exhumed body returned to Virginia for burial. Years later, after their mother suffered a stroke, Boggess recalled "sitting around in the living room at night, and she'd be sitting on the sofa, and she'd say, 'Where are my boys?'"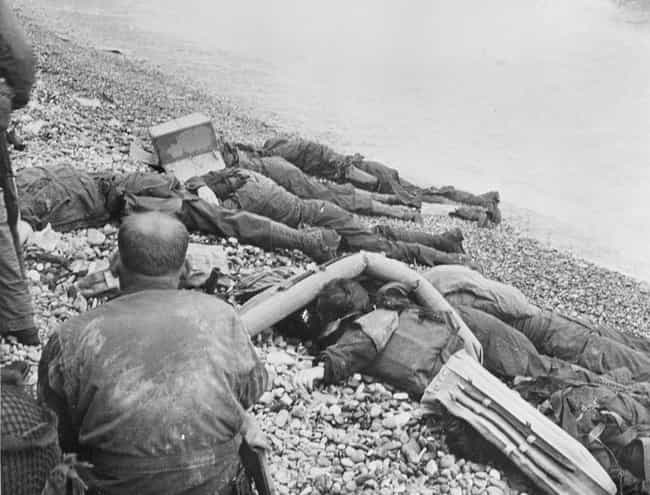 Ray Nance Remembered How Little Cover His Company Had When They Landed On Omaha Beach
When Lieutenant Ray Nance set foot in France, he saw an eerie sight:
There was a pall of dust and smoke. In the distance, I could see the church steeple we were supposed to guide on. I waded out of the water up on the beach. I could not see anybody in front of me. I looked behind, and there's nobody following me. I was alone in France.
As he crawled along the beach, someone shot him in the foot and hand. Under continuous fire, Nance was giving up hope. He looked to the sky, but saw no air support. Nance eventually found shelter beneath a cliff, but he was one of the lucky Bedford Boys.