Culture
The Very Best Tweets by Fake Will Ferrells

Will Ferrell's Twitter is fake. Will Ferrell's fake Twitter account, though, is written by some random people who have (correctly) assumed that attaching his name to their jokes would make them popular. You see these posted on Facebook, Twitter, Tumblr, Reddit and more, and they always seem like something a little more juvenile, sophomoric and pedestrian than Will Ferrell would do. Will Ferrell's done a lot of ridiculous things in his career, but none of them have ever stooped to the mid-level jokes you see on these Twitter accounts.
DISCLAIMER: As of the publishing of this list, Will Ferrell does not have a Twitter account.
There are, though, a bunch of fake Will Ferrell Twitter accounts which seem to tweet out some tired, old and sometimes insightful and hilarious jokes. These jokes, then, go viral as most people seem to think they're being written and then tweeted by none other than Will Ferrell himself.
So, in order to correct the entire internet on a grand scale, the following is the very best of a few fake Twitter accounts that seem to go viral every few weeks. If you've seen these and laughed, then thought "Will Ferrell has a hilarious Twitter account", then you are wrong.
Now, a lot of these are pretty damn funny. But they're not Will Ferrell. And this is the point. So enjoy the very best tweets from fake Will Ferrell Twitter accounts. Are these the best tweets from the many fake Will Ferrell's on Twitter? We'd like to think so.
What are the best tweets by fake Will Ferrell? Take a look here and see for yourself.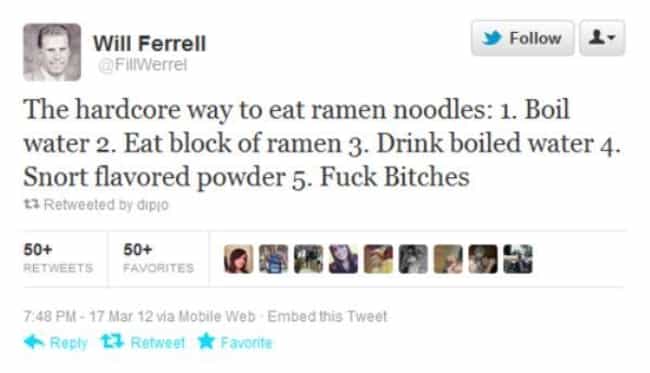 Uploaded with
ImageShack.us