Entertainment
The Walk Movie Quotes

37 votes
30 voters
10k views
10 items
The Walk movie quotes tell the true story of tight rope walker Philippe Petit's walk between the Twin Towers in 1974. The 3D biographical drama was adapted into a screenplay by director Robert Zemeckis and Christopher Browne based off of the book Petit write titled To Reach the Clouds. The Walk opened in theaters on September 30, 2015.
In The Walk, French high wire artist Philippe Petit (Joseph Gordon-Levitt) sees a newspaper clipping discussing the new Twin Towers of the World Trade Center in New York City and sees an opportunity. As he explains to love interest Annie Allix (Charlotte Le Bon), his dream in life is to string a wire between the buildings and walk across it.
So Philippe heads to New York where he assembles a team (including Ben Kingsley, James Badge Dale, Ben Schwartz and Steve Valentine) to help him make this dream a reality. But it's not just as simple as stringing a wire and walking across it. Philippe must deal with the logistics, the legalities and his own hesitations of doing something so dangerous--and potentially deadly--if he wants to succeed.
The Walk
lights up theaters already showing a number of other great films such as
The Martian
,
The Intern
,
Hotel Transylvania 2
,
Everest
,
Black Mass
.
If This is Your Dream, You Must Do It
Philippe Petit: Two magnificent towers, 100 meters taller than the Eiffel Tower itself. What do you think?
Annie Allix: I don't know, it looks so, so...
Philippe Petit: Beautiful
Annie Allix: Beautiful, yes, and dangerous and completely insane and you're a mad man.
Philippe Petit: Yes, I am mad but this, this is my dream.
Annie Allix: Then if this is your dream, you must do it.
Philippe Petit: But even if everybody tells me I'm mad?
Annie Allix: Well, you shouldn't care about what other people think.
Philippe Petit: Okay, but I care about what you think.
Seeing the World Trade Centers in a magazine inspires Philippe to set his sights, and his walks, higher than ever before. Love interest Annie thinks he is crazy, but also urges him to follow his heart to achieve his dreams.
Should this be higher or lower?
Customs Agent: Welcome to New York. Anything to declare?
Philippe Petit: I'm going to hang a high wire between the two towers of the World Trade Center and walk on it.
Customs Agent: Huh? Good luck!
Upon arriving in New York, Philippe meets a customs agent and shares his ambitious plan. The agent blows it off but nothing about Philippe says he is kidding.
Should this be higher or lower?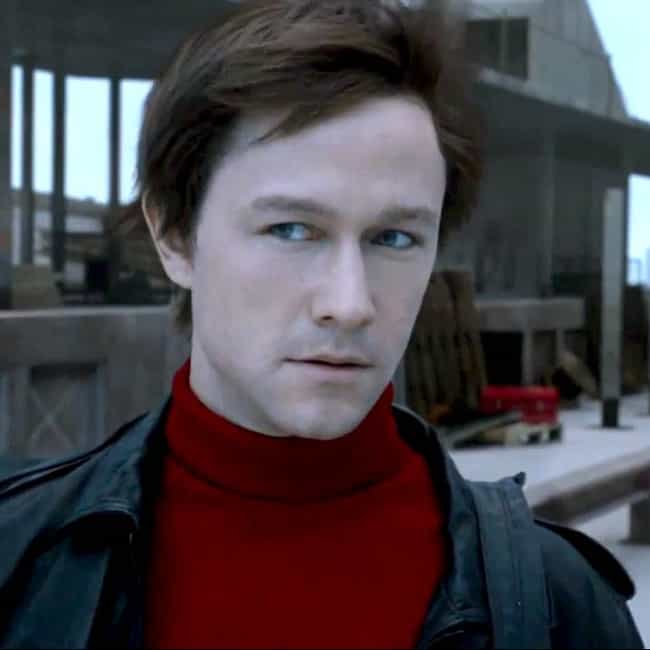 Papa Rudy: You're going to wear a safety belt underneath your costume attached to a safety line.
Philippe Petit: I am not going to do this walk with a safety line hanging off of me.
Papa Rudy: From that height it will be invisible. No one will know or have any idea.
Philippe Petit: Years ago you told me something I always remember. You said, "You cannot lie on stage. The audience will always know what is in your heart."
When Papa Rudy urges Philippe to wear a safety wire during the dangerous walk, Philippe brushes off the idea. Using Papa Rudy's own advice, Philippe reminds Rudy his duty to be true to his audience.

Should this be higher or lower?
The Perfect Place to Hang My Wire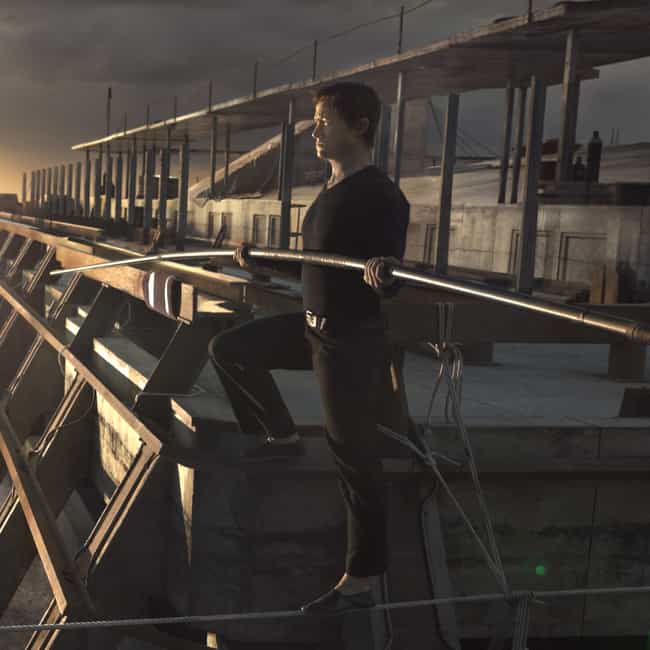 Philippe Petit: No matter where I was going or what I was doing, I was always searching, looking for the perfect place to hang my wire.
Philippe explains how he approaches life differently than most people. He was always looking at situations with the question of where he could hang his wire. With the World Trade Centers, finally he found that perfect place.

Should this be higher or lower?