Total Nerd
Behind The Scenes Of 'The Wolf of Wall Street'

Martin Scorsese's The Wolf of Wall Street - starring Leonardo DiCaprio, Jonah Hill, and Margot Robbie in her breakout performance - was peppered with depictions of debauchery, avarice, and substance abuse, placing it squarely in the middle of controversy. But its memorable scenes soon became iconic and earned the movie a permanent place in pop culture. While the production wasn't quite as raucous as the actual events depicted, the cast definitely left the set with some wild stories to tell. Jonah Hill swallowed fish pee, Leonardo DiCaprio had a popular lubricant repeatedly hurled at his face, and one of the film's production companies was involved in an illegal money laundering scheme involving Malaysian funds.
Some content was so intense in The Wolf of Wall Street, consultants stood by and reviewed footage in an effort to keep the movie within its R-rating requirements. If you have to call in professionals to censor you in real time, whatever you're creating must be so wild that some fascinating on-set stories are bound to come to light. That's just what happened among the cast and crew of The Wolf of Wall Street.
Margot Robbie Landed The Role By Slapping Leonardo DiCaprio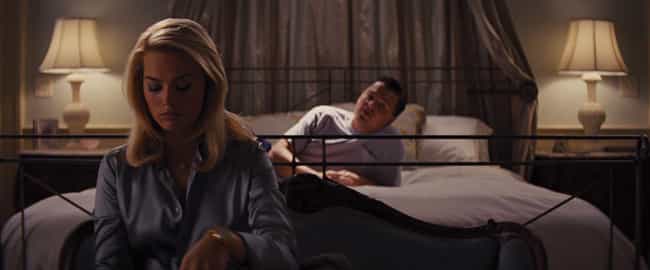 Feeling the need to slap Leonardo DiCaprio might not be everyone's first instinct. But when Margot Robbie did it, one can hardly blame her; after all, it's what landed her a career-changing role in The Wolf of Wall Street. During her audition, she unexpectedly slapped DiCaprio across the face - a slap that was not in the script. Director Martin Scorsese said the improvised move was a major part of why Robbie's performance was so well-received.
Robbie described the thoughts that went through her head during the audition. She was nervous, but knew she only had once chance to impress the casting directors:
And he ends it saying, "You should be happy to have a husband like me. Now get over here and kiss me." So I walk up really close to his face and then I'm like, "Maybe I should kiss him. When else am I ever going to get a chance to kiss Leo DiCaprio, ever?" But another part of my brain clicks and I just... hit him in the face. And then I scream, "F*ck you!" And that's not in the script at all. The room just went... silent and I froze.
A Goldfish Peed In Jonah Hill's Mouth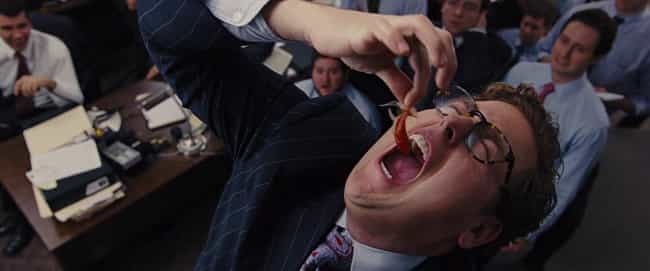 Jonah Hill revealed that during filming, he briefly held a goldfish in his mouth, and the goldfish more or less returned the unpleasant favor. For a scene in which his character, Donnie Azoff, swallows a goldfish whole, Hill placed a real fish in his mouth for about three seconds. That's the maximum time allowed, as animal rights laws wouldn't allow Hill to swallow it.
During Hill's first take with the goldfish, it peed in his mouth - or at least he "[hopes] it was pee." Hill said he was inspired to go all out because everyone else was so dedicated to their characters.
Hill Did So Much Fake Coke, He Had To Be Hospitalized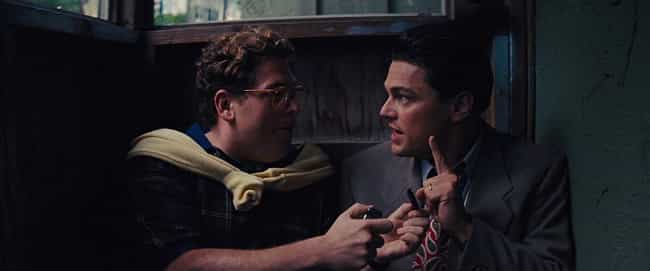 The prop coke used throughout The Wolf of Wall Street consisted of vitamin D, which Hill says gives you a different kind of high. Eventually, the sheer volume got the best of him:
It's vitamin powder, but it doesn't matter because if you ingest... that much matter into your lungs, you will get very sick. And we were just literally doing fake coke for, like seven months every day.
He snorted so much, in fact, that he got bronchitis for several weeks and had to be hospitalized. The sheer amount of the substance in his lungs is what made him ill. But before he got sick, Hill said the prop coke made him feel powerful: "I think I could've lifted a car over my f*cking head."
Jon Bernthal Punched Jonah Hill In The Face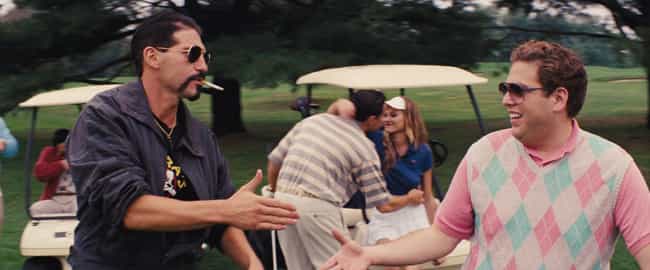 During the film, Jon Bernthal and Hill have a scene together in which their characters are at each other's throats, and Brad Bodnick (Bernthal) ends up delivering a right hook on Donnie Azoff (Hill).
After several attempts to get the moment right, director Martin Scorsese thought their physical altercation looked fake, so he asked Bernthal to actually deliver a punch. Hill was speechless, and looked to DiCaprio for guidance, but in the end Bernthal did end up striking him. Hill says that despite the fear, it ended up being "one of my favorite scenes I've ever acted in."