Music
Everything Taylor Swift Has Been Accused Of Ripping Off From Other Artists

Believe it or not, it's been over a decade since Taylor Swift launched her career with the hit "Tim McGraw" on June 19, 2006. She has since risen to superstardom, mostly with songs she's written or co-written - but does Taylor Swift rip off other artists? There are many who would say the answer is yes.
When you look at everything Swift has been accused of ripping off, it includes some instances of making videos that may or may not steal from other videos. People have analyzed her videos for "Look What You Made Me Do" and "Delicate," and the internet has concluded Swift's ideas and images were originally found elsewhere.
Swift has been accused of stealing things over than video vibes, like artwork posted on social media, and lyrics for her smash hit "Shake It Off." Some accusations have more merit than others (just like some of the things she's allegedly ruined have more merit than others), but you can judge for yourself.
Her 'Delicate' Video Reminds People Of Spike Jonze's Kenzo Ad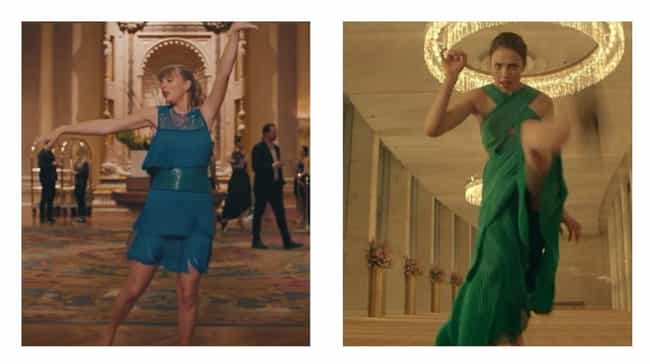 Swift's video for the song "Delicate" features a lot of footage of her dancing in a hotel lobby, and some people felt like it looked a bit familiar. That includes the people at Kenzo, who think the video is a lot like their 2016 Spike Jonze-directed perfume ad that also features a woman dancing in a hotel lobby. The ad, starring actress Margaret Qualley, drew high praise when it came out, so it's likely Swift would have been aware of it. Of Swift's video, one fashion expert said, "Listen Tay, I feel you. It's hard to stay fresh. Call us, we can help."
Her Dancing in 'Delicate' Is Like Maddie Ziegler's Moves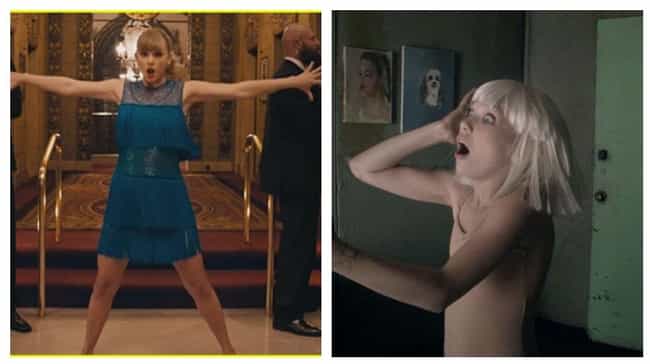 When Swift performs her dramatic dance moves in the "Delicate" video, many people were impressed. Others, however, thought she was borrowing those moves from a younger artist. In this case, it's Maddie Ziegler, the teen dancer who dazzled viewers in the video for Sia's "Chandelier." One Twitter user wrote, "Y'all know I LOVE Taylor Swift but that music video felt like a failed Sia audition... painful."
But Swiftys came to her defense, with one saying "Basically, Taylor didn't copy Sia's work... She just did some contemporary. That's all."
'Delicate' Was Also Called A Ripoff Of Fatboy Slim's 'Weapon of Choice'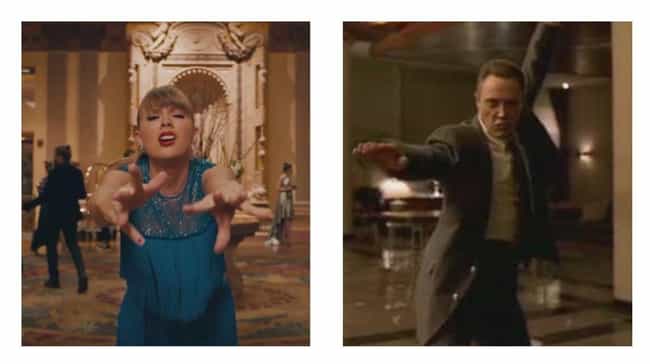 Besides the Kenzo perfume ad, many people thought Swift's "Delicate" video also ripped off another dance clip from director Spike Jonze. In this case, it's the video for Fatboy Slim's "Weapon Of Choice," which features Christopher Walken dancing in a hotel lobby and eventually flying to the ceiling.
However, Jonze's own Kenzo ad already seemed to borrow from the Fatboy Slim video, which some thought nullified any accusations against Swfit. As People magazine's Kate Coyne said, "Dejected people suddenly dancing in a hotel was already mastered by Christopher Walken in the Jonze-directed "Weapon of Choice" video. Jonze already ripped himself off."
'Look What You Made Me Do' Was Accused Of Ripping Off Beyonce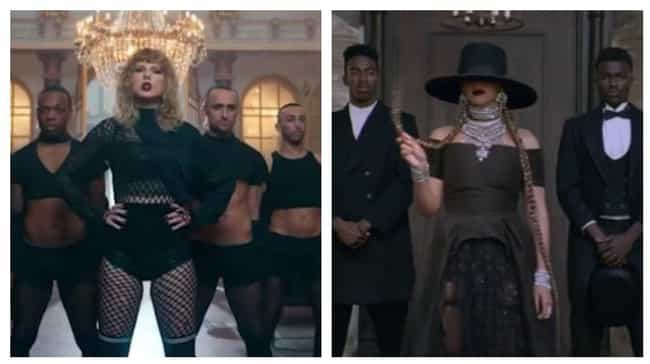 When Swift put out her video for "Look What You Made Me Do," her new tough girl attitude made folks raise their eyebrows. The video raised even more eyebrows when people noticed some similarities to Beyonce's "Formation," like when Taylor strikes an intimidating pose in front of a group of male dancers all clad in black.
One Twitter user compared the two videos, saying they were "Lemonade and Minute Maid." However, others defended Swift, with one saying, "I'm not one to come to the defense of Taylor Swift, but Beyonce does not own the rights to wearing a black leotard."
The director of Swift's video, Joseph Kahn, took to Twitter to defend the video, saying there is no real comparison. Kahn has worked with Beyonce on several occasions and said "The #LWYMMDvideo is not in her art space. Love and respect to Bey."