Celebrities
Weirdly Charming And Bizarre Things Most People Don't Know About Helena Bonham Carter

You may know her as Bellatrix Lestrange, the Red Queen, or perhaps as Marla Singer. But one thing is certain, you know Helena Bonham Carter. Whether it was in Fight Club or Harry Potter, the gothic queen has burrowed a permanent place in the minds of audiences everywhere. Between her uniqueness and raw talent, she has remained one of the best actresses in Hollywood who takes on some of the most peculiar roles.
While you may know that the performer is nothing short of eccentric, there are still some charming facts about Helena Bonham Carter that may have flown under your radar. Here are some charming stories and factoids about Helena Bonham Carter that will give you a little insight in the wonderful and weird life of this Hollywood icon.
She Was Awarded The Commander Of The Order Of The British Empire
Helena Bonham Carter has not only been acclaimed and awarded within the film community, she also received the Commander of the Order of the British Empire from Queen Elizabeth II. Carter dedicated the CBE to her late father. The award isn't primarily given to performers, but as with all things, Helena Bonham Carter is an exception.
She received the award in 2012. Queen Elizabeth II apparently was a fan of the actress' portrayal of her mother in the film The King's Speech.
She Used Baking To Help Her Vocal Lessons
In Sweeney Todd, Helena Bonham Carter was forced to sing for a large portion of the film, which is to be expected, considering it's a musical. However, seeing as she wasn't a particularly experienced singer, she took to vocal lessons. As there are sequences where her singing must be in rhythm with the baking, she decided to practice the two together.
Carter would spend her free time baking and singing to herself in order to practice the sequences.
She Has Her Own Fashion Line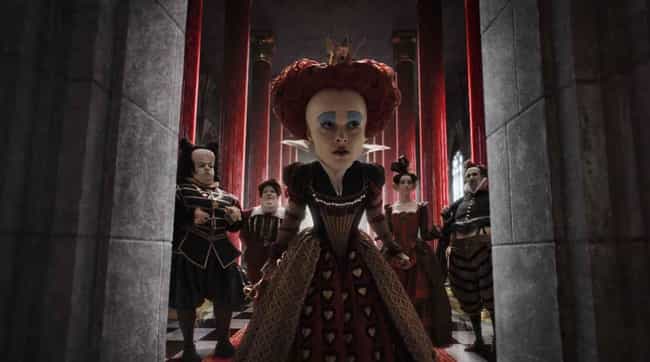 Helena Bonham Carter is something of a fashion muse with a gothic aesthetic. The multi-faceted starlet even has her own fashion line with her friend and business partner Samantha Sage. The line is called Pantaloonies and they specialize in customizable jeans.
After answering a questionnaire (favorite movie? would you like bum frill?) a customer will have their very own set of custom denim.
She Uses Her Wand To Scare Her Children's Friends
Actors often get to keep a piece of memorabilia from a film, and Helena decided to keep Bellatrix Lestrange's wand from the Harry Potter films. Not only does she keep it around, she likes to wield it in order to frighten children.
Not all children though, just the ones she would rather her children not join in play dates.