Entertainment
21 Things You Didn't Know About Parks and Recreation

Updated February 28, 2020
732.4k views
21 items
List Rules Upvote the interesting trivia facts about NBC's hit sitcom Parks and Recreation that you were most surprised to learn.
One of the funniest sitcoms to ever air on NBC (and on television in general), Parks and Recreation features one of the best ensembles in comedy. Lead by Amy Poehler's Leslie Knope and Nick Offerman's Ron Swanson, the show has become a fan favorite and a cultural phenomenon, but how much do you really know about the people of Pawnee, Indiana? This list is full of Parks and Recreation trivia, facts, and Easter eggs to delight even the most hard-core fans of the popular TV series. And don't worry, this list is calzone free.
Among these Parks and Recreation facts are behind the scenes tidbits about Amy Poehler's Upright Citizens Brigade Theatre, which spawned the show's stars like, Aubrey Plaza and Ben Schwartz, and whose other founding members have guest-starred on the show. Treat yo' self with the real story behind the character of April Ludgate, and learn which other famous actors were up for roles like Ann Perkins and Donna Meagle.
This
Parks and Rec
trivia is best consumed alongside a plate of waffles from J.J.'s Diner (which isn't located where you might think!), or maybe a plate of "all the bacon and eggs." No matter your preference, enjoy these fascinating
Parks
BTS facts and be sure to vote for the ones that were most surprising. If you don't, you'll be forced to play Cones of Dunshire with Jean Ralphio.
Nick Offerman Really Does Run a Woodworking Business
Nick Offerman is not stretching his range very much when he discusses woodwork on several episodes of Parks and Rec. In fact, it's Offerman's own hobby, and actually a business that he runs on the side. This inspired the writers to turn Ron Swanson into a wood aficionado.
Offerman has talked about this on CONAN as well as in his book.
Chris Pratt Improvised Michael Schur's Favorite Line
While Amy Poehler insists that every episode of Parks truly comes from the script, the show's creator Michael Schur remembers one exception. In his opinion, the funniest line in the history of the series came from an ad-libbed moment by Chris Pratt. In the episode "Flu Season," Pratt tried to help Leslie determine whether or not she has the flu, which was taking Pawnee by storm. The line?
"Leslie, I typed your symptoms into the thing up here and it says you could have network connectivity problems."
Thanks, Andy!
(
Source
)
Andy Dwyer Was Supposed to Be a Guest Star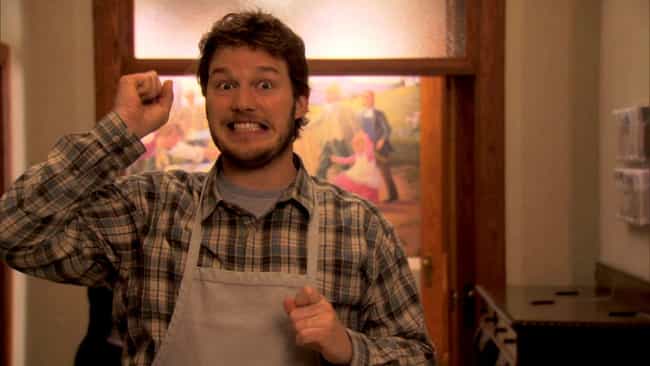 The character of Andy Dwyer was only ever supposed to be a guest starring, six or seven episode role, as Ann's jerk boyfriend. But viewers couldn't resist the great Chris Pratt!
Bonus trivia: Pratt's character on Everwood was also only supposed to be a guest star.
Source:
Pajiba
Nick Offerman Can Really Play the Saxophone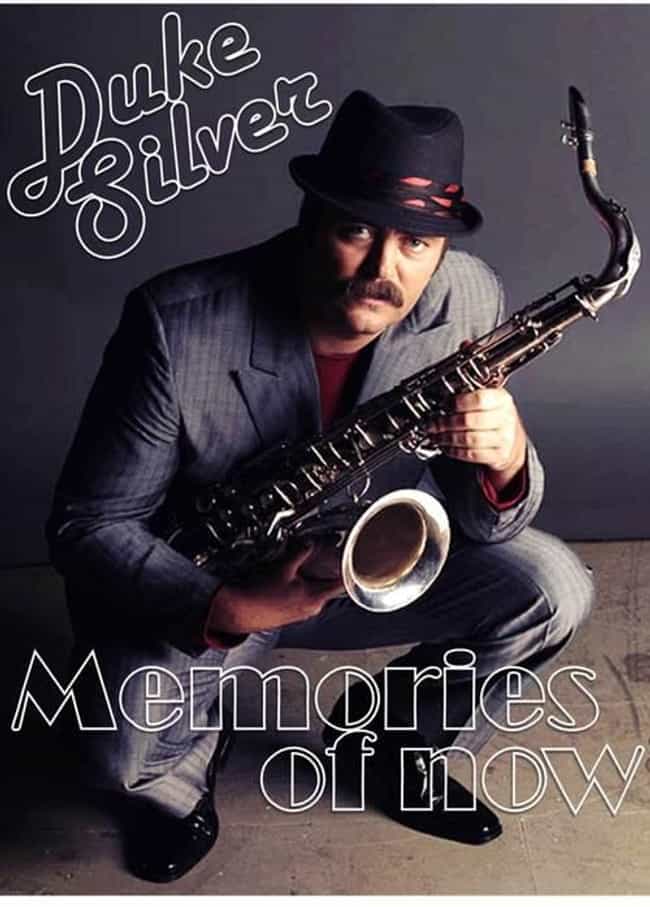 It's not just Duke Silver with the saxophone skills. Offerman is actually quite skilled on the sax, though the writers weren't aware of that fact until after they'd written his character's alter ego.
Source:
No Glitter No Glory