Total Nerd
14 Facts That Prove Aubrey Plaza Might Be April Ludgate IRL

Updated May 24, 2019
78.1k views
14 items
Aubrey Plaza played intern April Ludgate in seven seasons of NBC's hit sitcom Parks and Recreation. But who is the real Aubrey Plaza? It turns out she's not all that different from her doppelgänger in Pawnee, IN. Both are quirky, enigmatic, sarcastic, and wildly funny. Every so often, a character and a performer meld together, to the point where the audience isn't sure where one stops and the other begins.
Plaza's life experiences illustrate that idea perfectly. In some cases, there are direct ties between Aubrey and April. Other times, the actress's life possesses the same sort of incoherence as her character's. Looking at the overall picture, it's easy to see why she was the perfect actress for the job.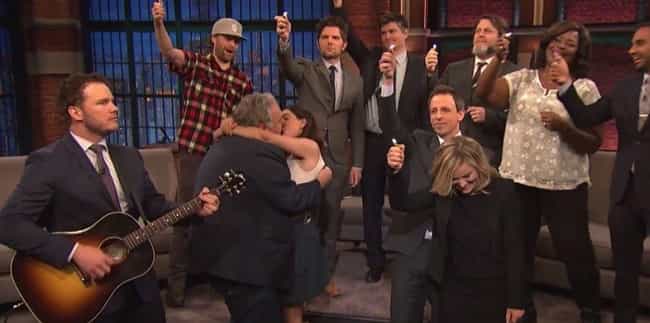 She Made Out With Co-Star Jim O'Heir
Unpredictability is the trait that most defines both April and the actress who plays her. Plaza demonstrated her unpredictability to a stunning degree on a 2015 episode of the talk show Late Night with Seth Meyers when she made out with co-star Jim O'Heir, who played Jerry Gergich.
Meyers had the entire cast on during the night of Parks and Recreation's series finale. At the end, they all gathered together to sing the show's song "By- Bye, Li'l Sebastian." Almost immediately, Plaza grabbed O'Heir and started passionately kissing him. They went at it for 45 seconds, while their castmates struggled to continue singing through their laughter.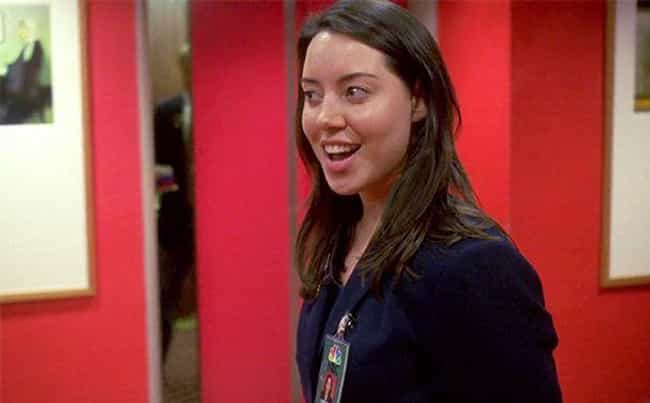 She Took An NBC Page Uniform
In one memorable Parks and Recreation episode, April takes her father's car so she and Andy can drive to the Grand Canyon. Like her character, Plaza occasionally has sticky fingers. NBC fired her from its much-respected page program, which has employees giving tours of the 30 Rock building.
The actress did not want to return her uniform. She explained the firing to Elle:
I wasn't used to working in a corporate environment like NBC where there are HR rules. It's fuzzy to me exactly what happened, but I think I made a joke about Jesus being crucified or I wrote it on a wall, and I got in trouble. Three or four months after I started, they were like, "Maybe this isn't right for you," and I was like, "Maybe it isn't."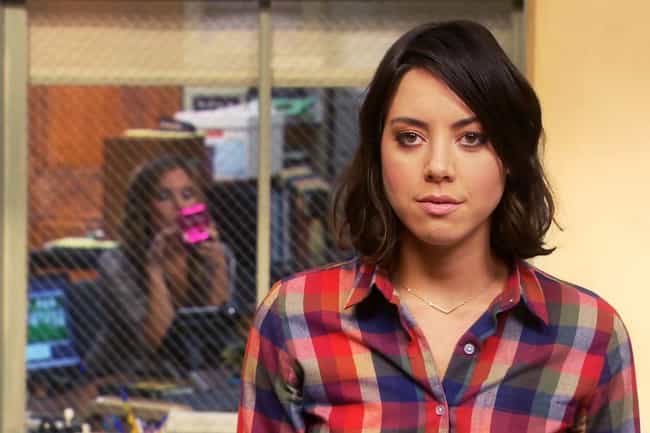 She Was Named After A '70s Song By The Band Bread
On the show, April is married to Andy Dwyer, who has long been an aspiring rock star. Music has also played a significant role in Plaza's life. In the 1970s, there was a popular soft-rock band called Bread. They were best-known for the hits "Make It With You" and "Baby I'm-a Want You."
Plaza's mother was a fan of Bread, so she named her daughter after one of the group's lesser-known hits, "Aubrey."
"It's a love song - kind of - but it's kind of depressing and dark," Plaza told Elle. "She was 20 years old when she had me, so it does kind of give me an idea of what she was like back then."
She's In A Long-Term Relationship With One Of Her Directors
Plaza has remained relatively open about her personal life. She told The Advocate, "I fall in love with girls and guys. I can't help it." Plaza is in a serious relationship with boyfriend Jeff Baena. He's the Andy to her April.
Just as those two characters like to be creative together in the form of their alter egos Burt Macklin and Janet Snakehole, Plaza and Baena enjoy mutual creativity. The couple worked together on three feature films: Life After Beth, Joshy, and The Little Hours, in which Plaza played a foul-mouthed, frisky nun.