Comedy
All The Times Norm Macdonald Torpedoed His Career

Updated October 6, 2017
10.5k views
16 items
Two types of people exist in this world: those who find Norm Macdonald brilliant and the rest of the world. One can easily argue Norm Macdonald ruined his career, but the truth is his repeated self-sabotage as a performer makes him so fascinating. These Norm Macdonald stories show he might be the closest thing audiences now have to a modern Andy Kaufman, another comic who perpetually torpedoed his own success. Macdonald's been fired from SNL, repeatedly gambled away his money, and generally thumbed his nose at non-controversial material. Does Norm Macdonald still act? The better question is: did he ever?
There's never been a performer more fully aware of the camera than Norm Macdonald, and that's a big part of his charm. If you wondered where is Norm Macdonald now, check out his podcast on YouTube (it's legitimately great, even if you're a Norm hater). To find out why he never got Seinfeld-level big even after SNL, read on:
When His Constant OJ Jokes Got Him Fired From SNL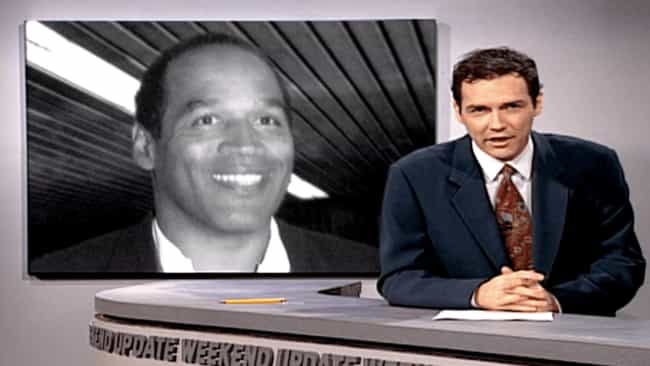 During the mid '90s, there was an abundance of jokes about Naked Gun actor and acquitted murderer OJ Simpson. Yet nobody went after the Heisman winner with more glee than Norm Macdonald.
"After grisly photos of the murder of Nicole Brown Simpson were shown in court, O.J. turned his head away and wept. It was at that moment that he realized he would never be able to kill her again."
Unfortunately, during one Weekend Update, Norm dropped another OJ-Bomb, and this one caused collateral damage:
"In a sworn deposition this week, O.J. Simpsons claimed that he never beat, choked, or hit his ex-wife with a closed or open fist. Luckily for O.J., lawyers forgot to ask if he had ever cut her head off."
The problem? One of OJ's besties was NBC executive Don Ohlmeyer, which seems like a legitimate reason to explain how Norm got fired from SNL.
He Gambled Away All His Money Several Times
In his interview with People Magazine, Macdonald explained "the problem with gambling ... is that it's much more interesting than anything else." He's also said "they call gambling a disease. But it's the only disease where you can win a lot of money."
Macdonald blows through hundreds of thousands in a single weekend and will bet $1,000 on each point over or under a final score. He would have joined Gamblers Anonymous but "figured it's for losers."
He might not be an athlete, but he gambles like he's Pete Rose and Charles Barkley. Macdonald knows he has a problem, yet doesn't seem overly concerned with correcting it.
Two Words: Colonel Sanders
Can't fault a guy for paying his mortgage and/or his losses on the Super Bowl. But dressing up as Colonel Sanders? A sure sign that your chicken is fried.
Norm's Roast Of Bob Saget
Usually the Comedy Central Roasts give a chance for comics to bring their A-game, albeit a game that might induce some tears. Unless your first name is Norm and your last name is Macdonald. (Or you're Anne Coulter). During his roast of Bob Saget, Macdonald opted to read 100-year-old Borschbelt jokes right off note cards.
"There are times when Bob has something on his mind. When he wears a hat.

(Bob) thinks the English Channel is a British TV station .
This appearance managed to prove both Norm Haters and Norm Lovers 100% right about their feelings towards him.