Mockery

24 Times Sean Penn Acted Like a Douche

755 votes
210 voters
13.7k views
24 items
List Rules Vote up the most infuriating Sean Penn moments.
Oh, Sean Penn. One minute, he was super tanned, high Sean Penn - the next he was super tanned, smug Sean Penn, shotgun-toting Sean Penn, threatening to punch fans Sean Penn, actually punching people Sean Penn, racist and homophobic children-raising Sean Penn, and farting near El Chapo Sean Penn. Seriously, what happened? Why are there so many Sean Penn stories that are so incredibly douchy?
How did we get to Sean Penn annoying douche DEFCON levels? Hint: He was already there in the '80s. Now he's fine-tuning his douchery. Let's consider what happens when you've been famous for a long time: You believe the hype, you're isolated from reality, and you actually mistake fame for importance.
What has made many label Sean Penn pretentious is his view that he's an essential player in matters of foreign policy and disaster relief. And surely he'd done some good. He's set up a relief foundation in Haiti, helped those in need after Katrina, and helped an American business man escape imprisonment in Bolivia, angering a lot of his leftist Latin American pals. He would say that he's trying to help. But many see his input as, well, meddling (kind of like Dennis Rodman's trips to North Korea).
Of all of his many douchey deeds, what makes Sean Penn annoying to you? His epic and rambling interview with El Chapo? That time he went off of on a fan for taking his picture? Him punching everyone in the '80s? Upvote your favorite Sean Penn douche moment and then tell everyone about it. That's what he'd do!
When He Went Ballistic on a Fan Who Took a Picture
We get it, you're famous and not always in the mood to have your picture taken in public, and especially not in a packed bar in a popular hotel in a major city. But is it necessary to go crazy on a regular Joe when they take a pic?
Penn launched himself at a guy in an upscale San Francisco hotel bar when the fan tried to take a picture of Penn on his phone. The guy was not a paparazzo; he was a sales conference attendee at which Penn had spoken earlier. So when he moved in for a shot with his cell, Penn yelled, "I'll make you eat the phone!" and, "Do we look like f—king zoo animals?!"
Does this make you cringe?
When He Interviewed El Chapo for Rolling Stone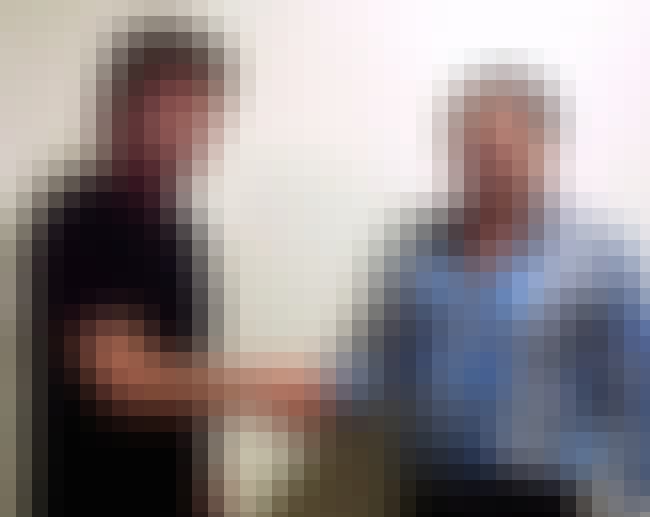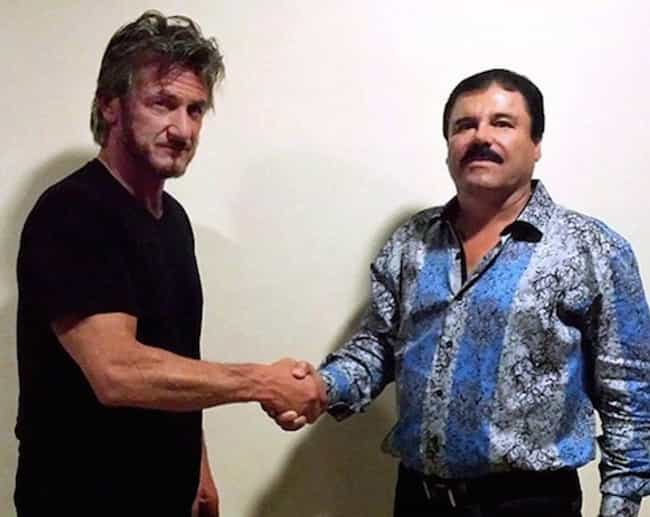 If this were an unedited chapter in a Hunter S. Thompson novel, it'd make sense. As intentional serious journalism, it's something only Sean Penn would do. If you have the time to make it through the entire piece, you'll get a real sense of Penn's writing style and his need to insert himself into the story at every turn.
Side note: Penn got El Chapo captured after all that careful tunneling and hiding. Don't trust Sean Penn, drug lords.
Photo:
Sean Pean

Does this make you cringe?
When He Met with Venezuela's Hugo Chavez
Penn met with Hugo Chávez several times. He forged a friendship with the Venezuelan president that many just didn't get. When Chávez died, Penn said, "Today the people of the United States lost a friend it never knew it had. And poor people around the world lost a champion. I lost a friend I was blessed to have."

Then, in 2010, he went on Bill Maher's HBO show and suggested that anyone who called Chávez a dictator should be jailed. "Every day, this elected leader is called a dictator here, and we just accept it, and accept it. And this is mainstream media. There should be a bar by which one goes to prison for these kinds of lies."
Does this make you cringe?
When He Felt the Need to Stand Up to Chris Rock
A few years before the Hollywood Foreign Press set Ricky Gervais loose at the Golden Globes, Chris Rock managed to irritate a lot of people at the 2005 Oscars.
Rock made a crack about Jude Law's over exposure at the time. "You want Tom Cruise and all you can get is Jude Law? Wait. It's not the same thing. Who is Jude Law? Why is he in every movie I have seen the last four years? He's in everything. Even the movies he's not acting in. If you look at the credits, he made cupcakes or something. He's in everything. He's gay, he's straight, he's American, he's British – next year, he's playing Kareem Abdul-Jabbar in a movie." Rock also went on to make the same joke about himself.
Penn, appointing himself the PC police of the Oscars, felt the need to stand up for Law when he went up to present the award for Best Actress saying, "Forgive my compromised lack of humor. I did want to answer our host's question about who Jude Law is. Jude Law is one of our most talented actors."
To put that in perspective, consider Penn's crack about Iñárritu getting a green card at the 2015 Oscars.
Does this make you cringe?