Entertainment
11 Stories From Tom Arnold And Roseanne Barr's Marriage

Updated August 1, 2019
36.8k views
11 items
Roseanne Barr is a comedy icon, known all over the world for her stand up and hit sitcom Roseanne. However, her life in the spotlight hasn't been perfect; in fact, back in the '90s it seemed like she was most famous for the disaster and tabloid fodder that was Roseanne Barr and Tom Arnold's marriage. The two met in 1983, and after Arnold got sober, the couple married in 1990. For four rollercoaster ride years of marriage, the couple had explosive blowouts, crude public displays of affection, and strange publicity stunts, which cumulated in a messy widely-publicized divorce. Oh, and let us not forget the iconic moment that was Tom Arnold and Roseanne in Vanity Fair; it was a sight to behold, and one we wish we could burn out of our minds. So, below are some of the most outrageous aspects of Tom Arnold and Roseanne Barr's strange marriage. Buckle up, it's a weird and wild ride.
Tom Arnold Controlled All Aspects Of Her Life
Arnold famously and loudly claimed that Barr was crazy, but there was no denying that he was intensely controlling. When they first started seeing each other romantically, Tom coerced her into severing nearly all significant ties in her life. He fired or made her let go of her manager. She severed ties with family, including her ex-husband and father of her children, and her sister. Arnold took over as her manager, as producer of her show Roseanne, and as co-writer for her standup material. Barr's blackballing of her former colleagues and family led to two lawsuits. Her former manager Arlyne Rothberg sued her for $15 million for the future earnings she would have received for deals she passed. Barr's first husband, Bill Pentland, sued her for $15 million, too, as well as $3 million from Arnold.
There's A Filthy Story Behind The Design Of Their Wedding Rings
Shortly after Barr and Arnold were married, Vanity Fair did a very interesting feature story on the happy couple, and plastered them on the cover with ample campy abandon. In the interview, Tom and Roseanne explained the story behind their diamond engagement rings. "Our engagement rings have six diamonds around the outside," Arnold said. "For each year of our friendship. The yellow diamond in the middle is for when we had sex." Barr emphasized his point by saying: "The center diamond is for when we f*cked."
Vanity Fair Admitted The Feature Was A Regret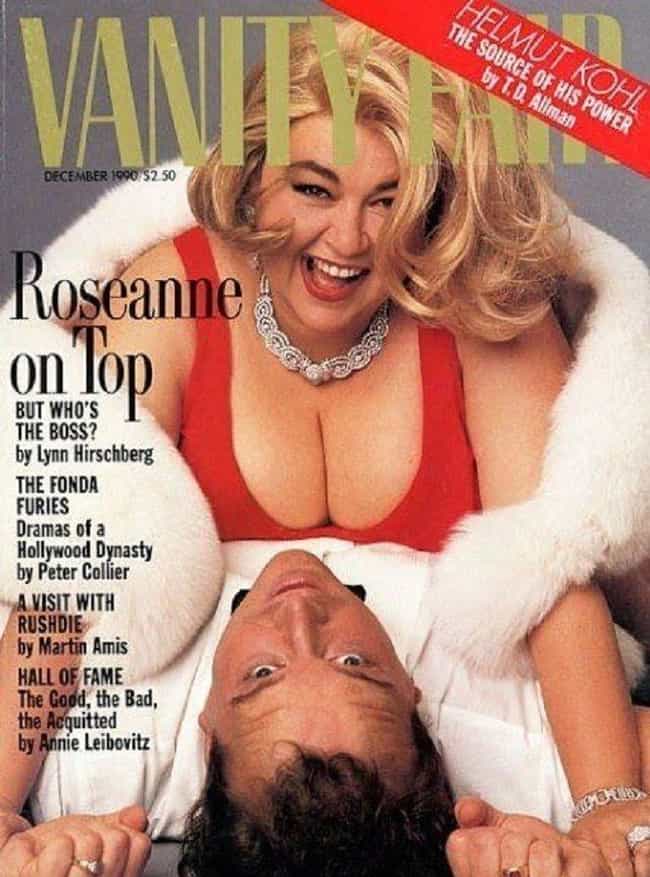 In 1990, nearly one year into Arnold and Barr's marriage, their Vanity Fair cover hit news stands. Usually, when you think of Vanity Fair covers, you think of glamour and taste, but this was emphatically neither. Barr is pictured with her buxom bosom spilling out onto Arnold's chest as she straddles him, "Roseanne on Top" plastered across the front. Years later, the magazine itself stated that cover photo and the images in the feature were one of the publication's more regrettable decisions:
"It is a squirm-inducing portrait in which the two are rolling around in mud amid what can only be imagined as a pig trough for humans. And while there is little doubt that the shock fetishists loved their Annie Leibovitz shoot, readers were perhaps wondering why we turned two people into pork."
They Didn't Have The Most Romantic Justification For Getting Married
Arnold and Barr knew each other for years before deciding to get married, but it wasn't a quintessential love-story that led to their bizarre nuptial. They didn't seem to have any other prospects going for them, so they settled. "We really decided to get married because one day we were like, nobody likes either one of us, we should probably get married. We had a lot in common but it got crazy," Arnold said on the reality TV show I'm a Celebrity... Get Me Out Of Here.