Entertainment
Fun Facts You Didn't Know About Tom Hardy

Updated June 14, 2019
105.5k views
20 items
List Rules Vote up the most interesting fun facts you learned from this list
It seems like Tom Hardy came out of nowhere in the last few years. All of a sudden he's Bane and Mad Max, but wasn't he also that the guy from Inception? Did I see him in RocknRolla? What's this Bronson movie everyone is talking about? Tom Hardy's filmography is impressive to say the least, but he's been at it a while. Hardy has been around since 2001's Band of Brothers and Black Hawk Down. Now, he's finally getting the recognition he deserves.
He's a guy known for his talent, his incredible array of voices, his physicality, and his penchant for putting on mass/changing his body for roles. But who is Tom Hardy? We've searched through a ton of Tom Hardy stories, trivia, and facts to bring you your own personal Tom Hardy biography or wiki.
Tom Hardy's life could be it's own movie. He's been a model. Had a breakout role in a Star Trek film, then developed a debilitating alcohol and crack addiction. He's a survivor, a troubled youth ambassador, an animal lover, a father, and much much more. Through these Tom Hardy anecdotes and quotes, we want to show you the man behind Mad Max, the Kray Twins, and Bane.
These are fun facts your didn't know about Tom Hardy!
He Has A Mixtape That's Straight Fire
Before he was Venom - or any of his big Hollywood characters, for that matter - Hardy was a signed rapper. In a 2011 interview with BBC, he revealed he "wasn't very good" but he recorded "loads" of songs. In January 2018, the world finally got to hear Hardy's hip-hop chops, and it turns out, he was underselling himself.
The mixtape is credited to "Tommy No 1 and Eddie Too Tall." Edward Tracy, the Eddie Too Tall of the duo, dropped the mixtape on Reddit. The tape, titled Falling on Your Arse in 1999, is worth the listen.
He Has a Top Notch Dramatic Education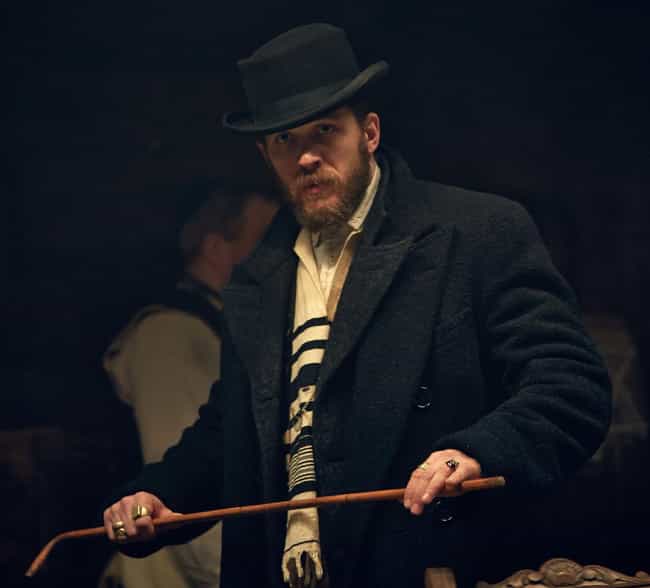 For a short time, Tom Hardy considered modeling (he even won a competition at 21). But once he committed to acting, he got the very best education he could, attending both the Richmond Drama School and the incredibly prestigious Drama Centre London.
He said of the Drama Centre's work ethic: "When other schools would be doing, sort of, thirty hours we were doing sixty. And we'd be doing stuff that would prepare you in a very different way. It was a school that catered very differently to each independent, individual need."
Source:
IGN
He Can Rap. No Seriously, He's Good.
If you haven't seen any of Tom Hardy's Dubsmash video, now is the time to do it. But what you probably don't know is that Hardy is actually a really good rapper. He's rapped on a couple of UK talk shows and has a surprisingly impressive flow.
Check out the video of him with his son Louie as hype man.
He's an Ambassador for Prince's Trust, an Organization for Troubled Youth
Tom Hardy had a rough go of things in his late teens/early 20s. He struggled with a serious addiction to alcohol, drugs, and even crack cocaine. But he's not one to shy away from his past. He's very open in interviews about overcoming his addictions, and now even helps others in similar situations.
The Prince's Trust is a UK organization that helps 13-30-year-olds overcome addiction and find homes or employment. Tom Hardy is an avid advocate and ambassador for the group. Check out the video above.
You can learn more about the Prince's Trust here.
Source:
Heavy.com