Culture
List of Famous Tom Roberts Artwork

A list of Tom Roberts artwork, including all notable Tom Roberts paintings, sculptures and other works of art, with photos when available. These popular Tom Roberts pieces are sorted alphabetically by the title of the work of art. These are some of Tom Roberts's most famous art pieces, so if you're wondering what art was made by Tom Roberts and how many major pieces of art Tom Roberts made then this list is a great resource. If you want to know more about these pieces of renowned Tom Roberts artwork, then click on their names for additional information.
List ranges from The Big Picture to Shearing the Rams and more.
Tom Roberts is a renowned artist celebrated by people from all around the world, so skip a day at the museum and check out these historic works of art that were created by Tom Roberts. (6 items)
A break away! is an 1891 painting by Australian artist Tom Roberts. The painting depicts a mob of thirsty sheep stampeding towards a dam. A drover on horseback is attempting to turn the mob before they drown or crush each other in their desire to drink. The painting, an "icon of Australian art", is part of a series of works by Roberts that "captures what was an emerging spirit of national identity." Roberts painted the work at Corowa. The painting depicts a time of drought, with little grass and the soil kicked up as dust. The work itself is a reflection on the pioneering days of the pastoral industry, which were coming to an end by the 1890s. The painting is now part of the collection of ...more on Wikipedia
Artist: Tom Roberts
see more on A break away!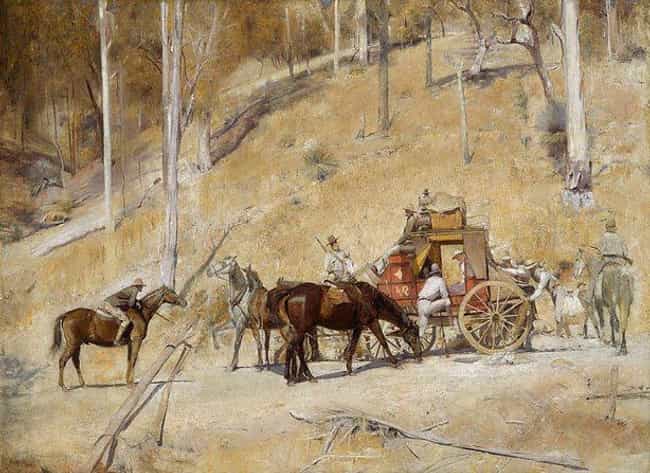 Bailed Up is a 1895 painting by Australian artist Tom Roberts. The painting depicts a stage coach being held up by bushrangers in an isolated, forested section of a back road. The painting is part of the collection of the Art Gallery of New South Wales. and has been described by the former Senior Curator as "the greatest Australian landscape ever painted". ...more on Wikipedia
Artist: Tom Roberts
Bourke Street is a 1886 painting by Australian artist Tom Roberts. Roberts originally titled the work Allegro con brio. The painting depicts the western end of Bourke Street, one of the main thoroughfares in Melbourne as seen from the Buckley & Nunn drapery. The work was painted a few months after Roberts' return to Australia in 1885, after he had spent four years in Europe . It was not displayed until 1890, and only five days beforehand, Roberts added three female figures to the lower left. Roberts was unable to find a buyer and handed the painting to fellow artist, Frederick McCubbin. In 1920, McCubbin's widow sold the painting to the Commonwealth Parliamentary Library for 20 ...more on Wikipedia
Artist: Tom Roberts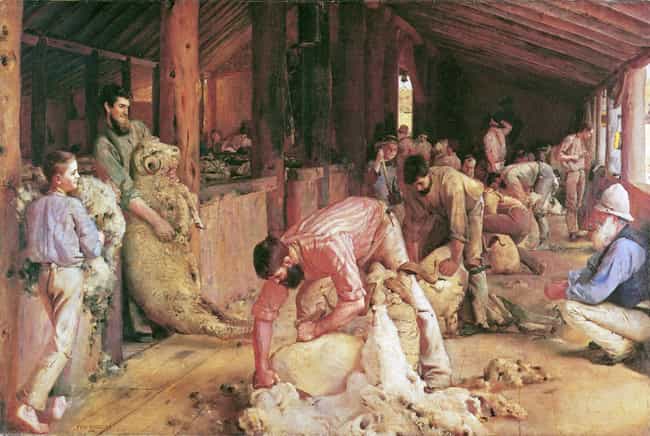 Shearing the Rams is an 1890 painting by the Australian artist Tom Roberts. The painting depicts sheep shearers plying their trade in a timber shearing shed. Distinctly Australian in character, the painting is a celebration of pastoral life and work, especially "strong, masculine labour" and recognises the role that wool-growing played in the development of the country. One of the most well known and loved paintings in Australia, Shearing the Rams has been described as a "masterpiece of Australian impressionism" and "the great icon of Australian popular art history". The painting is part of the National Gallery of Victoria Australian art collection. ...more on Wikipedia
Artist: Tom Roberts