867 votes
547 voters
98.6k views
7 items
List Rules Upvote your favorite recipes
Tony Roma's recipes - the easy way to prepare the best dishes from the Tony Roma's menu. These are copycat recipes, not necessarily made the same way as they are prepared at Tony Roma's, but closely modeled on the flavors and textures of Tony Roma's popular food, so you can bring the exotic tastes of one of the best restaurant chains around to your own table for a fraction of the cost.
Founded in Florida in 1972, Tony Roma's has adopted the motto "Famous for Ribs" for all of its roughly 260 worldwide locations. On its inception, ribs were not the centerpiece of the menu, but the eventual inclusion of baby back ribs catapulted the restaurant chain to its current popularity in 27 countries around the world.
From Red Lobster Cheddar Bay Biscuits to Buffalo Wild Wings hot sauce, chain and franchise restaurants are popular destinations around the world. Eating out too frequently can be costly, not to mention that it's hard to control portion size, ingredients, or the style of cooking to suit your preferences.
Making Tony Roma's recipes on your own allows you to save money while enjoying your favorite menu items from the casual dining spot. This list collections the best copycat Tony Roma's recipes from around the Web.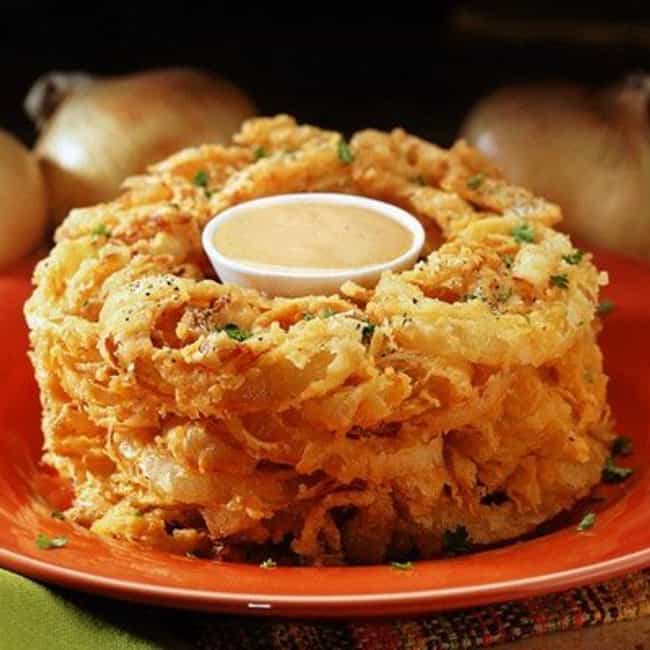 4 To 6 white onions
1 c Milk
3 Eggs, beaten
2 cups Bisquick or dry Pancake mix
Salt to taste
Oil
Garnish
Parsley
- Slice onions crosswise; separate into rings.
- Mix milk, eggs and salt in mixing bowl.
- Soak onion rings in mixture 30 mins.
- Place bisquick or pancake mix in shallow bowl.
- Heat oil for frying in skillet to 375 degrees.
- Remove onion rings from milk mixture; dip in pancake mix and place this in hot oil.
- Fry rings until golden brown.
- Drain fried onion rings on paper towels.
Pack fried onion rings solidly, but loosely, without pressing, into 8x4-inch
loaf pan. Bake at 400°F degrees 10 to 15 mins.
Turn onto serving plate.Garnish with parsley.

Would you try this?
Tony Roma's Baked Potato Soup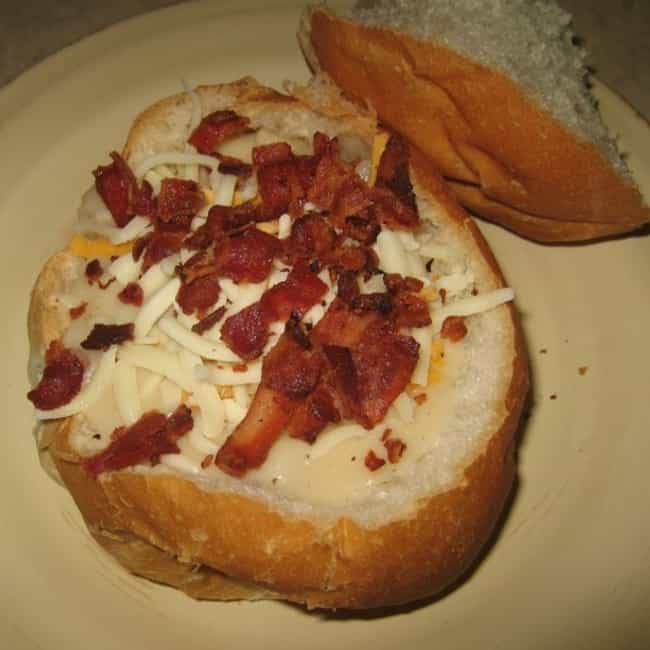 2 medium potatoes (about 2 cups chopped)
3 tablespoons butter
1 cup diced white onion
2 tablespoons flour
4 cups chicken stock
2 cups water
1/4 cup cornstarch
1 1/2 cups instant mashed potatoes
1 teaspoon salt
3/4 teaspoon pepper
1/2 teaspoon basil
1/8 teaspoon thyme
1 cup half and half
* Garnish
1/2 cup shredded cheddar cheese
1/4 cup crumbled cooked bacon
2 green onions, chopped
- Preheat oven to 400 degrees; bake potatoes or an hour until done and remove from oven to cool.
- Melt butter in a large saucepan, and saute onion until light brown.
- Add flour to onions; stir to make a roux.
- Add stock, water, cornstarch, mashed potatoes, and spices to the pot; bring to a boil.
- Reduce heat and simmer for 5 minutes.
- Cut potatoes in half lengthwise; scoop out contents with a large spoon and discard skin.
- Chop baked potato with into 1/2-inch chunks.
- Add chopped baked potato and half-and-half to the saucepan.
- Bring soup back to a boil; reduce heat and simmer for another 15 minutes until thick.
- Spoon into bowls and top with cheddar cheese, crumbled bacon and chopped green onion.

Would you try this?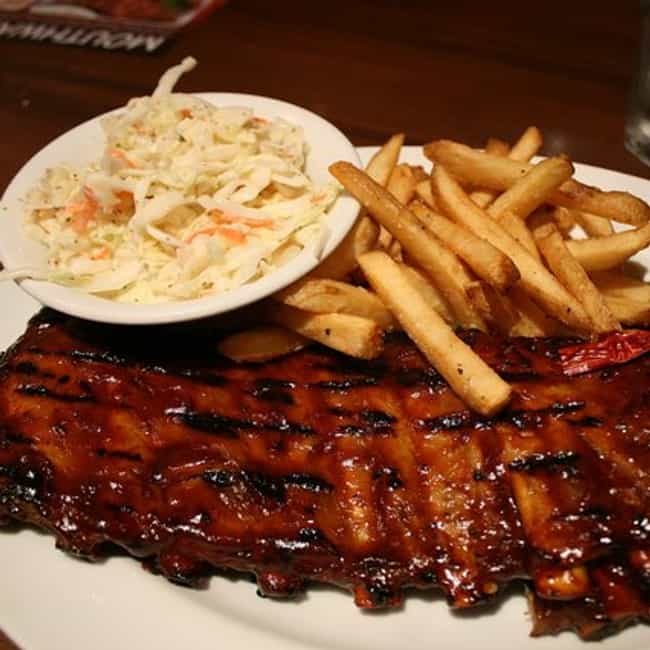 4 pounds baby back pork ribs or 4 pounds pork spareribs
Tony Roma's Blue Ridge Smokies Sauce
- Preheat oven to 300 degrees F.
- Tear off 4 pieces of aluminum foil that are roughly 6 inches longer than the ribs.
4. Coat the ribs, front and back with barbecue sauce. Place a rack of ribs, one at a time, onto a piece of foil lengthwise and wrap it tightly.
Place ribs into the oven with the seam of the foil wrap facing up. Cook for 2 to 21⁄2 hours, or until you see the meat of the ribs shrinking back from the cut ends of the bones by about 1⁄2 inch. This long cooking time will ensure that the meat will be very tender and fall off the bones.
Toward the end of the cooking time, prepare the barbecue.
Remove the ribs from the foil and smother them with additional barbecue sauce. Be sure to save some sauce for later.
Grill the ribs on the hot barbecue for 2 to 4 minutes per side, or just until you see several spots of charred blackened sauce. Watch for flames and do not burn!
When the ribs are done, use a sharp knife to slice the meat between each bone about halfway down. This will make it easier to tear the ribs apart when they are served.
Serve the ribs piping hot with additional sauce on the side, if desired.

Would you try this?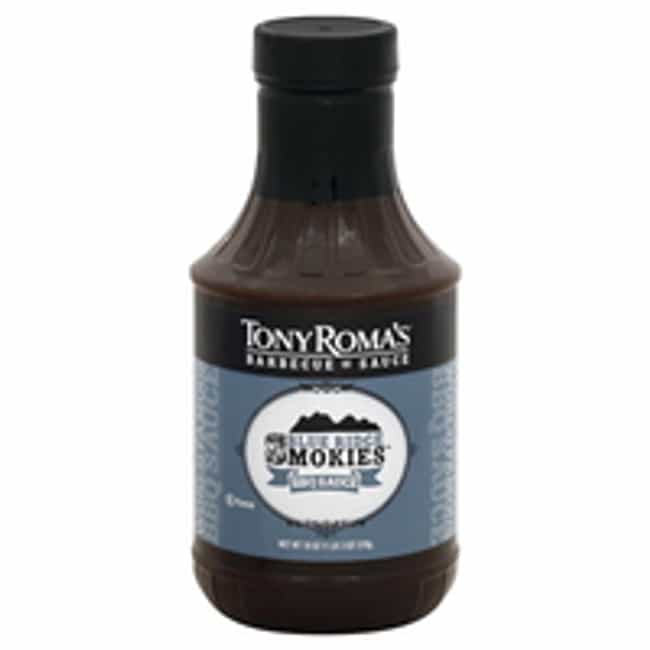 1 cup ketchup
1 cup red wine vinegar
1/2 cup brown sugar
1/4 cup molasses
11/2 teaspoons liquid smoke
1/2 teaspoon salt
rounded 1/4 teaspoon black pepper
1/4 teaspoon garlic powder
1/4 teaspoon onion powder
- Combine all ingredients in a medium saucepan over high heat; whisk until smooth.
- Bring sauce to a boil; reduce heat and simmer uncovered for 30-40 minutes or until sauce has thickened.

Would you try this?