Culture
The Most Iconic and Influential Works of Art

Each generation is defined by an image. Perhaps for the 90s it was the grunge movement. For the 80s, the iconic figure of Madonna. For the 70s, a techno and disco print. For the 60s, a snapshot of Woodstock and on and on. You get the idea. For every 100 years, there is an event that defines a generation and for every event, there is an image that captures that moment. While you may not agree with the imagery listed here, you cannot deny amazing the endurance of their existence in pop culture.
The Persistence of Memory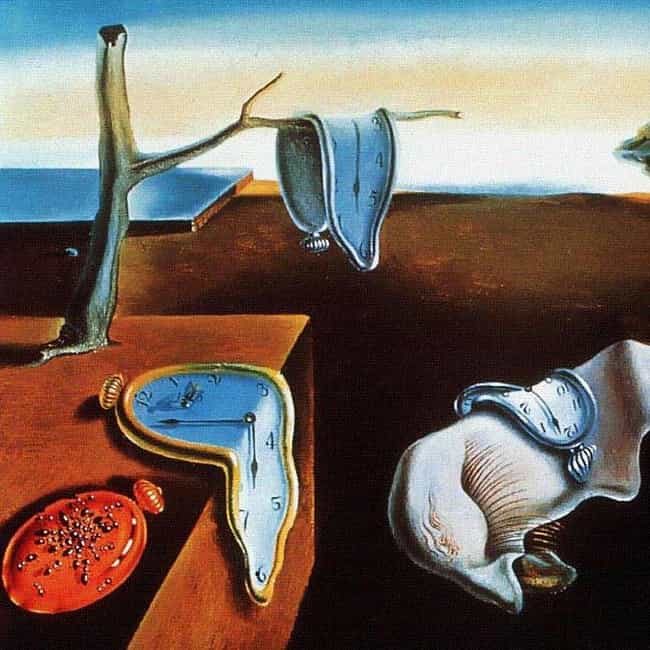 Salvador Dali employed extensive symbolism in his work.
For instance, the hallmark "soft watches" that first appear in The Persistence of Memory suggest Einstein's theory that time is relative and not fixed. The idea for clocks functioning symbolically in this way came to Dali when he was staring at a runny piece of Camembert cheese on a hot day in August.
Dali was highly imaginative, and also had an affinity for partaking in unusual and grandiose behavior, in order to draw attention to himself.
So while you're staring at a print copy of Dali's works in your dentists office, think about the man behind the matte.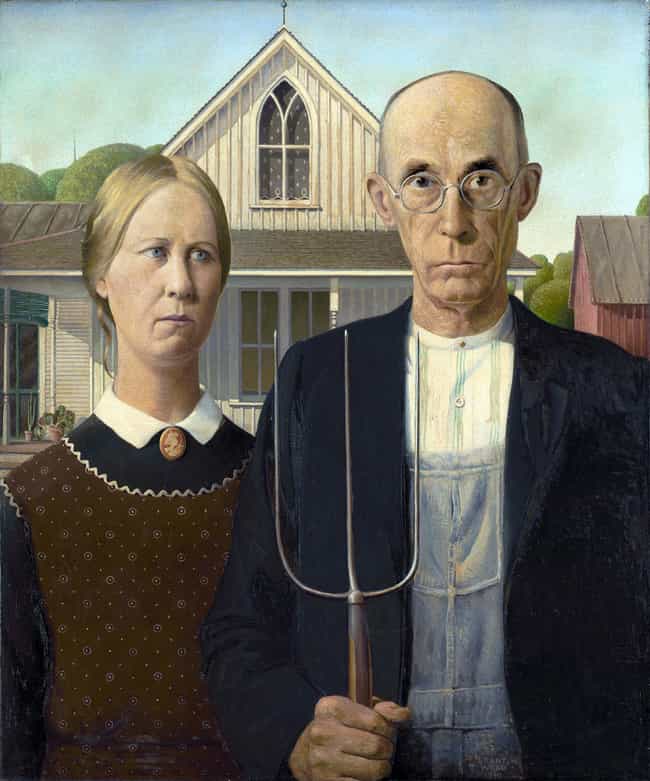 This piece, painted by Grant Wood in 1930, is considered by some to be the epitome of Midwestern values and culture. It was actually inspired by the Gothic Revival style of the upper window featured in the center of the piece.
When examining the work, it's easy to see why the farmer and his wife could be considered crusaders of conservatism. The man is dressed in a clean pair of overalls and his best suit jacket. The woman is wearing what is most likely a homemade dress, conservative in design.
The man holds his pitchfork, which would be symbolic as a scepter for his place in life and in the world. The woman looks to her husband for confirmation? Guidance? Or is she looking at him reproachfully for looking so stern himself?
The farmhouse and glimpse of a barn behind the couple solidifies their existence as farmers and gives the impression that this might be the only portrait the couple ever poses for.
While this image has been used in mockumentaries and sarcastic greeting cards, it does recall
the olden days
of a slower pace and simpler times.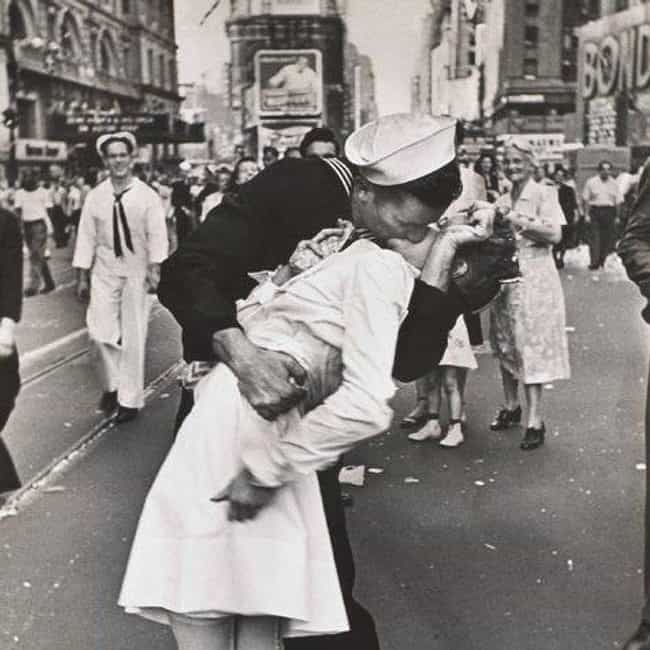 Taken on August 14th, 1945, arguably one of the most enduring and endearing images from the WWII era, it's been used as a backdrop for weddings, post cards, greeting cards and more. The story behind the photo:
"I rode the subway into Times Square, got off, and when I walked up the stairs, a woman at the top said she was so happy for me. I ask hey 'Why?' and she said 'the war is over, you can go home now!' I was so excited I started jumping up and down and hollering because my oldest brother was a Japanese prisoner of war. He was there when the Philippines fell. Then this nurse held out her arms and I just looked up because I thought we were going to get run over. When I saw it was a photographer, I bent my hand back so you could see the lady's face..." - Glenn McDuffie, age 80, 2005
Glenn McDuffie laid claim in 2007 to being the kissing soldier and was supported by Houston Police Department forensic artist Lois Gibson. [14] Gibson's forensic analysis compared the Eisenstaedt photos with current-day photos of McDuffie, analyzing key facial features identical on both sets.
She measured his ears, facial bones, hairline, wrist, knuckles and hand, and compared those to enlargements of Eisenstaedt's picture.

McDuffie says the photograph is of him. McDuffie says that on August 14, 1945, he was on the subway to Brooklyn to visit his girlfriend, Ardith Bloomfield. He came out of the subway at Times Square, where people were celebrating in the streets. Excited that his brother, who was being held by the Japanese as a prisoner of war, would be released, McDuffie began hollering and jumping up and down. A nurse saw him, and opened her arms to him. He ran over to her and kissed her, kissing her for a long time so that Eisenstadt could take the photo:
I went over there and kissed her and saw a man running at us...I thought it was a jealous husband or boyfriend coming to poke me in the eyes. I looked up and saw he was taking the picture and I kissed her as long as took for him to take it.
On August 3, 2008, Glenn McDuffie was recognized for his 81st birthday as the "Kissing Sailor" during the seventh-inning stretch of the Houston Astros and New York Mets game at Minute Maid Park.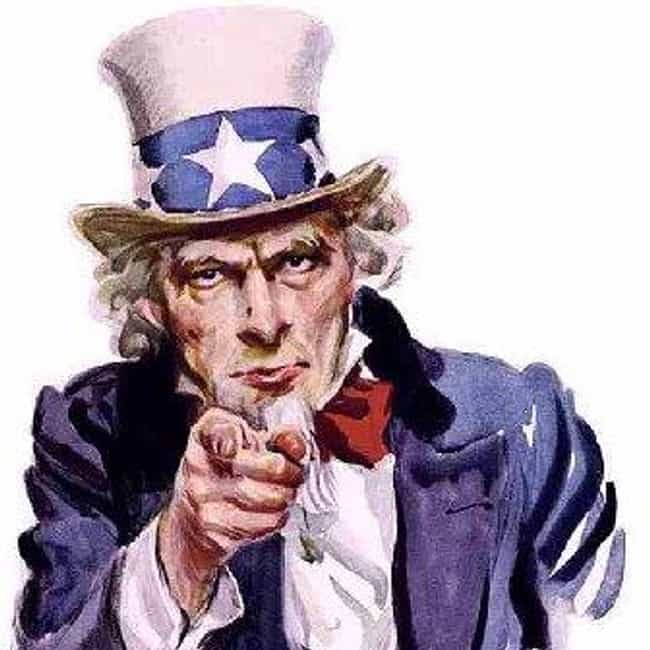 "I Want YOU for US Army. Don?t even think about saying no, and if you do, you?d better go someplace where I?ll never find you."
Uncle Sam?s expression fully conveys the message that if you don't join the armed forces, you're worse than a traitor: you're a weenie. Back in 1852, when this image was first created, men and boys lined up like suspects to join the military wave that swept the country.
Nowadays, the armed forces know that a stern old man jabbing his finger in your face and wearing a techno-colored top hat will only garner ridicule and plenty of 1-fingered salutes, but in a cage fight, my money is on grandpa.