Culture
The Top 12 Most Horribly Defaced Art Pieces of All Time

Everyone's a critic. But whether one loves or abhors a piece of art, most people still respect the work enough to leave it intact. Not in these cases. This list of the top 10 most unbelievable defilements contains the funniest, most shocking, and just plain weirdest defacements ever to occur in the art world.
Over the years, art vandals have used hammers, cleavers, paint, acid, fists, and even hot tea to maim famous paintings and sculptures. One Denver woman actually used her bare rear end.
In most cases, the art is restorable. In fact, some say that vandalism adds to a piece's history and winds up a part of the work itself.
Check out more lists like the
greatest Baroque artists in history,
famous Impressionist artists
and
the best Art Noveau artists
.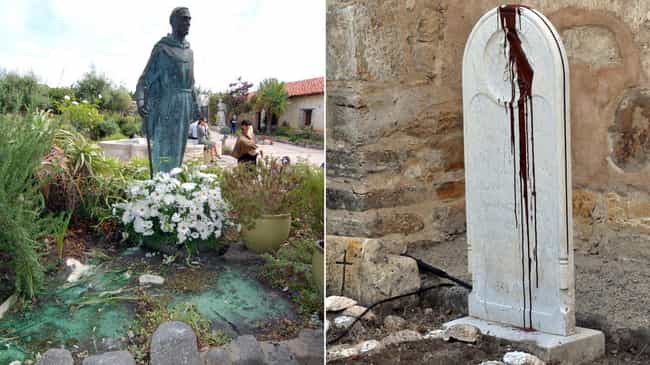 1
Newly Canonized Junipero Serra Dubbed "Saint of Genocide"
Just days after Pope Benedict canonized Father Junipero Serra in September 2015, vandals attacked the site of his grave at the Carmel Mission in California. They wrote "Saint of Genocide" on a headstone and knocked over several statues. The graffiti is most likely a reference to Serra's controversial legacy. The 18th century cleric is credited with bringing Catholicism to the west coast, but many Native Americans argue that he used cruel and inhumane punishment on native peoples who rejected the religion or tried to leave his missions.
According to Carmel police Sgt. Luke Powell, the incident was being investigated as a hate crime because the vandals targeted "specifically the headstones of people of European descent, and not Native American descent." No one immediately came forward to claim responsibility, but police said they were reviewing security tapes to find the perpetrators.
Source:
LA Times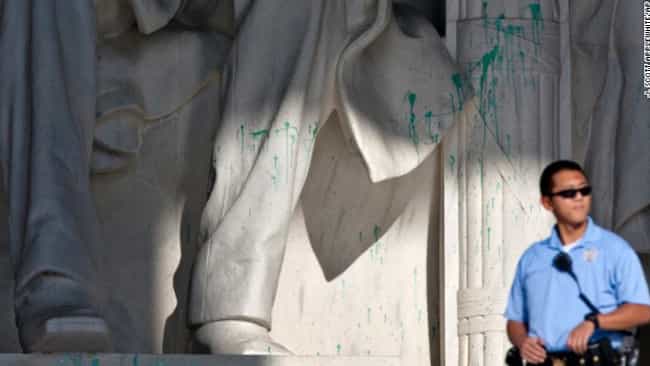 2
Lincoln Memorial Vandalized
In the early hours of the morning on July 26, 2013, vandals splashed the Lincoln Memorial on the National Mall in Washington, D.C. with green paint. Police immediately closed the monument for clean up and began investigating who may have been responsible. As of writing, there are no suspects to this case.
3
Denver Woman Punches, Wipes Rear End on Painting, then Pees Herself


In January 2012, a drunk Denver woman named Carmen Tisch decided to add her own touch to a $30-to-$40 million museum painting by scratching it, punching it, and wiping her bare bottom on it. Once the defilement was complete, Tisch crumbled to the floor and peed herself. The painting, by artist Clyfford Still, was spared any contact with the urine but still sustained about $10,000 worth of damage.
The police were called immediately following the offense, and Tisch was soon arrested. She was ultimately charged with criminal mischief. Tisch's mother describes her as a long-time alcoholic; she has previously been convicted for drunk driving.
Though, to be fair, it was an expressionistic painting, and to Tisch it could have looked like a toilet.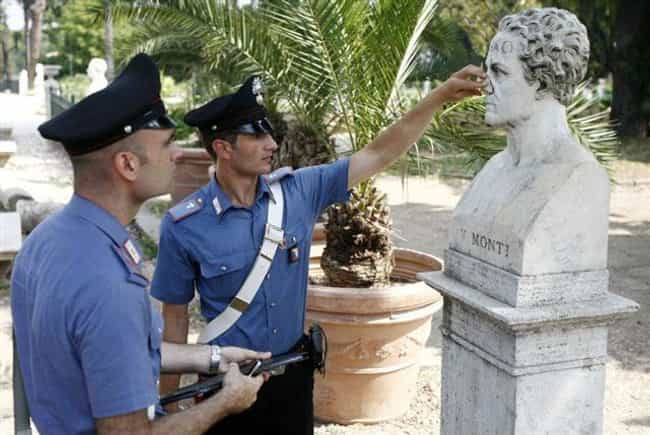 4
The Nose Thief of Villa Borghese
Officials at Pincio Gardens in the Villa Borghese were confounded when the noses of famous statues started disappearing in 1985. The vandalism occurred over a span of months, and more than 80 noses were severed from sculptures of both famous and infamous Italians like Christopher Columbus and Machiavelli. Defaced pieces included works by Bernini, among other artists.
Eventually, police caught on to the culprit, a biology professor who was wandering around with a plastic bag filled with the stolen marble schnozes. The man appeared to be mentally unbalanced, claiming that the KGB was after him and then handing police a note reading, "I am a UFO," which seems like the most logical explanation for anything ever.