Unspeakable Times
Travis Alexander's Murder: Killer Jodi Arias Is Allegedly Loving Life In Prison

Hell hath no fury like a woman scorned, but murderer Jodi Arias took her fury to a whole other level. In June 2008, Arias committed the gruesome murder of Travis Alexander, an ex-lover she had been stalking. Arias did not opt to poison her ex-lover or kill him in a gentle or quick manner - instead, on June 4, 2008, she stabbed him between 27 and 30 times and shot him in the face.
While the notion of jilted and jealous ex-lovers killing is not completely unheard of, the intensity and insanity that follows Arias' murderous rage and trial is nothing short of jaw-dropping. Continue reading to learn more about this highly controversial case, the tragic ending to Travis Alexander's life, and the life and crimes of Jodi Arias.

Alexander Was Stabbed And Shot To Death By Arias
On June 2, Arias rented a car to drive from her grandparents' home in California, whom she was living with, to Utah for a work conference. During the trip, friends were not able to get a hold of her for extended periods of time due to her phone being off. Arias did not want anyone to know that she was going to Alexander's house in Mesa, Arizona, before her Utah destination.
On June 4, Arias went to Alexander's home. The two had sex, complete with a saucy photo shoot, and then Alexander took a shower. While in the shower, Arias stabbed Alexander 29 times, slit his throat ear-to-ear, and shot him in the head. His body would not be discovered for five days. In the meantime, Arias continued on her trip, attending the last day of the convention and spending time with a new man, Ryan Burns.
She Took Photos Before, During, And After The Murder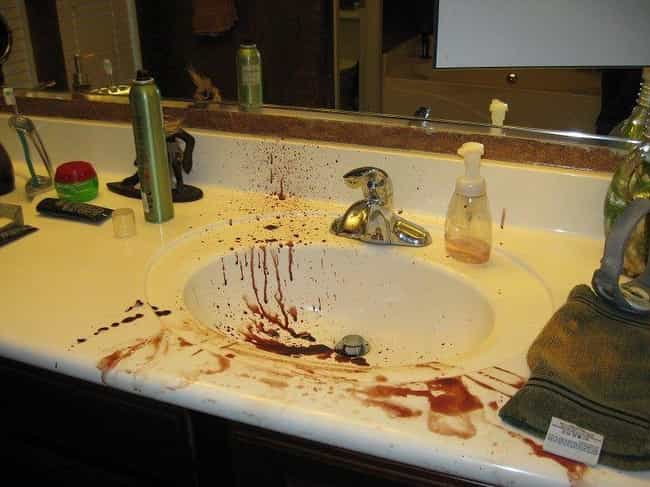 After friends discovered Alexander's body, the police were called to the home. While investigating, the police found Alexander's new digital camera in the washing machine. While the images on the camera were deleted, police were able to recover all of the photographs. The photos were taken on June 4, the day Alexander was murdered. Some of the photos show both Arias and Alexander nude and in sexually suggestive poses. The next series of photos taken feature Alexander in the shower. The last few images show Alexander bleeding on the bathroom floor.
The dated and time-stamped photos on the camera prove without a doubt that Arias was in the home at the time of Alexander's murder. In certain images where Alexander's body is near a puddle of blood, Arias's leg and foot can also be seen.
In addition to the photo evidence, police also recovered a bloody palm print in the hallway of the home, which included both Arias's and Alexander's DNA. There was a wall covered in blood, which had a single strand of hair on it. The hair was later discovered to be Arias's. It also appeared that Alexander was shot with a .25-caliber automatic Colt pistol, the same type of gun stolen that had been stolen Arias's grandparents home in May 2008.
There Was A Bizarre Interrogation Video Released
After Arias was linked to Alexander's murder and placed under arrest, she was brought in for questioning. Arias acted extremely weird in the released footage. While alone in the interrogation room, she sings, talks to herself, does a handstand, and shoves papers down her pants. When detectives confront her with proof that they have that she was at Alexander's house when he was murdered, Arias denies it for hours.
The next day, Arias is interrogated again, and this time, she makes up an elaborate story that masked intruders broke into the home and killed Alexander and contemplated killing her as well. They let her live, but warned her they'd kill her family if she went to the police. Arias's tale eventually leaked to the media, who referred to it as the "ninja story," a story Arias continued telling for the next two years, granting many interviews with news programs to share her tale.
Arias Takes Back Her Ninja Story And Pleads Self-Defense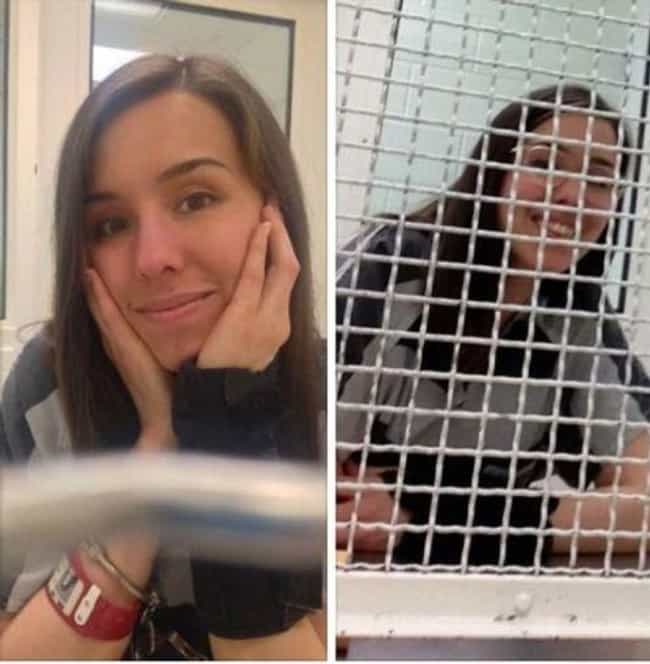 Two years after Arias shared the ninja story, her lawyers stunned everyone by filing a notice of intent that Arias would claim self-defense at her trial. By claiming self-defense, Arias was finally admitting that her story of the masked intruders was fabricated. The defense was now saying Alexander was abusive toward Arias and as he was attacking her, she defended herself, and he ended up killed in the process.
The defense tried to submit some controversial letters allegedly written by Alexander into evidence that would prove he was abusive, but the court ultimately refused to admit the letters. It's still unclear whether Alexander actually wrote the letters or Arias forged them. Arias changing her story continued to cause a delayed trial until December 2012, four and a half years after Alexander's death.