Graveyard Shift
Stephen King Recommends This Book About Boy Scouts, And It's Scarier Than Anything

Updated November 27, 2018
3.4k views
10 items
For horror icon Stephen King to give his stamp of approval to another writer's book, it's probably a pretty great read. That's exactly what he did for Nick Cutter and his novel The Troop, which follows a small group of Boy Scouts and their scoutmaster as they attempt to survive on an uninhabited island against a most unlikely terror (hint: it's intestinal).
Cutter has tapped into something with The Troop, judging by the mountain of positive reviews from fans and other renowned horror authors alike. An unabashed King devotee, Cutter pulls influences from the legendary author, as well as other writers and even horror movies.
What makes The Troop a must-read is not just its disturbingly descriptive imagery, but the feeling that what happened to the boys on Falstaff Island could occur in reality.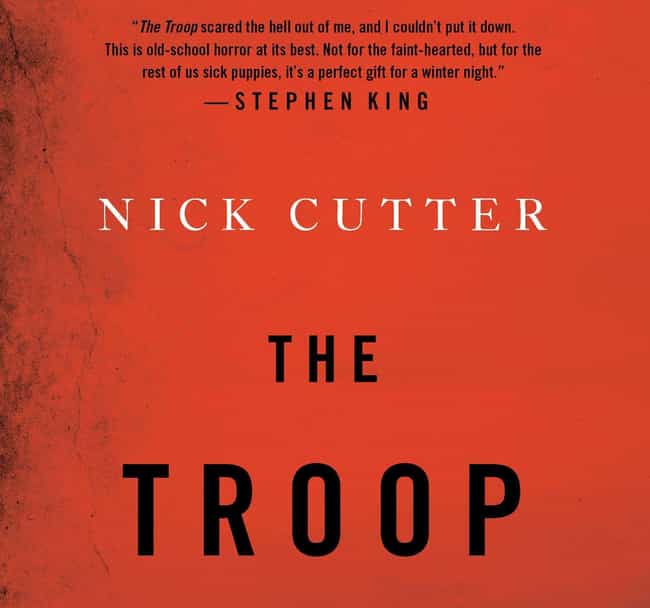 Stephen King Said It 'Scared The Hell' Out of Him
When The Troop was released in 2014, author Nick Cutter, a huge fan of Stephen King's many novels, gave credit in the book to the master of horror. He name-checks King in the acknowledgments, saying, "I'd like to thank Stephen King, whose first novel, Carrie, was a great inspiration to me while I was writing."
He can also thank King for endorsing the book. King gave The Troop a resoundingly positive review, part of which was turned into a front cover blurb: "The Troop scared the hell out of me, and I couldn't put it down. This is old-school horror at its best. Not for the faint-hearted, but for the rest of us sick puppies, it's a perfect gift for a winter night."
The Premise Of The Book Is Pretty Terrifying 
In The Troop, scoutmaster and doctor Tim Riggs brings a tight-knit group of 14-year-old boys - popular, sports-minded Kent; best friends Ephraim and Max; sociopathic loner Shelley; and overweight, bullied Newton - to Falstaff Island for an annual event. Located near Prince Edward Island in Canada, the idyllic three-day camping trip takes a turn when the group meets an unexpected intruder who's thin, pale, and always hungry.
As Riggs attempts to help the sick man, he unwittingly releases a parasitic tapeworm that looks for other hosts in the island's ecosystem. As the tapeworm spreads, the boys who aren't infected attempt to make their way off the island and find themselves in a harrowing struggle for survival that pits them against the infected - and each other.
The Book's Monster Is Fairly Realistic
The threat in The Troop doesn't come from outer space, and it's not a monster you would find in fantasy - it's a tapeworm. In the book, it's a bio-engineered creature, a weapon that, once in a host, causes a hunger so great the infected person eats everything they can to sate an urge that never goes away. When food sources are depleted, the infected eat wallpaper, sand, and couch cushions, causing internal damage in the process.
Tapeworms do exist and, if left unchecked, rob the body of vital nutrients. Humans generally get infected with tapeworms by eating undercooked meat from infected animals. Symptoms include nausea, abdominal pain, hunger, fatigue, weight loss, and vitamin and nutrition deficiencies. In rare cases, tapeworms can be life-threatening.
Cutter said a museum exhibition inspired him to make a tapeworm his literary villain:
This story started at the Royal Ontario Museum in Toronto. An exhibit on water, unsurprisingly. And the little wrigglers that lived and thrived in water. And worms, tapeworms, in close-up, are really quite beautiful. They can look like flowers in bloom or fleshy leaves, and they move in a hypnotic way. But they're icky parasites, too, so there's a great duality there!
Author Nick Cutter Won The James Herbert Award For Horror Writing 
Nick Cutter - a pseudonym for Canadian author Craig Davidson - won the inaugural James Herbert Award for horror writing in 2015. The award was launched just a year earlier in hopes of discovering and promoting new horror writers while celebrating the life of Herbert (author of The Rats, The Fog, and other books), one of the genre's most beloved authors. The panel of judges overwhelmingly agreed with King's assessment of The Troop, including chairman Tom Hunter:
[F]or me it's the confident sense of character, eidetic language and kinetic writing style that makes this a truly compelling winner. That, and it really is pretty damn scary!
Kerry Herbert, James Herbert's daughter, and another award judge, also praised the novel:
Human evil meets an insatiable force of nature to wreak havoc on kids, a scout troop, no less? My father would have chuckled in his chair.