Attractions

List of Famous Troy Buildings & Structures

List of the famous landmarks that make up the Troy skyline, listed alphabetically with photos when available. Troy architectural landmarks as well as other major buildings, dwellings, and other structures in Troy are included on this list. Information about these Troy buildings is included on this list, such as when the building first opened and what architectural style it falls under. List includes both new buildings in Troy and older historic landmarks.
Top of Troy and Cannon Building are included on this list.
This list answers the question, "What are the most famous buildings in Troy?"
This is a good reference for research into the historical architecture in Troy. Famous architectural houses within the city of Troy are included as well, sometimes by address, other times listed by the name of the original home owner.
1
Burden Ironworks Office Building
Burden Ironworks Office Building is a historic office building located at Troy in Rensselaer County, New York. It was built about 1880 and is a one story, brick building laid out in a cruciform plan. It features gabled and hipped roofs and a central octagonal cupola and onion dome. It was listed on the National Register of Historic Places in 1972. ...more on Wikipedia
City/Town: Troy, New York, USA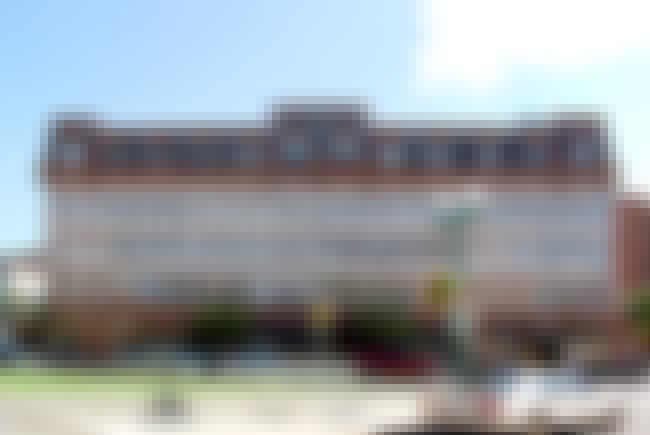 The Cannon Building in Troy, New York is located on Broadway between First and State streets. It is the oldest building on Monument Square. It was designed by Alexander Jackson Davis and built in 1835. In 1970 it was listed on the National Register of Historic Places. It is also a contributing property to the Central Troy Historic District, listed on the Register in 1986. Davis, who collaborated with Ithiel Town on the building, used the then-popular Greek Revival style to produce one of the rare surviving large-scale commercial buildings in that style. After two fires in the years after the Civil War, a mansard roof, usually associated with that era's Second Empire style, was added to the ...more on Wikipedia
City/Town: Troy, New York, USA
Opened: Jan 01 1835
Architect: Ithiel Town, Alexander Jackson Davis
Created By: Ithiel Town, Alexander Jackson Davis
Style: Greek Revival
see more on Cannon Building
The Church of the Holy Cross is a church in Troy, New York, United States. It was added to the National Register of Historic Places in New York in 1973. It borders the Rensselaer Polytechnic Institute campus to the East and South. The church was founded by Mary Warren in the early 1840s. Under the direction of Mary Warren's son, Nathan B. Warren, the church nave was built from designs by Alexander Jackson Davis in 1844. The chancel addition, by Richard Upjohn, was completed in late 1848 and dedicated in January, 1849. In 1846, the Church instituted one of the first choirs at an Episcopal church in the United States. During the full choral service, the psalter, creed and responses of the ...more on Wikipedia
City/Town: Troy, New York, USA
Opened: Jan 01 1844
Architect: Alexander Jackson Davis, Richard M. Upjohn
Created By: Alexander Jackson Davis, Richard M. Upjohn
Style: Gothic Revival architecture
see more on Church of the Holy Cross
4
College Street Historic District
The College Street Historic District is a historic district in Troy, Alabama. The district encompasses West College Street between Pine Street and Cherry Street. The district covers 15.5 acres and comprises 19 contributing properties, including 17 houses, a church, and a cemetery. Buildings in the 2-block area date from as early as the 1870s, although some houses were built off of older homes. The district contains only one house built since the 1920s, keeping intact the historic character of the neighborhood. Architectural styles include Second Empire, Late Victorian, Queen Anne, and Greek Revival. The district was added to the National Register of Historic Places on August 13, ...more on Wikipedia
City/Town: Troy, Alabama, USA
Style: Victorian architecture