Culture
16 Ridiculous Reasons Why Trump Supporters Have Boycotted Companies

Updated June 14, 2019
47.3k views
16 items
Are you a Donald Trump supporter looking for a new business to fruitlessly boycott? Are you upset about the rise of Donald Trump from orange television bag man to President of the United States and looking for a way to give money to a company that he doesn't have a hand in? Then you're in the right place. It seems like every week there's a new Trump boycott by the conservative snowflakes who support the President, and while some seem like they could make a small dent in the massive corporations that they're carried out against, for the most part these boycotts tend to either drive up sales for the anti-Trump businesses, or fade out as soon as a new business comes along that makes a veiled slight at Donny T.
These businesses that are anti-Trump might have ruffled some feathers for members of the GOP. So go ahead and boycott - Starbucks probably won't miss you.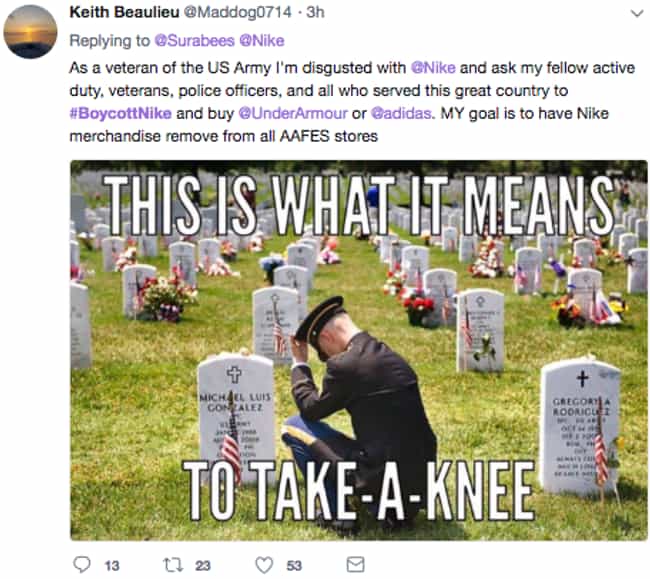 To celebrate the 30th anniversary of the "Just Do It" campaign in September 2018, Nike teamed up Colin Kaepernick, the face of the NFL protests. The ads read, "Believe in something. Even if it means sacrificing everything."
Given Trump's proposal to punish NFL players who take a knee, his supporters did not take kindly to this promotion. Within hours of the initial post, they let the world know they would be boycotting Nike products. A tweet from account @FL4TRUMPDOTCOM posted a video of Nike shoes on fire with the caption, "Any Questions? #BoycottNike." Country star John Rich also jumped into the conversation, sharing a photo of his soundman's shredded Nike socks on Twitter.
"Our Soundman just cut the Nike swoosh off his socks. Former marine. Get ready @Nike multiply that by the millions," Rich captioned the tweet.
After Kaepernick posted the ad on September 4, Nike's shares fell more than 2%, but according to marketing solutions analysts like Allen Adamson, this shouldn't impact Nike negatively in the long run.
"No matter which athlete they choose, they will offend some customers. If you try to please all people all the time, you will end up pleasing nobody," Adamson told CNBC.
Nordstrom, For Dropping Ivanka Trump's Clothing Line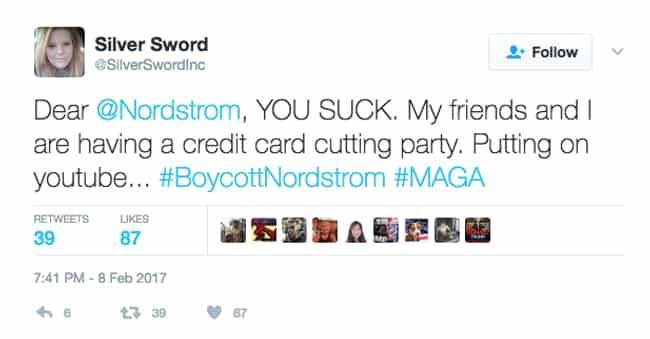 When Nordstrom, you're aunt's favorite retailer, dropped Ivanka Trump's clothing line in February 2017, it specifically noted it did so because of poor sales performance. A spokeswoman for the company told a CNN reporter, "Over the past year, and particularly in the last half of 2016, sales of the brand have steadily declined to the point where it didn't make good business sense for us to continue with the line for now." That makes sense! But after Trump tweeted:
My daughter Ivanka has been treated so unfairly by @Nordstrom. She is a great person -- always pushing me to do the right thing! Terrible!

— Donald J. Trump (@realDonaldTrump) February 8, 2017
And when Trumpies smelled blood in the water they decided to boycott the company, which is something they were likely already doing thanks to the fact that most Nordstrom locations can either be found on the coasts - typically more liberal cities.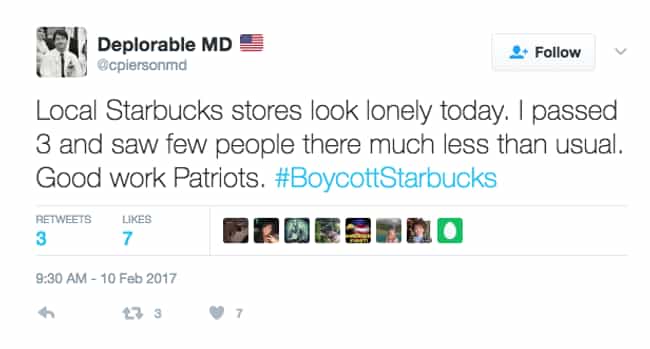 When Starbucks CEO Howard Schultz announced the company was planning on hiring 10,000 immigrant employees over five years after Trump's clusterf*ck of an immigration ban, Trump supporters lost their minds. They imagined all the domestic terror that could be accomplished with the companies freshly brewed coffee (to be fair, it is really hot). Most of the folks saying they were going to #boycottstarbucks insisted the company should hire 10,000 veterans instead, which is something the company was planning on doing anyway. This isn't exactly new territory for the 'Bucks, who tends to face a new boycott every year with the release of their holiday cups that are becoming less and less Christmas-y - much to the baby Jesus's chagrin.
Joke's on the conservatives though. Every time Starbucks had been the target of a boycott, their stock value has historically gone up.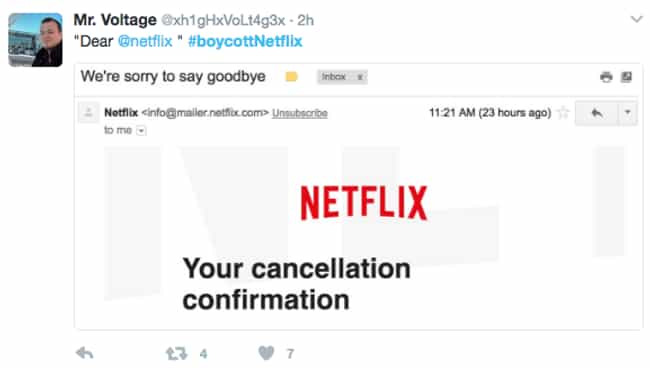 On the day Netflix released the trailer for Dear White People, a satirical show about African American life at an Ivy League college based on a film of the same name from 2014, a bevy of thin skinned, precious snowflake Trump supporters cried that they were going to cancel their Netflix accounts. Why? Because the trailer for the new show promoted "white genocide." First of all, boo hoo, it's not like there aren't thousands of pieces of art that depict the systematic slavery and degradation of the African American people, and it's not like you can't just watch something else.
The boycott subsequently made the show's trailer the most-viewed teaser-announcement ever for a Netflix series. So will the show's numbers really suffer? Doubt it.