Culture
Super Nifty Pictures From The Tsukiji Fish Market

Updated May 31, 2017
26 items
If you're into Japanese cuisine and sushi culture, chances are you've assumed there's a giant Tokyo fish market that acts as a hub for the mega city's restaurants buyers, local markets, and amateur chefs. You might even know that market is called Tsukiji fish market, and that it's the largest wholesale seafood market in the world, and one of the largest wholesale markets of any kind. Given the importance of fish and seafood in Japanese food and culture, it makes sense such a place exists; chances are, if you've eaten out in Tokyo, some of your sushi ingredients came from Tsukiji.
As these Tsukiji fish market photos show, the grandest of all Japanese fish markets is a complex, lively place. It consists of an inner market, where wholesale fish are sold, sometimes at auction, and prepared for sale in the outer market, and an outer market, which is a combination of wholesalers and other vendors and restaurants. The market opens at 3:00 a.m, most days, handles hundreds of varieties of seafood, employs tens of thousands of people, and generates billions in revenue each year.
For sushi and seafood aficionados, the photos on this list will surely whet your appetite. Vegetarians may see it more as a grotesque panoply of pain, violence, and suffering, as fish are impaled, eviscerated, and cooked alive.
Workers Lay Out Frozen Tuna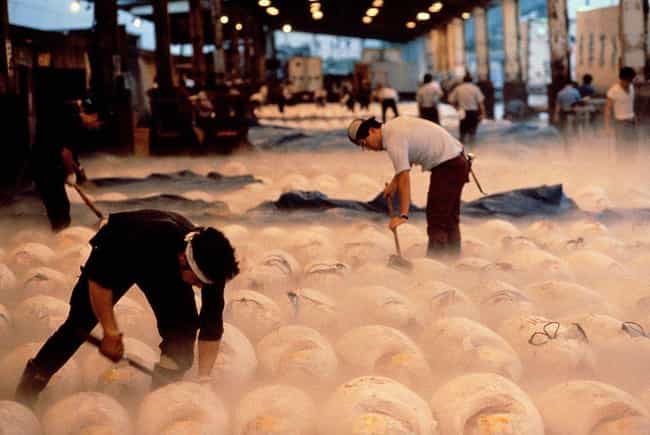 An Employee Slices Tuna With What Looks Like Zatoichi's Cane Sword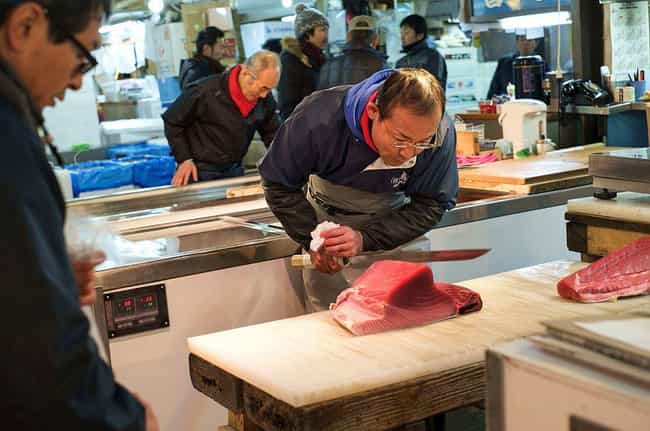 Giant Tuna Distributed To Buyers On A Cart