Living
The Turpins Kept Their 13 Kids Shackled In Filthy Conditions For More Than Two Decades

In January of 2018, a distraught teenager called 911. The 17-year-old reported she had escaped from her parents, leaving 12 siblings held captive in their Perris, California home. Police responded to the call and found a bizarre and heinous scene: David and Louise Turpin had kept some of their kids bound in shackles and chained to the furniture in filthy bedrooms. All were severely malnourished and appeared many years younger than they were. This abuse had been going on for decades, as the children's ages ranged from 2 to 29. There were reports the Turpin parents even treated the family pets better than the children.
David and Louise Turpin are charged with multiple counts of torture and child endangerment and face life imprisonment. The parents entered "not guilty" pleas and opted not to comment. Authorities removed the children from the Turpins' custody and placed them in rehabilitation hospitals for ongoing treatment and counsel. The following can't explain why David and Louise Turpin confined their children, but the details cast light on who the Turpins are, and what exactly happened to "the Magnificent 13."
back to page 1
The Turpins Were Struggling Financially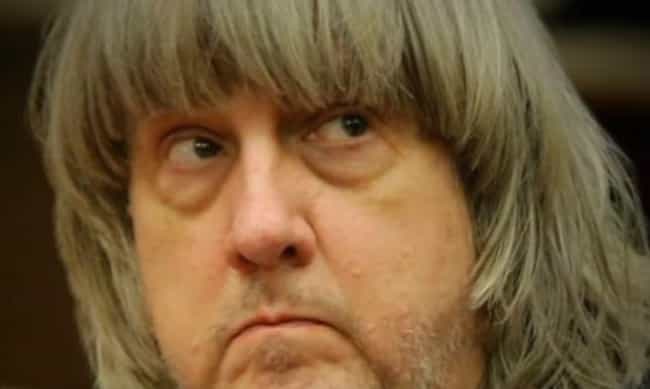 David Turpin was once reportedly an engineer who earned $140,000 a year, but he left his job in 2010. Louise was a homemaker who received no income. In 2011, they filed for bankruptcy and had approximately $240,000 in debt from credit cards and a foreclosure on their former Texas farm. Ivan Trahan, the attorney who represented them in their bankruptcy case, was surprised when child abuse allegations came to light:
To me and my wife, Nancy, who was with me during the interviews, we always thought of them as very nice people who spoke highly of their children [...] They seemed like very normal people who fell into financial problems.
At the time of arrest, the Turpins lived in a single-story home tucked in a Southern California development. While it's unclear how the unemployed Turpin parents supported the family of 15, the residence reportedly had multiple new vehicles and a well-kept exterior.
The Turpin Parents Pled Not Guilty To Torture And Abuse
When authorities apprehended David and Louise, the confused parents didn't understand why the county was mounting a legal case against them. They offered no reasons for their negligent behavior or for why they padlocked and bound their children to beds. According to CBS News, they pleaded "not guilty" to:
12 counts of torture, seven counts of abuse of a dependent adult, six counts of child abuse or neglect and 12 counts of false imprisonment, for alleged crimes ranging from 2010 to the present. David Turpin is also charged with one count of lewd act on a child.
Their bail is set at $9 million. If convicted, they face a prison sentence of more than 90 years. Meanwhile, the kids have a lot of recovering and readjusting to do. According to People magazine:
Although none of their injuries are life-threatening, the siblings are being treated at local hospitals where they watch videos together while receiving care from doctors, dietitians, and counselors.
They Projected An Image Of Perfection On Social Media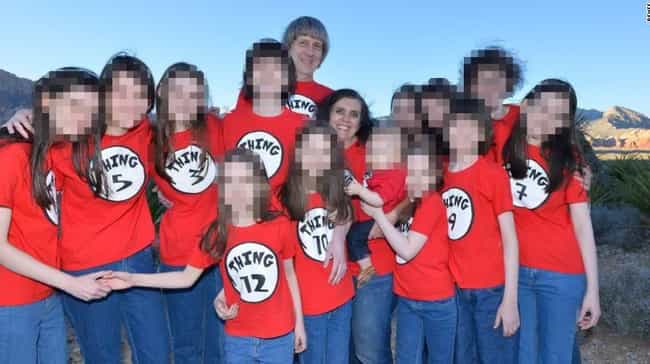 Even though David and Louise Turpin held their children captive and rarely allowed them to leave the house, they presented the family as happy and healthy on social media. They posted pictures from vacations to Disneyland and from Las Vegas, where David and Louise renewed their wedding vows. In all the family pictures, the parents forced the kids to wear matching clothes and sport identical haircuts.
According to the children's paternal grandmother, the parents claimed it was easier to maintain their baker's dozen when the children donned similar appearances. Although the eldest Turpin child was 29, Betty reiterated how the parents believed this possessive behavior was for the children's safety. Psychologists speculate that the parents' actions and treatment of their children may be linked to a general fear of society.
The Children Were Chained, Starved, And Tortured
When authorities entered the family home in Perris, they found some of the remaining 12 children confined to bedrooms, restrained with ropes and chains. According to California's Riverside County District Attorney Mike Hestrin, the Turpins used this as a form of punishment when the kids misbehaved. The parents allegedly only allowed the kids to shower once a year and monitored water-related activities, such as handwashing. They didn't permit doctor's visits and often underfed the kids.
In another form of punishment, the parents tantalized the children with sweet pies, allowing the kids to stare at them but not eat them. The parents also reportedly forced the children to keep odd sleep cycles, which dictated they stay up until 4 or 5 am. DA Hestrin said:
As a prosecutor, there are cases that stick with you, that will haunt you [...] Sometimes in this business, we're faced with looking at human depravity - and that's what we're looking at here.