Behind The Scenes
TV Best Friends Who Hated Each Other In Real Life

Updated December 2, 2019
183.9k views
12 items
Big actors often have equally big egos, and when those egos are forced to compete for airtime, jokes, and accolades, it can understandably lead to friction. Some of the best cinematic buddies were at each other's throats during filming, and television is no different.
Making a TV show can be a grueling marathon, especially if the show is popular and lasts for several seasons. In this crucible, it frequently seems that off-screen relationships between co-stars develop in one of two ways: They either bond over their shared circumstances and the cast becomes like a family, or they grind away at each other's nerves and form bitter, barely-contained feuds that almost always spill over the soundstage and into the headlines.
When fans come to love a show - and the relationships on that show - it's nice to think that the same chemistry exists between the characters in real life. This is not always the case, as fans of Sex and the City, Beverly Hills, 90210, The Good Wife, and even The Golden Girls know - or are soon to find out. Here's a look at some famous TV besties who were bitter enemies when the cameras stopped rolling.
back to page 1
William Shatner And Leonard Nimoy On 'Star Trek'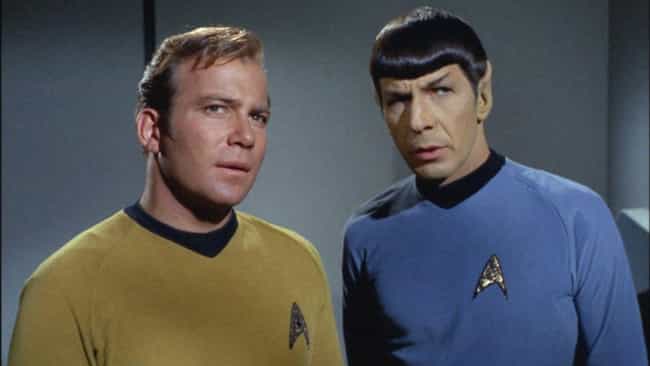 There may be no sci-fi friendship or partnership more enduring than that of Captain James T. Kirk and the Vulcan science officer Spock. Together, William Shatner and Leonard Nimoy pioneered science fiction television and popular culture aboard the starship Enterprise for three seasons and several movies. On the show, Kirk and Spock were trusted comrades in arms who put their personal differences aside to work together, live together, and explore together. It seems that Shatner and Nimoy's real-life friendship was just as complicated, and ultimately more tragic.
Infamously, Shatner and Nimoy clashed from the very beginning of their time on the original Star Trek. Both were driven, dedicated actors looking to break through, and Spock's character proved to be far more popular than expected during the first season. Speaking with The Hollywood Reporter in February 2016, a year after Nimoy's passing, Shatner admitted that there were "fireworks," but his own issues weren't directed toward his co-star:
I remember going to the producers and wondering whether they were going to change the thrust of the show as a result of the popularity of Spock. So my anxieties were never directed at Leonard per se, it was about "How was the show going to go?"
The actors eventually formed a close friendship, and Shatner would even go on to describe Nimoy as the "the only friend I ever had." However, in his final years, Nimoy cut Shatner out of his life entirely, and Shatner said he never understood what led to the rift. According to the actor:
I just don't know, and it is sad and it is permanent. I don't know why he stopped talking to me. I have a picture of him and me laughing in my office. I have the echo of the laughter that we had between us but that's all that I have.
One possible reason for the rift is Shatner's attempt to get Nimoy to appear in a documentary called The Captains. In the doc, Shatner interviews actors who starred as captains in different Star Trek shows. He reportedly asked Nimoy to be in it, and the actor refused. Afterward, Shatner's cameraman apparently filmed footage of Nimoy at a fan convention without his permission. Perhaps that is the unfortunate reason behind the actors' late-in-life falling out.
Naya Rivera And Lea Michele On 'Glee'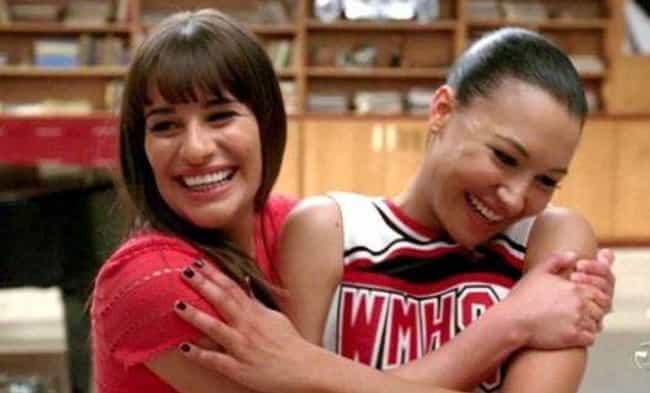 Rachel Berry (Lea Michele) was the brash, outspoken, straight-laced music nerd of Glee's McKinley High School, while Santana Lopez (Naya Rivera) was a popular, semi-vicious cheerleader. Their relationship began in social conflict, but through their time together in glee club, the pair's friendship blossomed over the course of their six seasons together.
It seems that Michele and Rivera's off-screen relationship unfolded in the opposite manner, with them starting off on the right foot and slowly getting colder toward each other as the show progressed. For years, their off-screen rivalry was fodder for tabloid headlines. However, according to Rivera, while their combativeness was real, it was not as antagonistic as many speculated:
One of the Glee writers once said that Lea and I were like two sides of the same battery and that about sums us up. We are both strong willed and competitive - not just with each other but with everyone - and that's not a good mixture. As Santana moved from a background character to one with bigger plot lines and more screen time... I think Rachel - erm, I mean Lea - didn't like sharing the spotlight.
Apparently, by the end of the final season, the two weren't talking at all. "I'm not offended when people offer feedback or criticism, and if things get heated on set, I try to keep perspective," Rivera claimed in her 2016 memoir.
Nicollette Sheridan And Teri Hatcher On 'Desperate Housewives'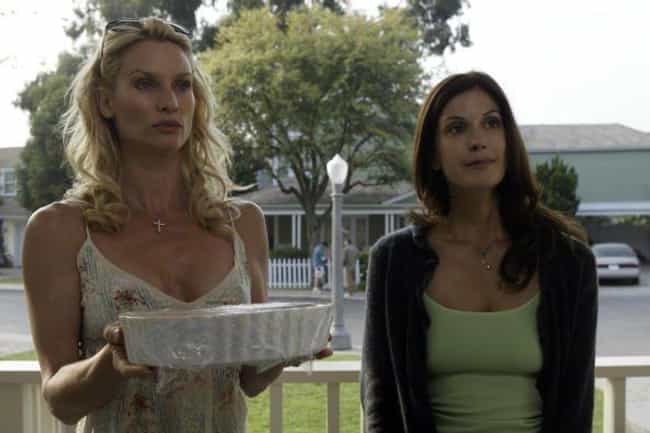 While Desperate Housewives' Wisteria Lane was filled with drama, feuds, and nefarious deeds, one of the most notorious rivalries was between Edie Britt (Nicollette Sheridan) and Susan Mayer (Teri Hatcher). The characters weren't exactly friends, but their lives were inexorably intertwined on the show. Apparently, whatever animosity there was between Edie and Susan paled in comparison to the real-life hostility between Sheridan and Hatcher.
Sheridan, according to reports, didn't get along with nearly any of her co-stars, or the show's creator, Mark Cherry. The feuding within the cast was so notorious that a Desperate Housewives cover shoot for an issue of Vanity Fair was captioned, "You wouldn't believe what it took just to get this photo!"
Ultimately, Cherry decided to eliminate Sheridan's character. Writing off an actor or actress is a regular occurrence on TV shows - but in this case, Sheridan wasn't having it. She sued Cherry for wrongful dismissal.
During the trial, Cherry took the stand and recounted some of the arguments that exploded on set during filming. As he recalled:
There was a problem going on between Nicollette Sheridan and Teri Hatcher... they were furious with each other. Nicollette pulled me aside and told me that Teri Hatcher was the meanest woman in the world because of how she was acting.
Cherry was prevented by Sheridan's lawyers from further recounting the feud in his testimony.
Julianna Margulies And Archie Panjabi On 'The Good Wife'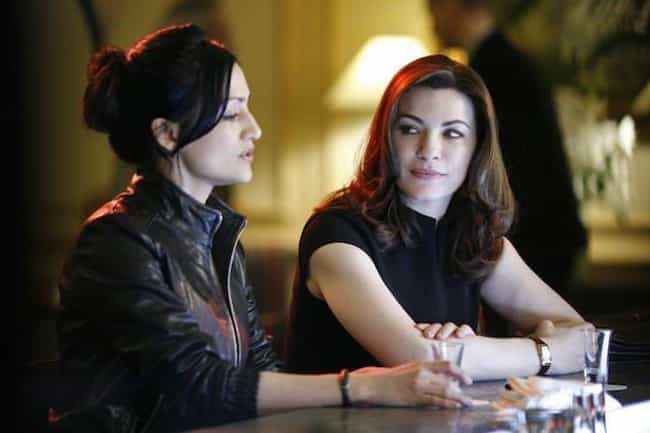 In The Good Wife, attorney Alicia Florrick (Julianna Margulies) works closely alongside Kalinda Sharma (Archie Panjabi), the in-house private investigator for the law firm of Stern, Lockhart & Gardner. While Kalinda is private and stand-offish, they form a friendship that binds them together. However, midway through Season 4, fans noticed something odd: The actresses barely shared any scenes together. As the show continued, the number of scenes dwindled to zero. Considering they were both main characters and supposedly good friends, this was undeniably conspicuous. Rumors swirled that the reason was a deep rift between Margulies and Panjabi. By Season 6, these two once-close characters were exclusively communicating over the phone.
While neither Margulies nor Panjabi has gone on record about what transpired between them, fans have pointed out that the characters' friendship, and Panjabi's importance to the plot, became less pronounced after Season 3 - when Margulies was first credited as a producer on the show.
The rumors of bad blood seemed to be confirmed in the Season 6 finale, Panjabi's final episode. The characters of Alicia and Kalinda once again shared the screen, but the actors did not. In actuality, Margulies and Panjabi shot their scenes individually and were digitally added into frame to make it look like they filmed the scene together.
Margulies has denied rumors of a feud and claims they shot the scene in split-screen because Panjabi had other commitments on the production of her TV series, The Fall. Panjabi all but called Margulies a liar when she took to Twitter to share, "@TheFallTV was not even in production at that time and I was in New York ready to film the scene!"