Behind The Scenes
TV Best Friends Who Hated Each Other In Real Life

Updated December 2, 2019
193.6k views
12 items
Big actors often have equally big egos, and when those egos are forced to compete for airtime, jokes, and accolades, it can understandably lead to friction. Some of the best cinematic buddies were at each other's throats during filming, and television is no different.
Making a TV show can be a grueling marathon, especially if the show is popular and lasts for several seasons. In this crucible, it frequently seems that off-screen relationships between co-stars develop in one of two ways: They either bond over their shared circumstances and the cast becomes like a family, or they grind away at each other's nerves and form bitter, barely-contained feuds that almost always spill over the soundstage and into the headlines.
When fans come to love a show - and the relationships on that show - it's nice to think that the same chemistry exists between the characters in real life. This is not always the case, as fans of Sex and the City, Beverly Hills, 90210, The Good Wife, and even The Golden Girls know - or are soon to find out. Here's a look at some famous TV besties who were bitter enemies when the cameras stopped rolling.
Kim Cattrall And Sarah Jessica Parker On 'Sex and the City'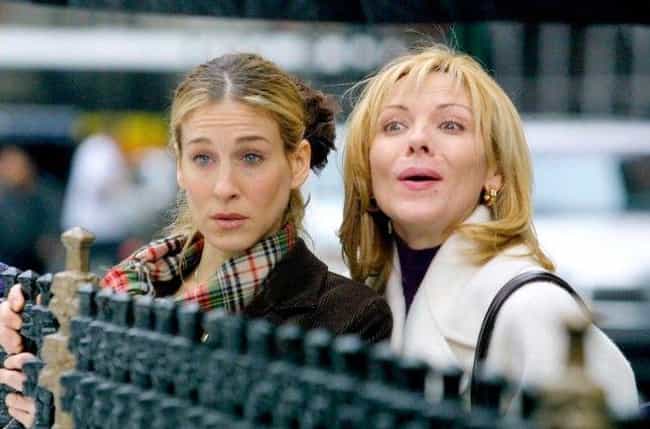 As Carrie Bradshaw and Samantha Jones, Sarah Jessica Parker and Kim Cattrall played upper-class New York City social mavens - part of an inseparable quartet of gal pals - over the course of six seasons and two feature films. However, behind the scenes, the two actresses were legitimate enemies. Reportedly, this was their dynamic for almost the entire length of the series.
While many celeb feuds play out as a series of shady comments and back-handed remarks that dodge the question of rivalry, the battle between Cattrall and Parker has been a lot more explicit - at least on Cattrall's part. Overall, Parker has maintained that rumors of a bitter feud have been exaggerated or misreported, and she's maintained a facade of indifference. However, things jumped up a level in February 2016 when Cattrall's brother passed and Parker apparently sent her condolences.
"I don't need your love or support at this tragic time @sarahjessicaparker," Cattrall wrote in an Instagram post. She added:
My Mom asked me today, "When will that @sarahjessicaparker, that hypocrite, leave you alone?" Your continuous reaching out is a painful reminder of how cruel you really were then and now. Let me make this VERY clear. (If I haven't already) You are not my family. You are not my friend. So I'm writing to tell you one last time to stop exploiting our tragedy in order to restore your "nice girl" persona.
Needless to say, it's unlikely fans will see Cattrall reprise her character in any potential Sex and the City sequels.
Isaiah Washington and Patrick Dempsey On 'Grey's Anatomy'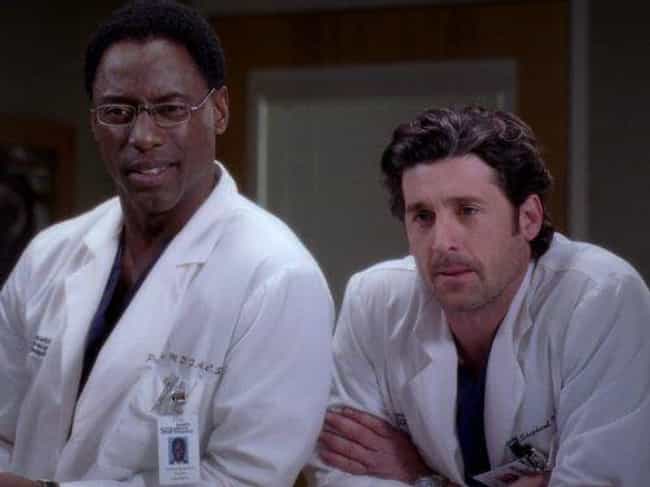 Two of the most influential and talented doctors to walk the halls of Seattle Grace Hospital were Preston Burke (Isaiah Washington) and Derek Shepherd (Patrick Dempsey). While they may have been professional rivals, their respect and appreciation for one another was undoubted, and Shepherd even saved Burke's hand from irreparable nerve damage after Burke was shot. However, in a controversial blow-up that played out in the headlines, Washington was fired and written off the show after allegedly using a homophobic slur toward another co-star, T.R. Knight, who played Dr. George O'Malley.
Washington claims he was actually standing up for Knight against Dempsey. According to the actor:
[Knight] had led me to believe that Patrick Dempsey was so... horrible to people in a two-and-a-half hour conversation on the plane. For two and a half hours, this boy talked my ear off [about] how horrible Patrick Dempsey is and how he needs to be removed from the show.
Washington admitted to using a homophobic slur, but not toward Knight. Instead, he told Larry King that he yelled at Dempsey in Knight's defense, telling his co-star to stop treating Knight like a "B-word," a "P-word," and an "F-word." Dempsey later claimed that Washington didn't actually call Knight the inflammatory term and that Knight's version of the event was wrong, but the defense came after Washington had already been fired.
Blake Lively And Leighton Meester On 'Gossip Girl'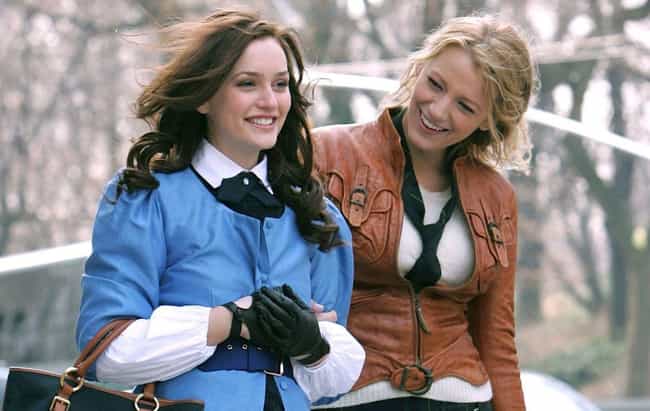 At the Constance Billard School for Girls in Manhattan, Serena van der Woodsen (Blake Lively) and Blair Waldorf (Leighton Meester) weren't just two girls with aggressively-rich teenager names, they were best friends and shade-throwing frenemies. However, the facade of a sisterly bond kept them close. According to the Gossip Girl crew, however, the pair weren't friendly at all.
Executive producer Joshua Safran told Vanity Fair that the actresses were two wildly different people:
Blake is very much in the moment. Blake knows what's happening. She knows this movie's coming out, this band is happening. You talk to Blake on a very contemporary level. Leighton was very removed and very quiet, and, after her scenes were done, she would wander the stage... Blake and Leighton were not friends. They were friendly, but they were not friends like Serena and Blair. Yet the second they'd be on set together, it's as if they were.
However, other sources on the set say the actresses' relationship was even more strained than just not being buddies when the cameras weren't rolling. According to a New York magazine exposé, Lively and Meester would "avoid each other like the plague" on set and expected their cast mates to "choose sides."
Jennie Garth And Shannen Doherty On 'Beverly Hills, 90210'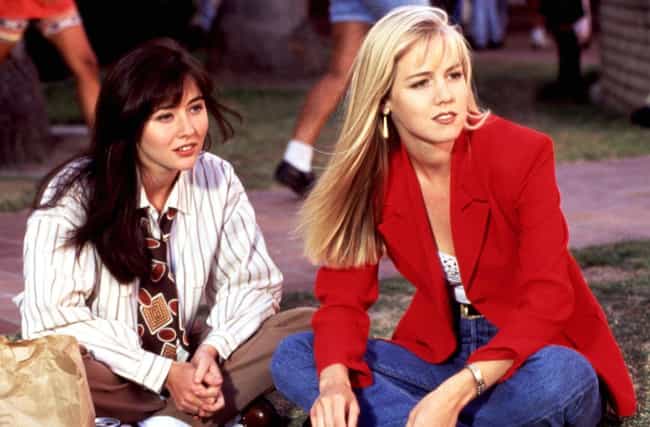 One of the most complex friendships on TV in the '90s was between Beverly Hills, 90210 residents Kelly Taylor (Jennie Garth) and Brenda Walsh (Shannen Doherty). As the new girl in a wildly different world, Brenda looked up to Kelly for her larger-than-life personality, while Kelly appreciated Brenda's grounded, measured outlook and sensibility. They had disagreements and occasional feuds, which were often followed by emotional reconciliations.
When it came to actresses Garth and Doherty, their connection was mostly just filled with disagreements and feuds. In recent years, the pair have apparently been on much better terms. However, after the release of her 2014 memoir, Deep Thoughts From a Hollywood Blonde, Garth opened up about the feud.
Speaking on why she clashed so frequently with Doherty, Garth said:
We were locked in this sound stage for 14-16 hours every day... There were times when we loved each other and there were times when we wanted to claw each other's eyes out. It was more of just young girls finding their way and finding their individual voices. Shannen and I are both Aries women, we're both very strong, independent women, so we butt heads a lot.