Debunking
TV Characters With Mental Illness (And How Accurately They're Portrayed)

Updated June 14, 2019
275.2k views
12 items
However unfortunate, it's not very common to see accurate depictions of mental illness on TV. While some shows do broach mental health, they often do it in a superficial and frustrating way. Or worse, in the form of a "very special" episode. Remember the "Shape Up" episode of Full House when DJ had an eating disorder that she overcame in like 20 minutes? Or when every procedural character ever suffering from mental illness was also a genius "thanks" to their disorder?
That's why it's incredibly refreshing to stumble upon a TV show that depicts mental illness in an honest and realistic way. Even when the disorder isn't portrayed as accurately as it could possibly be, it's still invigorating to see a protagonist who struggles with mental issues live their day-to-day lives as productively as possible.
To celebrate these much-needed and rare shows, take a closer look at a few TV characters with mental illness. Not only that, but read on to get real peoples' responses and assessments of the way mental illness gets portrayed on the small screen.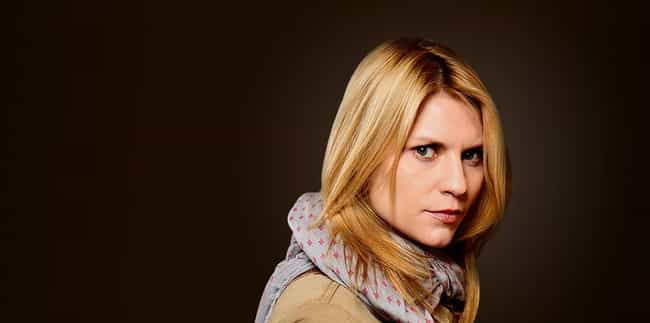 TV Show: Homeland
Besides her ugly crying and infinite badassery, what makes Carrie stand out in the TV world is her struggle with mental illness. As a CIA officer dealing with bipolar disorder, her illness is an important part of what makes her who she is. That's obvious from the very first episode of the show, when we find out she's hiding her illness from the CIA because she's afraid she'll get fired. As the series progresses, we get to witness Carrie not only with her condition under control due to a strong support system and medication, but also off her medication and experiencing psychotic episodes.
While Carrie is so much more than her disorder, the illness is a huge part of her life, and seeing her deal with the symptoms helps viewers better empathize with and understand her complex character.
How Accurate Is It?
When it comes to Homeland's portrayal of bipolar disorder, some viewers praise the show for its accuracy, while others think it sensationalizes the illness for the sake of melodrama.
Psychology Today, for instance, writes that the depiction of mental illness is pretty accurate: "What makes Homeland work so well in terms of its psychiatric realism, is that Carrie's illness is an aspect of her character and a realistic part of the story, rather than her illness being the story and inaccurately portrayed. This works because in real life people, who suffer from mental illnesses like bipolar disorder, can and do lead lives that are normal and productive, rather than sensationalized and distorted."
Meanwhile, a GQ article calls out the show's BS: "Homeland's highs and lows are frequently about the viewer's opinion of Carrie at that moment, not necessarily Carrie's state of mind. You have to wonder how much interest Homeland really has in bipolar disorder if it's not a narrative goldmine."
On Reddit, viewers have varied opinions, as well. One of them thinks the show does a great job: "I grew up in a household with a bipolar parent. And I can absolutely tell you that, from my perspective at least, this show, and Claire Danes both have f*cking nailed what living with Bipolar disorder is like. Both for the sufferer and those in that person's immediate circle." However, another user says the portrayal has its faults: "The Manic episodes that she's experienced (definitely in Season 2) were pretty consistent with reality, but here Depressive episodes are few and far between and played very monochromatically. Definitely not the range that even moderate m/d would present."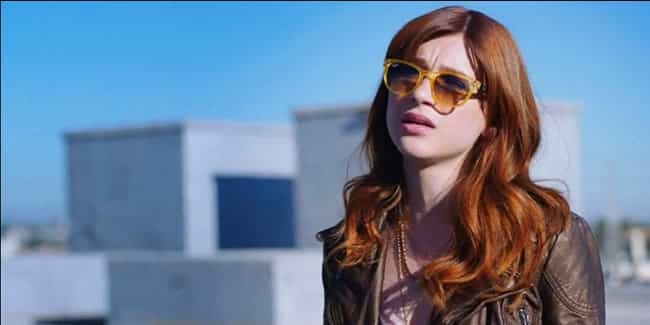 TV Show: You're the Worst
For a comedy, You're the Worst tackles some complex and serious issues. It was clear from the very beginning of the show that the characters all have their own battles to fight, but the series took its time to really dive into their struggles. In Season 2, we find out that one of the protagonists, Gretchen, is clinically depressed. We see not only how the illness affects her, but also how it affects her relationships – mainly the one with her boyfriend, Jimmy.
While the show has often been celebrated for being anti-romcom, it got some serious praise for talking about depression with caution and grace. When Gretchen admits that "her brain is broken," the character's dysfunction stops being purely funny. Without being overdramatic, You're the Worst takes us beneath Gretchen's sarcastic surface and makes us understand where all that dysfunction comes from.
How Accurate Is It?
On Reddit, people seem to approve of the way You're the Worst deals with depression. "Their portrayal of clinical depression is extremely realistic for a show of this genre and I think they're doing a great job with Gretchen and this whole season (n.r season 2). I loved the show when it was funny, but I'm glad they took a few episodes to address this very common issue with maturity and not make it a cheap joke," one user writes.
Another adds: "There's a scene where she goes to an overlook in the middle of the night to bawl her eyes out in her car so she doesn't wake her boyfriend and I was just silently crying next to my husband. But not because it made me sad, like I said. It was some weird feeling of vindication (maybe not the right word?) or relief that I wasn't the only person on the planet who had felt that way before." Following suit, the LA Times went as far as to call You're the Worst's "There Is Not Currently a Problem" episode TV's "best depiction of clinical depression ever."
But depression can affect people in different ways, and Gretchen's portrayal likely didn't work for everyone. That being said, complaints about the storyline aren't about the depiction of the illness per se, but more about the show 'not being so funny' anymore. As one viewer puts it: "The depression storyline has been the biggest slog in the world and goes completely against the tone and humor that made season one so great. You can have pathos and explore emotional issues without it being a narrative dirge and unfortunately, this season has been utterly consumed by the depression storyline."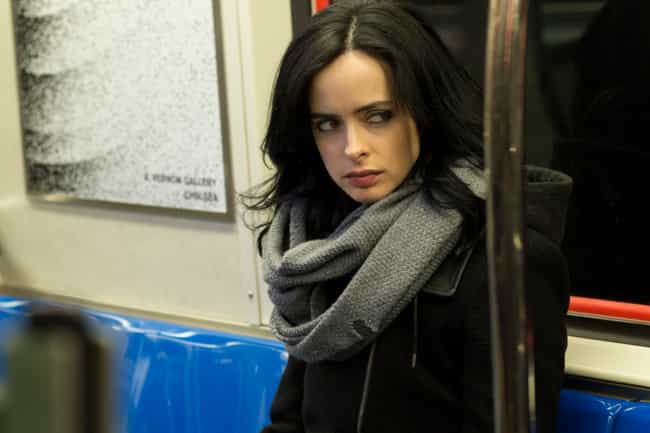 TV Show: Jessica Jones
As a show about trauma, Jessica Jones doesn't shy away from dealing with the consequences of going through something awful. The titular character of the show isn't experiencing what you might call a "speedy recovery" after her time with Kilgrave. She's been raped and controlled by the villain, so she's now suffering from severe (and diagnosed) PTSD. Jessica may be a super-human, but she's emotionally fragile and does her best to cope with the aftermath of Kilgrave using her as his plaything.
Coping in this case includes setting up a support group for Kilgrave's victims, repeating a mantra she learned from a therapist, turning to alcohol to dull her senses, and, eventually, confronting her rapist. Even super-humans are susceptible to the effects of trauma, and Jessica's illness is much more than a justification for her to become a gritty and dark hero.
How Accurate Is It?
For the most part, people tend to agree that Jessica Jones does a good job at portraying PTSD and the devastating effects of dealing with a trauma. "I had a very difficult time watching the pilot episode. It makes me very uncomfortable because of how well they are portraying PTSD symptoms. It's a good thing, but still hard to watch," one Reddit user writes.
Another user agrees, proclaiming: "Hands down, Jessica Jones is my favorite Marvel endeavor to date (and I'm a huge fan of the Marvel franchise). I really can't believe how well they captured the disorder in all its many facets (I really identified with the substance abuse as a medicator for symptoms), and yet the story is one of hope, of persevering over near-impossible circumstances."
The only thing that seems to annoy viewers is the way in which she finds the strength to eventually recover. In one fan's opinion, "[taking] back your control isn't one moment that lets you kill your demons. It's screaming back at them every time they come out to play. It's having your friends and family whisper the truth in your ear when all you can hear is lies. In my mind, for Jessica to have defeated Kilgrave, she needed to have stopped hating herself first. And she can't do that alone or by a sheer act of willpower. That's a lot harder than killing the bad guy."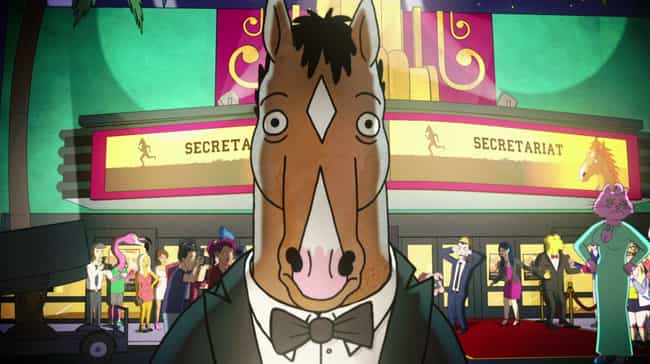 TV Show: BoJack Horseman
Who would have expected to get an accurate portrayal of clinical depression from an animated show? And yet, BoJack Horseman, with its cult following and complex storylines, may just be the saddest funny show ever.
That's mainly because it allows its main character to succumb to his demons more often than it lets him enjoy his success. The creators don't tell you flat-out that BoJack is depressed. Instead, they let viewers peel back the various layers of the deeply unhappy hero until there's no doubt that he's struggling with mental illness. As they put it, "the goal was never like, let's really create an expose, let's really investigate this kind of thing, let's diagnose BoJack in a certain way. I think it was more about just trying to write this character truthfully, and taking him seriously."
During the show, BoJack is a has-been actor who collapses into a black hole of alcoholism, depression, narcissism, and self-destruction. He struggles to get better and fails over and over again, proving that recovering from mental illness isn't only about willpower. It's about having a strong support system, making better decisions on a daily basis, and getting help. We don't see BoJack lying around all day. Instead, we see him struggling to figure out how to overcome his shortcomings.
How Accurate Is It?
The majority of BoJack Horseman fans and critics have praised the way in which the show tackles depression.
"I never saw my depression on TV or in movies. […] So when I finally really saw depression as I knew it, a direct reflection of my illness, not an exaggeration and not an underplay, I didn't quite know how to feel. This is so intense, I thought. This is so necessary. But, as the show progressed, I began to notice not only the truth about depression depicted in BoJack Horseman, but the behaviors as well. I started asking myself, more and more often: Do I do that? Is that me?" Rosey writes for XO Jane.
"It is nice to see a show portray how I feel though. Self-sabotage is a recurring theme in my life and season 2 was just perfect," a Reddit users agrees. Fans even found other disorders portrayed in the series. "I firmly believe BoJack suffers from adult ADHD. I have it myself, as well as my dad and boyfriend having it, so I am very familiar with the symptoms and presentation," another Reddit user points out.