LGBTQ+

20 Unique Same-Sex Weddings That'll Melt Your Heart

Are you looking for gay wedding ideas? In case you were out of the country on June 26, 2015, you might have missed the US Supreme Court ruling that legalized gay marriage in all 50 states. If you are part of the LGBTQ community or associated with it in any way, you already know that gay weddings are some of the best weddings because just about anything can happen. Outdoors, indoors, traditional, non-traditional, elaborate, quaint - you know, like straight weddings, only no one's aunt sings Ave Maria out of tune (or maybe she does, depending on your family?).
A lot of gay weddings pop up that are incredibly unique and a bit out of the box, as compared to traditional marriage ceremonies. Why? The very nature of a gay wedding ceremony is about expressing love and values in a country where up until recently, the union wasn't considered legal everywhere.
So as the floodgates open for more and more same-sex weddings, let's look at the many wonderful, unique, and moving ways LGBTQ couples are making their nuptials special. Stefon might even whisper into his steepled hands, "These gay weddings have everything; hand-held chuppahs, carousels, Cirque du Soleil performers, the beach in the rain, Cyndi Lauper, drag queens, the best wedding photographers in the business, Converse, cowboy boots, chicken and waffles, fabulous wedding cakes, breathtaking locations, bites that foodies will love, cool DIY invitations, poolside receptions, and photos so stunning, you'll cry like a unicorn who's seen too much beauty."
Some of these weddings are so elegant, you're going to need Xanax for Gay Summer Weddings, but all of them demonstrate that a gay wedding ceremony's foundation is love, support, and fun. No matter what kind of wedding ceremony you are planning, you can draw upon these weddings for inspiration. Don't hate, appropriate… these gay wedding ideas.
Upvote the most creative and one-of-a-kind gay wedding below and let love win again.
Ravi + Todd: A Barn-Chic Indian Wedding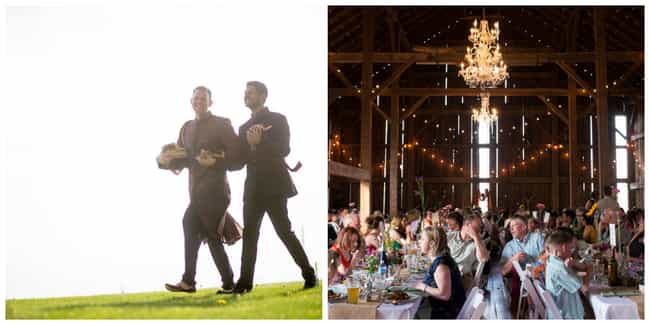 This couple basically just won at all the gay wedding things. Beautiful location and ceremony, a perfect blend of cultures, and all the feels. The couple had traveled the world together so they brought Bali, India, and the farm together to create a magnificent day.

Photos: Manghnani Kinsman, Ueda Photography
Source: 4realequalityweddings

Daniel + Sauce: A Wedding Alice in Wonderland Would Love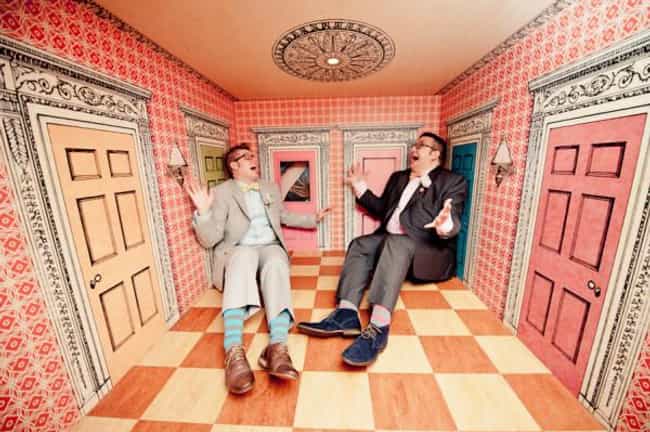 The first gay wedding at the Please Touch Museum in Philadelphia, PA allowed Daniel and Sauce to capture the whimsy and magic of their relationship. The invitations, the food, the cool cake with the mustache, the touch of pastel throughout the event, their bowties, their well-matched suits, to the carousel ride for guests… every aspect of the wedding was about love and fun. Daniel and Sauce knew just how to create a wonderful day for themselves and everyone who attended.
Photo:
Leon Glaubinger, BG Productions
Source:
Offbeat Bride
Scott + Tim: Modern Jewish Wedding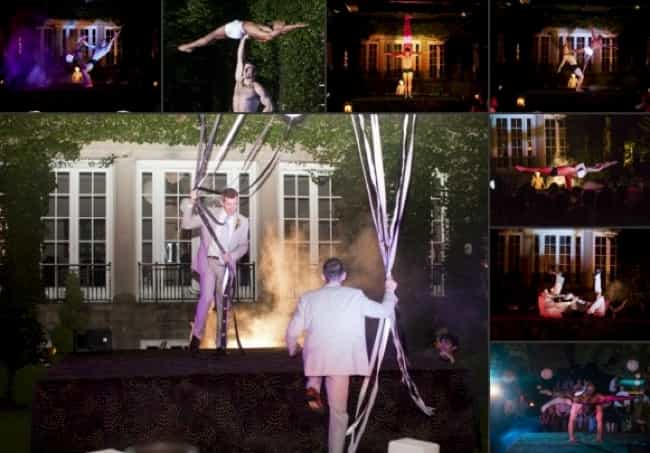 This airplane-themed wedding brought many elements together and made for a most charming event. Scott proposed to Tim with an airplane banner so they decided to fully embrace that as inspiration for the wedding and reception. There was a hand-held chuppah and Tim's mom sang at the ceremony. Actual Cirque du Soleil performers were at their reception. Hard to top.
Photos:
McKenzie White, Hitched Studios
Source:
The Modern Jewish Wedding
Tim + Michael: Love in the Desert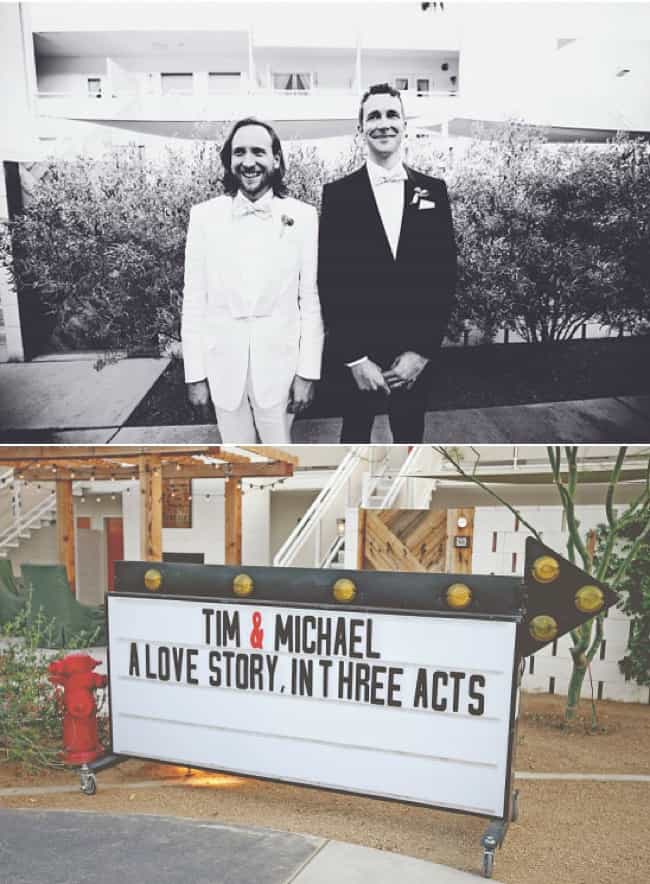 The couple chose the popular Ace Hotel in Palm Springs, CA, but the stellar part of their wedding was their own design and DIY approach.

Photos: Noa Azoulay, Feather Love
Source: 100 Layercake