Food
Food Products That Are A Little Too Convenient

374 votes
61 voters
1k views
17 items
List Rules Vote up the absurd edibles no one needs, even if they're in a hurry.
While gourmet meals are always a special treat, sometimes food is just about convenience. Not everyone has the time or the money to spend hours preparing their favorite dish night after night. For those moments when you just want to whip something together quickly, the grocery store provides plenty of easy options that can create a meal in minutes.
Unfortunately, sometimes that convenience goes a little too far. Canned foods are great for putting together a quick meal, but if there's one thing we've learned from Sweet Sue Canned Whole Chicken, it's that not every food should be stuffed into a tiny receptacle. Convenience can easily cross the line into ridiculousness, and there are plenty of foods out there that fit that description.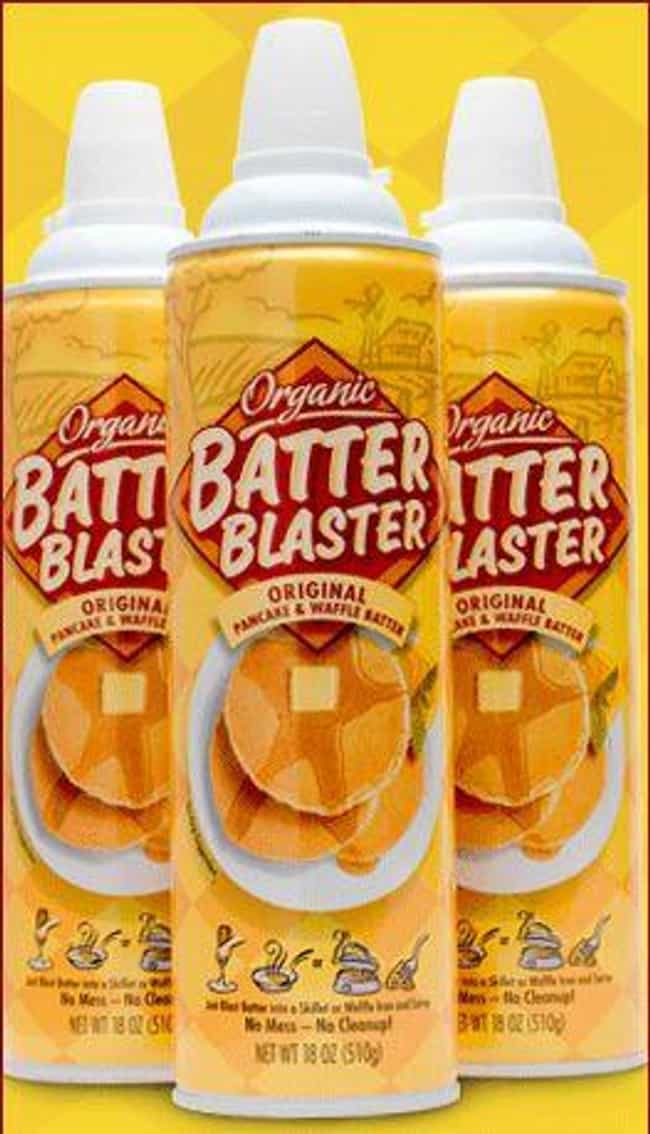 Spray whipped cream, spray cheese, and now spray... pancakes? Meet Batter Blaster - a convenient spray can of pancake and waffle batter. Batter Blaster is the brainchild of Sean O'Connor, who realized there must be a better way to put breakfast food together after he wrecked the kitchen making a waffle for his wife.
Odd as it is, Batter Blaster captured the attention of foodies everywhere. Although the batter was undeniably convenient, the food produced by the canned mixture wasn't quite up to par with the real thing. Some critics claim the batter doesn't rise or brown like the non-canned variety, and the resulting breakfast foods are spongy and rubbery. Some compare them to the quality of frozen pancakes, though most concede that they are entirely edible.
Although the product spoke strongly to sweet dads who wanted to make the perfect meal for their kids, Batter Blaster went under in 2012. For better or worse, the easy pancake mix is no more.
Ridiculously convenient?
Sweet Sue Canned Whole Chicken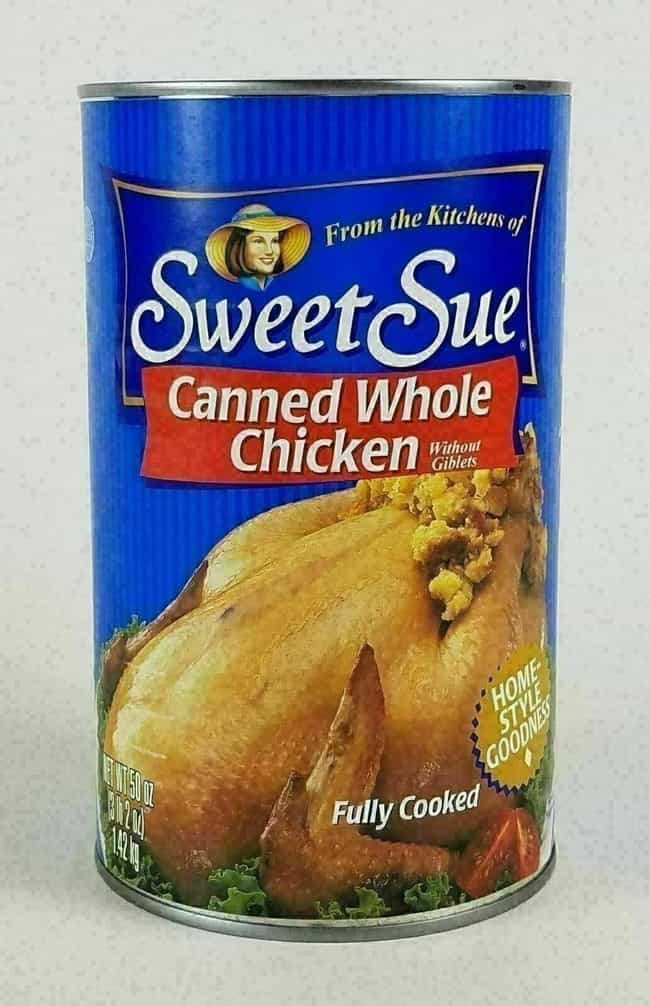 Chicken in a can? That's fine. It may have an odd texture and be lacking in flavor, but if you're in a hurry, a little canned chicken will go a long way. But a whole chicken in a can? That's taking it too far.
In order to make your dinner as easy as possible, Sweet Sue introduced a fully cooked chicken that just so happened to slide out of a can in all its gooey glory. The ingredients are simple: chicken, water, and salt. Despite the simplicity of the meat and the receptacle it comes in, the can promises again and again that the chicken will result in a delicious meal. Sadly, anyone who has ever tasted this chicken would disagree. Not only does the chicken often amount to a very non-chicken-like blob of congealed goop when released from the can, but it also lacks any flavor or substance that might result in a genuinely delicious meal.
Unsurprisingly, this product was a massive failure. It's no longer sold on the Bumble Bee Foods website, though you can find your own canned chicken on Amazon, either with giblets or without.

Ridiculously convenient?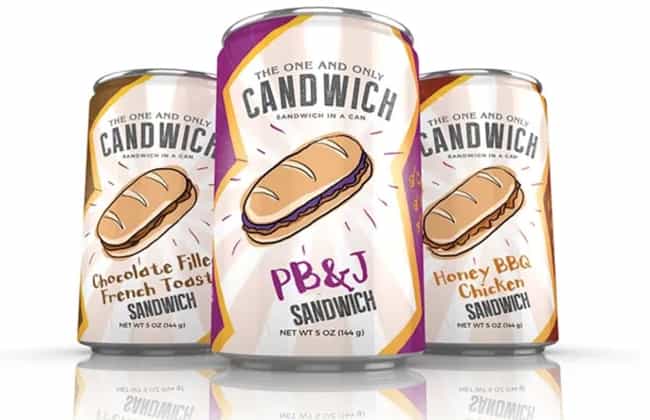 The Candwich is described as a "go anywhere, anytime" meal. It comes in a receptacle that looks like a soda can, and when you pop off the top, you can indulge in one of three fully formed sandwiches: PB&J, Chocolate Filled French Toast, or Honey BBQ.
Surprisingly enough, the brave people who have actually tried Candwich don't have terrible things to say. To sum it all up, it's not the best sandwich in the world, but it's not as bad as you'd imagine.
Apparently, Candwich is still chugging along, trying to make the dream of canned sandwiches a reality. However, issues with funding and the fact that no one wants to eat a sandwich from a can has resulted in quite a few road bumps that have stopped Candwich from becoming a mainstream success.

Ridiculously convenient?
Heinz Mayochup, Mayomust, And Mayocue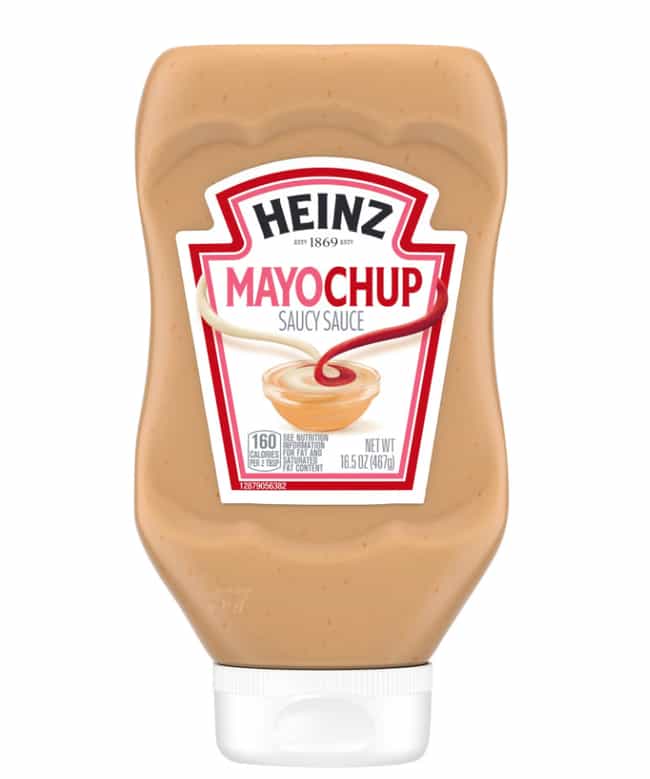 Why use two sauces when you can simply use one? Without any kind of public demand, Heinz decided to solve the problem of individual sauces by releasing an entire line of combined sauces that will make your next sandwich-making experience even easier.
If you want a simple, uncomplicated combo sauce, you can stock your fridge with Mayomust, a zesty combination of mayonnaise and mustard. If mustard isn't your thing, never fear! You can also search for the ever-popular Mayochup, a combo of mayonnaise and ketchup. Lastly, Heinz released its most interesting concoction, Mayocue, which combines mayonnaise and barbecue sauce.
Heinz claimed it was "taking out the guesswork" in combining condiments, which can indeed be a delicate procedure, but did anyone actually ask for this? What if the proportions aren't correct? What if you like a lot of ketchup on your sandwich and only a little mayonnaise? What if you just want to combine your own ingredients? Where is the freedom of choice, Heinz?
However, if you have no desire to choose your own flavors, all these concoctions are still available for purchase. Mayochup was released in 2018, and Mayomust and Mayocue followed just a year later.

Ridiculously convenient?