Graveyard Shift
Mysterious Home Invasions That Have Never Been Solved

As the movie The Strangers chillingly demonstrated, a home invasion is one of the most terrifying experiences a person can endure. Home invasions are all the more frightening when they remain unsolved mysteries, even decades later. These real, unsolved murders are some of the most gruesome examples of what can happen during a home invasion. Some of them are horrendously brutal; others are borderline supernatural. All of them illustrate how vulnerable people are, even in the apparent safety of their home.
These stories are why the home security industry exists.When a stranger breaks into your house in the dead of night, you want to be prepared. The motive might not be simply robbery. As these home invasion deaths illustrate, there might not even be any motive at all. Worst of all, if evidence is found, it doesn't always lead to the killer being brought to justice. In some of these cases, even D.N.A. evidence was not enough to identify the murderers. Perhaps no one will ever know the true identities of these killers.
In 1981, landlords in Keddie, California started renting cabins to mostly lower income families. Glenna "Sue" Sharp lived in cabin 28 with her five children. On April 11, her sons Ricky (age 10) and Greg (age 5) were having their friend and neighbor Justin stay over for the night. Sue's oldest daughter Sheila (age 14) was staying over at a neighbor's house, but her other daughter Tina (age 12) was at home. Sue's oldest son, Johnny (age 15) was hanging out in town with his friend Dana (age 17). It is thought that the two hitchhiked back to the cabin during the evening.
A grisly scene was discovered the next morning, with three victims laying dead. Sue and Johnny had been bludgeoned with a hammer and stabbed repeatedly. Dana had been strangled to death and also stabbed. Tina was nowhere to be found. When her skull was discovered years later, it would confirm that she was the fourth victim. The case has never officially been solved, even though the brutal murders happened with other residents mere yards away. Evidence pointed to fellow Keddie residents Martin Smartt and his friend Severin John "Bo" Boubede, but no charges were ever filed.
The Hinterkaifeck Murders
In the early 1920s, the Gruber family lived at the Hinterkaifeck farm, located roughly 70 miles north of Munich, Germany. Residents included Andreas Gruber, his wife Cazilia, their middle-aged daughter Victoria, and their two grandchildren. In 1921, their maid quit, claiming that the farm was haunted. Andreas claimed that he found footprints in the snow leading from the forest to the house, but he could not find any leading back to the forest. He began hearing footsteps in the attic and reported other strange events.
On April 4th, five days after the Grubers had last been seen, a search party uncovered a gruesome murder scene. All of the household occupants had been murdered with a pickax. Four of the bodies were stacked neatly on top of each other. The autopsies revealed that the time of death was Friday, March 31.
Perhaps the strangest part of the case is that they found evidence of the killer staying at the farm for several days after the murders. The livestock had been fed, and witnesses had seen smoke coming out of the chimney over the weekend. Despite this, no arrests were ever made and the case still remains unsolved to this day.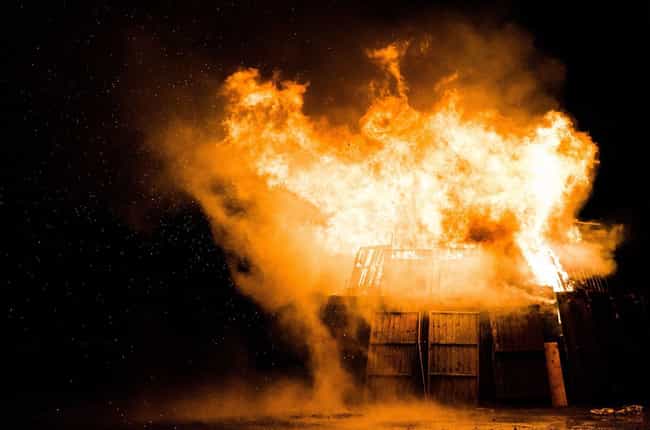 On December 12, 2013, Lisa Brownlee (age 55) was babysitting her nieces, Peaches Christburg (age 2), and Glacia Ramsey (age 7). That night, an unknown assailant wearing a grey hooded sweatshirt broke into the Cleveland apartment and locked Lisa in the bathroom. He then set fire to the apartment. Lisa was in the bathroom until around 10 p.m., when she smelled smoke. She broke out and ran across the street to call the police. Both Peaches and Glacia died in the fire.
The Wine And McClellan Home Invasions
On November 21, 2008, an elderly man named Noble Wine was gunned down in his Greene County home. There was evidence of a home invasion and robbery. The unknown assailant then set the house on fire, apparently to cover up the crimes.
Four months later on March 22, 2009, a similar incident happened in another part of Greene County. Betty Jane McClellan and Jacob Albert McClellan (age 66) were at their rural home when an unknown person approached their house, saying that he was having car trouble. Jacob tried to fend the man off, but was shot in the neck and face. The gunman then proceeded to shoot Jane. Jacob survived, but Jane succumbed to her injuries. The suspect has never been identified.