Buildings
List of Famous Urbana Buildings & Structures

List of the famous landmarks that make up the Urbana skyline, listed alphabetically with photos when available. Urbana architectural landmarks as well as other major buildings, dwellings, and other structures in Urbana are included on this list. Information about these Urbana buildings is included on this list, such as when the building first opened and what architectural style it falls under. List includes both new buildings in Urbana and older historic landmarks.
Examples include Chemical Laboratory and Natural History Building.
This list answers the question, "What are the most famous buildings in Urbana?"
This is a good reference for research into the historical architecture in Urbana. Famous architectural houses within the city of Urbana are included as well, sometimes by address, other times listed by the name of the original home owner.
Harker Hall, also known as the Chemical Laboratory, is a historic building on the campus of the University of Illinois at Urbana–Champaign in Urbana, Illinois. Built in 1877, the building originally served as the university's chemical laboratory. Architect Nathan Clifford Ricker designed the Second Empire building, which originally featured a mansard roof. In 1896, a lightning strike set the roof on fire, and architect James White replaced it with a hip roof. The building was named Harker Hall in honor of Oliver A. Harker, who served as dean of the university's law school from 1903 to 1916. Until it stopped hosting classes, the hall was the oldest classroom building at the university. The ...more on Wikipedia
City/Town: Urbana, Illinois, USA
Architect: Nathan Clifford Ricker
Created By: Nathan Clifford Ricker
Style: Second Empire
see more on Chemical Laboratory
City/Town: Urbana, Illinois, USA
Style: Gothic architecture
The John Q.A. Ward House is a historic house in Urbana, Ohio, United States. Located along College Street on the city's western side, it was built in 1820 by William Ward as a wedding present for his son, John A. Ward. Here John lived for the rest of his life. John A. Ward's son, John Quincy Adams Ward, was the namesake of the house. A sculptor, the youngest Ward was known for multiple carvings of the Marquis de Lafayette, George Washington, and Oliver Hazard Perry. The Ward House itself is historically significant for its early architecture. Based on a stone foundation, the brick house is a two-story structure built in an "L" plan. This well-preserved architecture, together with its ...more on Wikipedia
City/Town: Urbana, Ohio, USA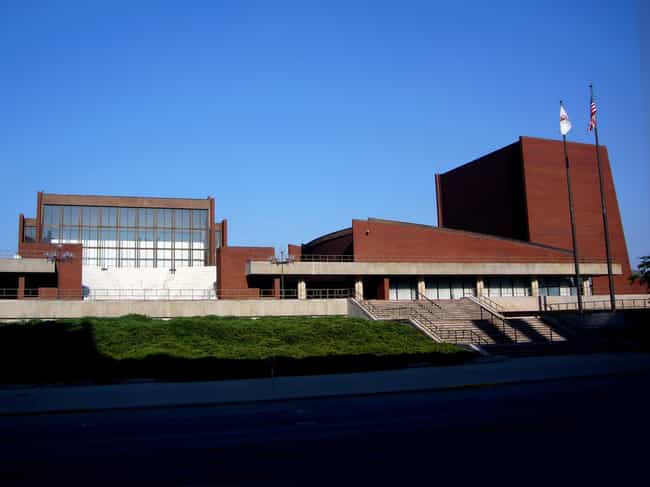 4
Krannert Center for the Performing Arts
The Krannert Center for the Performing Arts is an educational and performing arts complex located at 500 South Goodwin Street in Urbana, Illinois, on the campus of the University of Illinois at Urbana-Champaign. Herman C. Krannert, an industrialist who was the founder of Inland Container Corporation and an alumnus of the University, and his wife Ellnora Krannert made a gift of $16 million which made creation of the Center possible. Max Abramovitz, the architect of the Center, was also a UI alumnus. The total combined seating capacity of the four venues at the Center is approximately 4,000. The main lobby features a floor made fromn teak from Thailand, which cost $1 million, and marble walls ...more on Wikipedia
City/Town: Illinois, USA
Opened: Jan 01 1969
Floors: 5
Architect: Max Abramovitz
Created By: Max Abramovitz