2019
The Most Important Moments In 2019 US Politics

Updated December 19, 2019 · 4:30pm PST
2.5k votes
681 voters
70.6k views
22 items
List Rules Vote up the moments in US politics that most affected the country and daily life.
In the United States, 2020 may be the next election year, but that only makes the notable political moments of 2019 all the more important. Each of these moments made an impact across everything from travel, to food, to jobs, and health. What happens in 2019 can have a huge effect on the next election and on Americans' lives in the years to come. Today's important political moments can become tomorrow's historic events. Some American political decisions and policies may also affect the world beyond the US, but primarily they directly affected daily life for Americans.
For better or worse, these moments affected how people in the US lived their lives in 2019. Vote up the moments in US politics that made the biggest impact on life in 2019.
Make your voice heard for the 2020 election. REGISTER TO VOTE!
May 2019: Several States Pass Heartbeat Bills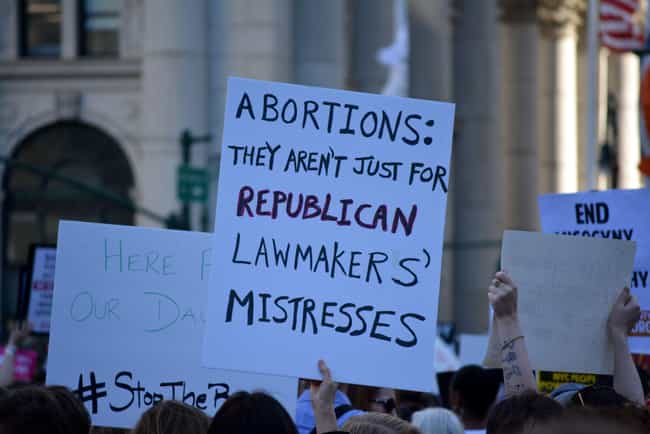 Georgia and Alabama became the latest states to introduce and pass fetal heartbeat bills. These highly controversial laws ban abortions as soon as there is a detectable "fetal heartbeat in the womb." This can be as early as six weeks, at which point many women are not even aware that they are pregnant.
Georgia Governor Brian Kemp signed the bill on May 7. Alabama followed suit on May 14 with an even stricter law that banned abortion at any state of pregnancy. The law does not make exceptions if the pregnancy was caused by rape or incest. Several other states, like Kentucky, Ohio, and Mississippi, passed similar bills earlier in the year. The wave of bills were designed to be tried on a federal level, which pro-life activists are hoping will lead to a reversal of Roe v. Wade. Activists dressed like women from The Handmaid's Tale protested.
"The bill is very simple. It's not about birth control or the morning after pill. It's about not allowing abortion once the woman is pregnant. The entire bill was designed to overturn [Roe v. Wade] and allow states to decide what is best for them," said Alabama Representative Terri Collins.
Jan. 3: More Than 100 Women Are Sworn In To The 116th Congress
Fulfilling the hopes and promises of the previous year, on January 03, 2019, a historically diverse group of people were sworn into the House - including a record-breaking number of women. With 107 women in the 116h Congress, there are now over four times as many female members of the House as when Speaker Nancy Pelosi first joined in 1987. With a freshman class of House Democrats that include such historic firsts as the youngest member, the first Indigenous women in Congress, the first Muslim women in Congress, the face of the House has significantly changed.
Feb. 15: President Trump Officially Declares A National Emergency
People were unsure of how February 15 would play out. It was the last day of the brief reopening of government. Speaking from the Rose Garden, President Trump officially declared a national state of emergency in order to obtain funding for his long-promised border wall. Reactions to President Trump's declaration were largely negative, and hours after the announcement, the state of California declared their intent to sue.
The President was well aware of these possible ramifications before he issued the emergency, saying, "We will have a national emergency and we will then be sued. We'll possibly get a bad ruling, and then we'll get another bad ruling, and then we'll end up at the Supreme Court and hopefully we'll get a fair shake."
President Trump also said that he "didn't need to" declare the national emergency, which many pointed out negated the notion of an emergency and could be used against him in court.
March 22: Robert Mueller Concludes His Report
After two years, Spencial counsel Robert Mueller completed his investigation on President Trump and any possible collusion with Russia. According to the Appointment of Special Counsel from the Office of the Deputy Attorney General, Mueller was hired to look into "any links and/or coordination between the Russian government and individuals associated with the campaign of President Donald Trump; and any matters that arose or may arise directly from the investigation." Mueller did not find that President Trump or his campaign colluded with Russia. However, Attorney General William Barr was quick to add that it "does not exonerate [Trump]" on obstruction.
Critics of President Trump were hoping that Mueller would find concrete evidence condemning the president and his close circle. President Trump repeatedly called the investigation a "witch hunt" and alluded to the idea of a "Deep State" that was out to illegally get him. The investigation itself was full of political drama, especially when BuzzFeed published an unredacted (and unverified) dossier from a former British Intelligence official alleging President Trump's willful participation in the Russian bot infiltration.
President Trump waited until Monday, March 25 to tweet about the affair. He rapidly fired out tweets quoting the findings, saying "No Collusion, No Obstuction, Complete and Total EXONERATION. KEEP AMERICA GREAT!"
Mueller would later testify before Congress that his report does not in fact exonerate the president on the issue of obstruction of justice.