Entertainment
Memorable Vagina Dentata Imagery In Movies

Updated April 9, 2020
303 votes
99 voters
5.3k views
16 items
List Rules Vote up the vagina dentata imagery you'd least want to probe with precious parts.
The fear of and belief in vaginas with teeth (vagina dentata) arises from a wealth of myths from around the world, all of which involve female genitalia becoming ravenous and going nomnomnom on some wang, or on any number of other things. From the magnificently surreal to the vaguely (and/or blatantly) Freudian, vagina dentata imagery in movies is an art in itself. Some filmmakers, like Alejandro Jodorowsky, brilliantly and enthusiastically revel in the psychedelic possibilities of Plato's cave, while others (like Ridley Scott and Alien designer HR Giger) delight in exploring vagina phobias in far more linear ... and yet fabulously grotesque ... forms.
Vagina dentata imagery appears in full flower in the form of Seymour of Little Shop of Horrors. It can also be found in the angry, vulva-faced abomination in Predator. Then you've got your run-of-the-mill human vaginas with fangs, as in 2007 indie-horror flick Teeth, which is about a girl who happens to have a crotch-demon that becomes gnashingly enraged every time one of her suitors acts like a pig (Which is almost all the time).
Whether you're a pro at spotting surreal sexual imagery or are looking for a film to cut your dentata teeth on, the below list is for you.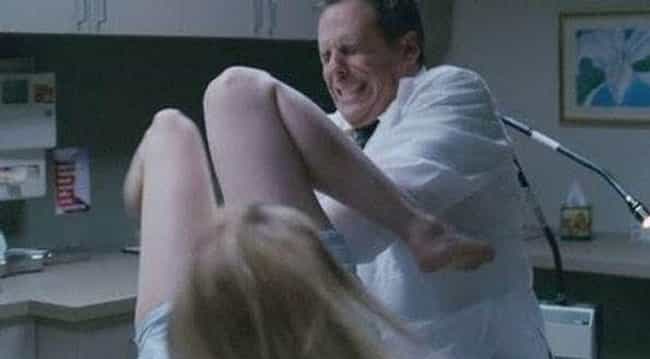 Teeth, perhaps the most popular contemporary film about vagina dentata, doesn't really have much symbolic vaginal imagery, because it is about vagina dentata, straight up. The movie tells the fairly straightforward tale of a girl whose crotch takes her frustrations and fears into it own hands. First, it bites off the digits of a sleazy OB/GYN's. Then it moves on to more naughty bits. Just think of its protagonist as a female version of The Hulk's David Banner.
Return of the Jedi's sarlacc pit basically reinvented female anatomy, and succeeded in planting vagina dentata into the Freudian subconscious of millions of first generation Star Wars kids. Indeed, it's hard to beat the poetic image of a giant crotch gaping in the middle of the desert, waiting, like fanged vag quicksand, to devour everything that falls into it. You have to wonder whether the little button beast in the middle is an intrepid lance trapped forever in the nightmare of a toothy snapper ... or perhaps merely the Sarlacc clitoris.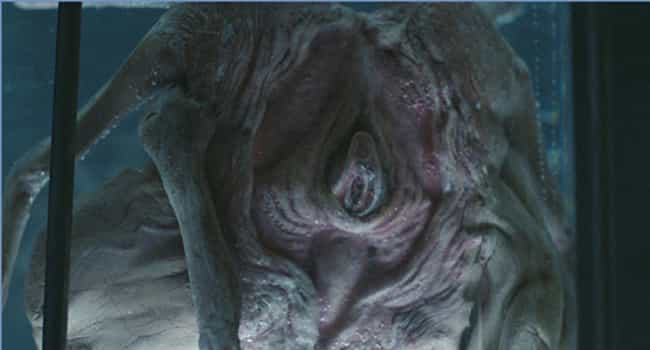 Alien is undoubtedly the reigning cinematic queen of vagina dentata imagery, and the sequels picked up its queue with aplomb; all subsequent Alien films have just as many fanged, slavering crotches as the mother movie. Indeed, the series belongs to a subgenre of vagina dentata movies that play specifically into the male fear of being smothered by predatory gash.
When the first film debuted in 1979, it introduced legions of viewers to the ravenous, oozing wonders of designer HR Giger, whose anatomical inventiveness never ceased. Consider the film's legendary face-hugging scene, which begins with a vagina that, once cracked open, becomes an octopus-like entity wound in a series of phallic coils. Or the unforgettable sight of what looks like an alien delta of Venus mashed up against the glass. Take your pick: the series is pretty much about nothing but alien genitalia gone pathological.
The Hallucinogenic Dentata Portal In 'The Laughing Woman'
Italian surrealist thriller The Laughing Woman (1969) isn't much known outside of arthouse circles, which is a shame, because it contains a dazzling wealth of vagina dentata imagery. The film tells the story of a maniac who kidnaps women so he can play bizarre, sadistic games with them. In the end, the victim becomes the victor, but not before her deranged abductor has an hallucinatory vision of walking through a giant, fanged vagina that spits him back out as a skeleton. (If you're an avant garde interior decorator, this film is a must-see).