Button Mash
17 Video Games Where You Actually Get To Play As The Villain

Updated November 13, 2019
3.9k votes
1.1k voters
75.7k views
17 items
List Rules Vote up the best games where you're the force of evil.
Most video games put the player in the central role as the hero of the story. Whether you're saving the princess or trying to stop a worldwide event, it's usually your job to make everything better as the main character. Nowadays, adventure games feature complicated branching storylines, bringing about a whole slew of video games where you get to be as evil as you want. However, beyond even the best action RPGs that like to test your moral compass lies an even darker place: video games where you are the villain.
It may not be right to slam on the gas while driving your car over the citizens of Liberty City, and it might be terribly cruel to remove the bathroom door in the humble abode where your Sims live, but it sure is fun. There's just something enticing about video games where you play the bad guy. Some of them are silly and over the top, like Jaws Unleashed, but others are pretty gritty and disturbing, like Kane & Lynch. If you're looking for a game that's not all rainbows and butterflies, check out the list below of video games where you play the bad guy and vote up the best ones.
God of War came along at just the right time for the PS2, breathing life back into the console brawler genre. Kratos, the main character, is sold to players as the anti-hero in a narrative based on pseudo-Greek mythology, but he seems pretty villainous no matter which way you slice it. The franchise squeezed out a bunch of sequels and spin-off games, and PS4 owners are waiting for the new entry with bated breath.
Gamers just can't enough of the visceral joy Kratos provides.
Release: 2005
Developer: SCE Santa Monica Studio
Platform: PlayStation 2, PlayStation 3
The entire GTA franchise is centered around pulling off professional hits, robbing stores, and being kind of a jerk. The central characters in the fourth and fifth installment aren't completely bad dudes and are often left with difficult choices. But in GTA III, they didn't fill out the protagonist, Claude, so much as let you write his story. He doesn't speak or make too many noises outside of a wayward grunt here and there whenever he gets run over.
There are specific mission objectives and milestones you need to hit for the game to progress, but every terrible decision you make is your own.
Release: 2003
Developer: Rockstar North, Rockstar Vienna
Platform: iPad, PlayStation 2, Microsoft Windows, Xbox, iPhone, + more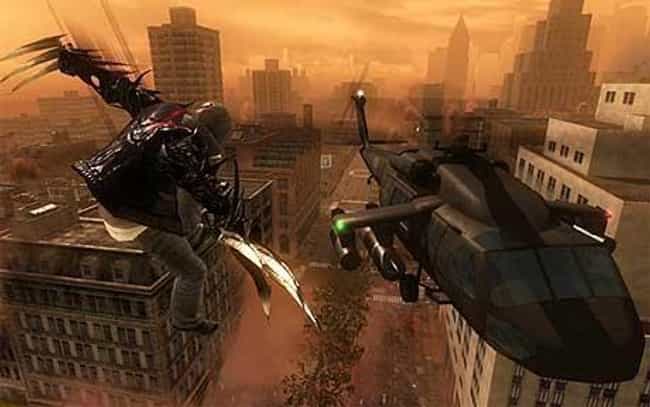 Developer Radical released the open-world action adventure game Prototype in 2009, thinking that a cannibalistic scientist made for a good hero. But, any angry nerd that consumes humans and then shapeshifts into other people like a silly rip-off of John Carpenter's The Thing isn't so much a hero as someone you'd like to stay far away from.
Ultimately, the developers recognized the evil leanings and so Protoype protagonist Alex Mercer played the villain in Prototype 2, by basically acting the exact same way.
Release: 2009
Developer: Radical Entertainment
Platform: Microsoft Windows, PlayStation 3, Xbox 360
Rampage is an arcade classic. The concept is simple: You're a giant monkey, lizard, or wolf and your job is to climb buildings and beat them to rubble. Flying helicopters and planes come at you a la King Kong, and the only way to regain strength is to eat humans. Yes, after smushing cop cars into dust and playing ping pong with a commuter train, the only way to keep your path of destruction going is to eat helpless citizens of this terrifying world.
Rampage is a lot darker than you remember it, but it's so much fun.
Release: 1986
Developer: Midway Games, Bally Midway Manufacturing Co., Inc.
Platform: Apple II, Atari 7800, Game Boy Advance, TRS-80 Color Computer, Atari ST, + more