Weird History
That Famous VJ-Day Kiss Photo May Have Documented A Non-Consensual Kiss

Updated October 28, 2019
186.8k views
11 items
Few 20th-century photos are as famous as that of the the sailor kissing a nurse in Times Square on V-J Day in August, 1945. You only have to Google 'sailor kissing nurse,' and your screen will be littered with this renowned image.
The photo has been replicated as a wedding cake topper and was even referenced in the opening credits of Zach Synder's Watchmen adaptation; the image has been debated, discussed, and dissected in numerous articles debating its origins and just how romantic or exuberant that kiss really was. So what's the true story of the sailor-nurse kiss? Unfortunately, it's not as romantic as you might have thought.
The major issue with the most memorable V-J Day image is that it might have just documented a nonconsensual kiss. Because of the photo's legendary status, people became pretty interested in tracking down the featured couple, and they found them: Greta Zimmer Friedman and George Mendonsa. Those hoping to learn of the couple's many children and long-term love affair, however, were sorely disappointed. In 2005, Friedman came forward as the woman in the photograph, and she explained exactly what happened on that exciting day. Friedman remembered that spirits were high, the alcohol was flowing, and "[it] wasn't that much of a kiss" – in fact, the two didn't even know each other. Can you look at this photo the same way after learning its real story?
The Photo Was Taken Moments After WWII Ended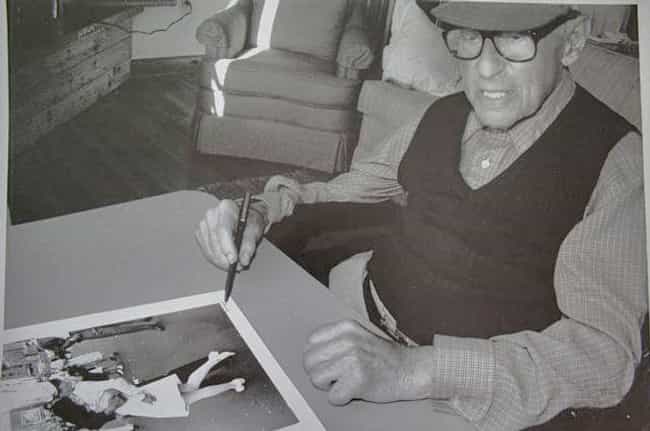 This photo was snapped by Alfred Eisenstaedt moments after Japan was announced to have surrendered WWII, and that the fighting was over – the day would later be known as Victory Over Japan Day, or V-J Day. The photo was published in LIFE magazine one week later as part of a 12-page spread that featured other similar – but far less memorable – photos of joyful reactions to the news, titled "Victory Celebrations."
Given the photo's context, many assumed that the photo showed a moment of pure, unfiltered euphoria – a mixture of relief, joy, and exuberance shared between two people who couldn't contain themselves. Decades after this photo was taken, however, more accurate accounts of the events depicted have come to light.
This Video Reveals Lesser-Known V-J Day Footage
The photo's endurance may have something to do with TIME magazine's search to capture the historic moment. They weren't going to be content with a frozen image of people cheering, all of them indistinguishable in their joy. They wanted something special and memorable. The editors weren't sure in what form this visualization of exuberance would come, so they left capturing this task in the photographers' hands.
Eisenstaedt was the perfect man for the job; not only was he a Jewish man of German nationality, but he had also been chronicling the growing unrest in Germany that resulted in WWII. He had snapped photographs of Mussolini's first meeting with Hitler in Venice on June 13th, 1934 – among other similarly foreboding images – before focusing on the American home front.
The video above captures V-J Day in Times Square and its contagious energy.
In Reality, The Sailor And The Nurse Were Strangers – And The Sailor Forced The Kiss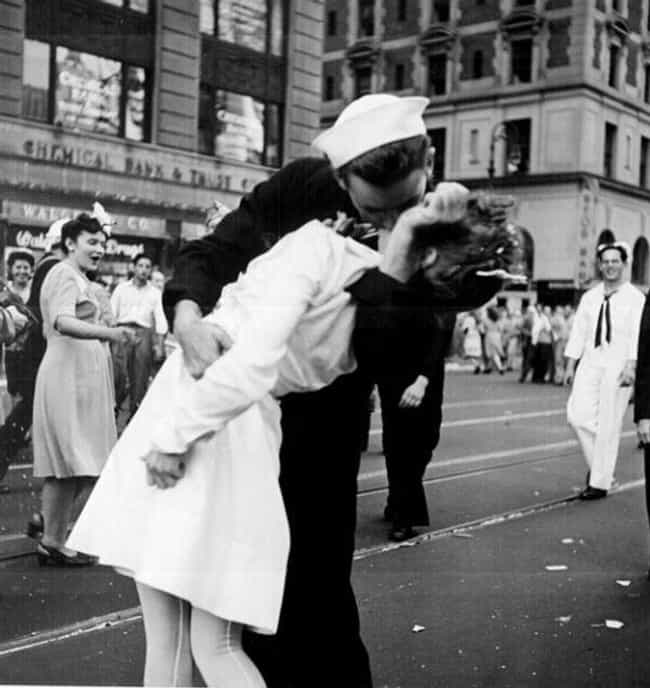 The photograph might look like a moment of joyful romance, but in reality, neither the sailor, a man named George Mendonsa, nor the "nurse" (who was actually a dental assistant), Greta Zimmer Friedman, were acquainted before that moment. The pair were total strangers. In fact, Mendonsa was on a date with another woman at the time. Rita Perry, Mendonsa's date and future wife, can be seen in the background of the photo, looking on with understandable surprise. Mendonsa has admitted that he was blind drunk at the time, so he might not have been firing on all cylinders.
Friedman said of the surprise kiss,
"Suddenly, I was grabbed by a sailor. It wasn't that much of a kiss... I felt that he was very strong. He was just holding me tight. I'm not sure about the kiss... it was just somebody celebrating. It wasn't a romantic event."
This and similar context have prompted debate over whether or not the photo depicts sexual assault, a question that casts a dark shadow on a previously mysterious but enduringly quintessential piece of photography.
Additional Historical Footage Reveals Even More V-J Day Celebration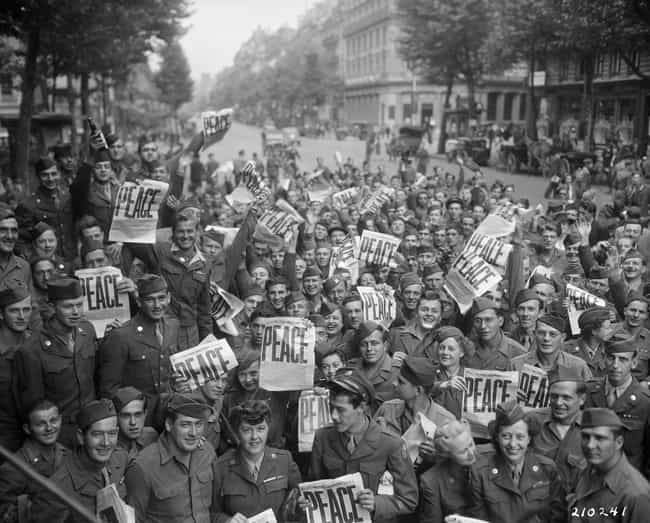 Times Square wasn't the only place carousing on V-J Day. Pictured above, Allied forces in Paris celebrate the monumental day.