Total Nerd The Greatest Walking Dead TV vs Comics Differences

126.8k votes
11.2k voters
5.5M views
39 items
List Rules Vote up the biggest differences between the TV and comic versions.
SPOILERS: If you're caught up in the comics and the TV series, you'll be fine. If not, hold the prison/abandoned house phone. Get caught up and come back and join us for a total TWD nerd list.

Ah, it's time for Walking Dead character comparisons, one of those ongoing pastimes of fans far and wide. The Walking Dead creator Robert Kirkman is the man caught between two worlds: his original comic books series and his roles as executive producer and writer on the TV series.

Kirkman gave the world a collection of rich characters in the bleak and exciting back drop of a zombie apocalypse. In the comics, Kirkman is judge, jury, and executioner along with Charlie Adlard, Tony Moore, and Cliff Rathburn.

For the TV series, Kirkman must work with showrunner Scott Gimple and a cadre of writers. Since the TV series started with Frank Darabont before the hand off to Gimple and Kirkman, the characters have gone through various transformations, dipping away from or melding with other characters in the comics. In the case of the Dixon brothers, they didn't exist in the pages of Kirkman's comics and were created by Frank Darabont, Charles Eglee, and Jack LoGiudice.

Walking Dead character appearance is not just about resembling the comics, but finding actors who can handle the action, story content, heat, bugs, and grueling hours that the series requires of its cast. For example, comic book Rick and TV series Rick vibe the same but look different. However, Andrew Lincoln has proven that he IS Rick by now, although he's gotten to keep his hand... so far. But Coral sure got his eye shot out just like in the comic series. Ouch, buddy.

The Walking Dead casting directors, Sharon Bialy and Sherry Thomas (along with Gohar Gazazyan), have done a wonderful job keeping pace with the screen counterparts, added characters, character amalgams, and other alterations. It can't be an easy job, but when comic fans saw Michonne emerge from the darkness, there were genuine chills.

Which are your favorite Walking Dead comic to screen transformations and casting choices? Vote them up to the top. Note: We'll add new characters as they appear on the TV series so come back and check this list out.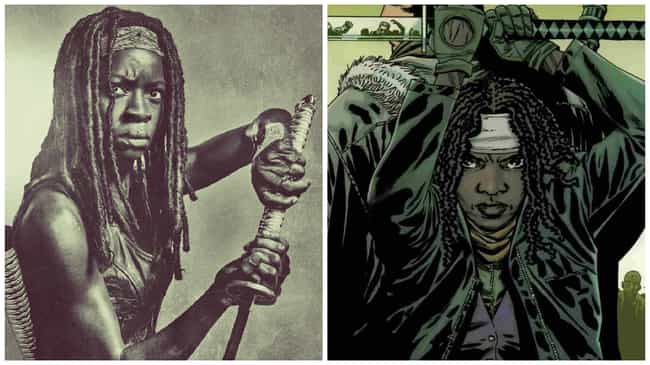 Comics Michonne: Michonne never fully drops her guard with anyone in the comics, with the exception of Ezekiel. Besides the trauma surrounding losing the people in her life, she's brutally raped and tortured by the Governor for days. She has all of the reasons in the world to do some pretty intense things to him including nail his manhood to the floor, sodomize him with a spoon, use said spoon to scoop out his eye, and chop off his arm.
TV Michonne: Michonne appears very much in the same way she did in the comics although TV Michonne is given a lot of the characteristics of Andrea from the comics. Michonne takes on the role of co-parenting Carl with Rick to a certain degree. And then she hooks up with Rick, giving rise to Richonne. She puts out the Governor's eye with her katana and later kills him with it, still letting him off pretty lightly from her comic counterpart.

Also Ranked
#18 on The Best Female Characters on TV Right Now
#10 on The Most Hardcore Current TV Characters
#27 on The Greatest Female TV Characters of All Time
#81 on The Greatest Female TV Role Models

Big difference?
see more on Michonne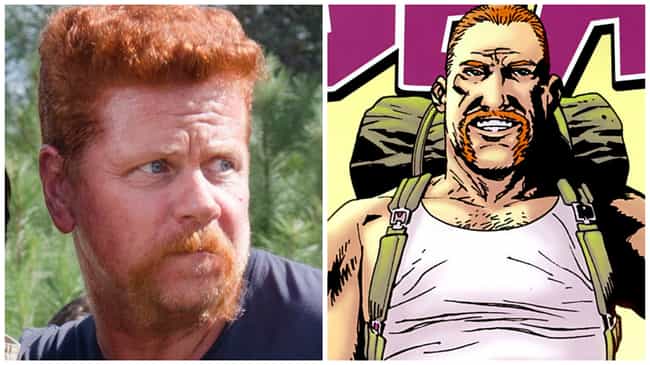 Comics Abraham: He's got the same flaming red hair and '70s porn 'stache, but the comics version is more of a no-nonsense kind of guy. He takes Tyreese's position as Rick's right hand after Tyreese is killed. Abraham meets Denise's fate in the comics, getting shot through his eye with an arrow as he tells Eugene it's okay if he gets with Rosita.
TV Abraham: Abraham has a way with a catchphrase that his comic book counterpart lacks. "Motherd*ck" has become a standard in the lexicon of fans. He's just as thirsty for violence on screen. And dies violently at the business end of Negan's bat in the season 7 premiere, but not before flinging out his last catchphrase, "S*ck my n*ts."

Big difference?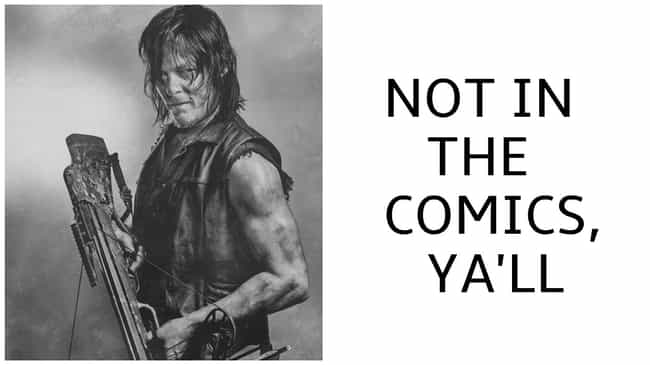 Comics Daryl: He's Tyreese.
TV Daryl: Hot as Georgia asphalt and moodier than Beyoncé's hair in Lemonade.
Also Ranked
#1 on The Most Hardcore Current TV Characters
#50 on The Greatest TV Characters of All Time
#91 on Fictional Sidekicks You'd Most Want as a Best Friend
#13 on The Most Likeable TV Anti-Heroes

Big difference?
see more on Daryl Dixon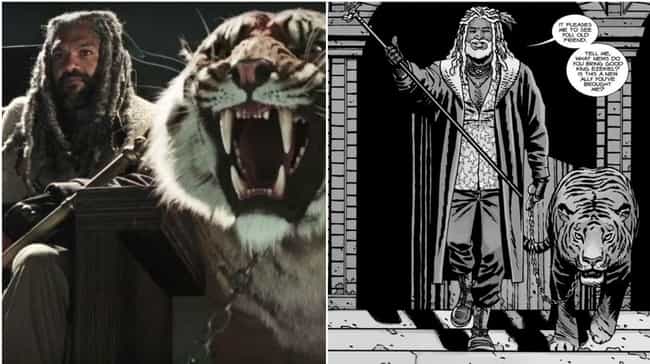 Comics Ezekiel: The charismatic Ezekiel is a zookeeper before the world fell. He tries to take care of the animals but ultimately has to set them free before taking a tiger with him. Later, Ezekiel founds the Kingdom and shakes off the intimidation of the Saviors. He plots to overthrow Negan, seeing a chance when he meets Rick. He has a relationship with Michonne. He ends up killed by the leader of the Whisperers, Alpha.
TV Ezekiel: He's definitely younger and more fit than his book version. He's only appeared briefly, but Ezekiel is an ally to Rick's crew.
Also Ranked
#19 on The Walking Dead Season 7 Death Pool

Big difference?
see more on Ezekiel