Horror Movies and TV
Everything That Happened In 'The Walking Dead' Season 10 Premiere: 'Lines We Cross'

October 6, 2019
101 votes
20 voters
2k views
10 items
List Rules Vote up your favorite moments from the episode.
The Walking Dead's Season 10 premiere caught us up on four months of developments after the Whisperers enacted their border rule with the Alexandria, Hilltop, and Oceanside communities. Not only are the tensions between the two groups reaching a breaking point, the survivors also have to deal with a threat from space, a newborn baby, and some PTSD.
Carol And Alpha See Each Other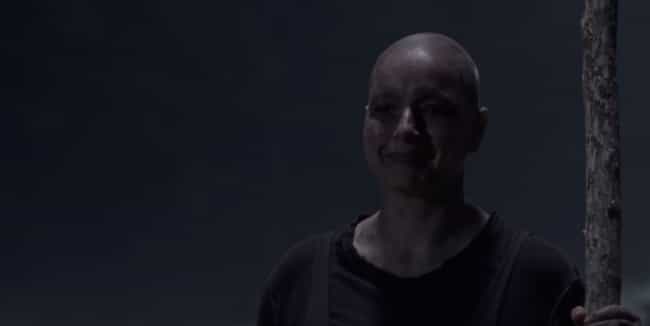 After the fire, Carol wanders off by herself to the area where Alpha showed Daryl the Whisperers' massive collection of walkers last season. Daryl finds her and asks if she still wants to run away. Carol says they should do it tomorrow, both knowing it isn't going to happen. Daryl says he needs her to stick around this time instead of getting right back on a boat and heading out. Before Carol can turn to follow him she sees Alpha come out of the woods across the canyon.
Unfortunately, Alpha sees her, too.

Was this a good moment?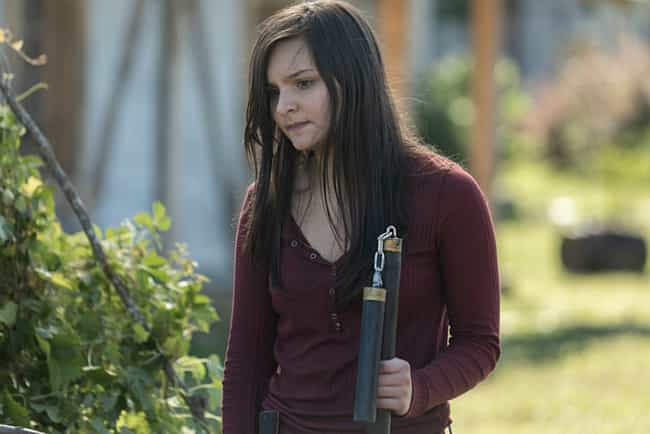 Lydia has also taken up residence at Alexandria and is slowly learning to read – much to her frustration. When Gabriel gets the message about the Whisperer skin he holds an emergency meeting. People had already been walking on eggshells around Lydia and this development doesn't help matters. She goes off to train and blow off some steam and does so near Negan. The two chat and bond over being the people at camp that everyone looks sideways at.
Back in his cell after a day of picking tomatoes, Negan tells Gabriel that he can feel another fight coming and the father will need to make some stronger decisions – like fortifying the walls more at night at the price of letting people know there might be something developing with the Whisperers. He also tells Gabriel that the time for him to finally not be Public Enemy Number One is approaching.

Was this a good moment?
Daryl And Carol Talk About Running Away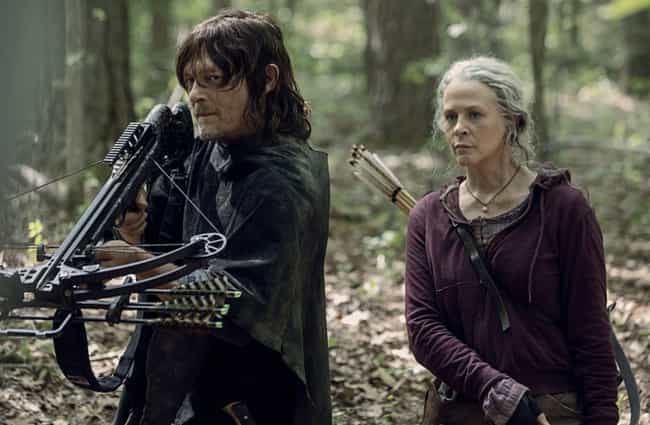 On their hunting trip, the two manage to wound a deer that ends up collapsing on a road that's just on the other side of the border between their territory and Whisperer territory. Carol says there's no harm in just going to grab the animal but Daryl wants to respect the border. The two argue long enough for a group of walkers to decend upon the animal. Carol leaves, telling Daryl they never agreed to the border and that deer could have fed 200 people.
Because the two are so close it isn't long before they've made up. Breaking for lunch, the two talk about just running away from everything. Daryl has no desire to be cooped up on a boat so Carol said they can take his bike and head west. It's clearly a pipe dream for both of them, but a nice one.

Was this a good moment?
Alexandria, Oceanside, Hilltop, And The Kingdom Perform Training Drills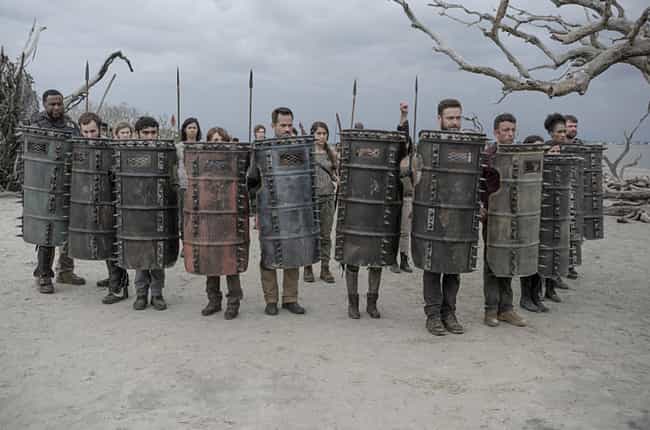 Despite maintaining a shaky peace with the Whisperers four months after the end of last season, the people of Alexandria, Oceanside, Hilltop, and the Kingdom are making a point to keep their skills honed. The season begins with a lengthy segment that shows many of the characters training to take out walkers on a beach. They've crafted large spiked shields for frontline people, have trained others more diligently to use spears and bows, and when things break down (as they do) they bring out their heavy-hitting close-range fighters like Michonne and Daryl to take out threats.
The training goes well – aside from a couple of walkers breaking out, but even that isn't much a threat for these seasoned warriors – and shows just how ready the group is for a potential war with their new enemy.

Was this a good moment?