Total Nerd How The Walking Dead Managed To Turn It Around In Season 7

135 votes
59 voters
14 items
List Rules Vote up the ways The Walking Dead improved throughout the season.
This list is full of spoilers for The Walking Dead. Consider yourself warned if you choose to read on.
It's nearly impossible list all the ways The Walking Dead improved in Season 7. After all, it started with a bang: the death of two fan-favorite characters. And after a few slow episodes, the show began picking up steam. Viewers saw Michonne (Danai Gurira) and Rick (Andrew Lincoln) have some sexy time in a van - and maybe even get married. The second half of the season featured strong moments for Carol (Melissa McBride), Morgan (Lennie James), and even Daryl (Norman Reedus). But the season's big stand out might be Eugene (Josh McDermitt), who went on a power trip and got to play hours of video games to boot.
But if you're wondering how Season 7 saved The Walking Dead, there's an easy answer: it solved its Negan problem. It's taken a few deaths and about 100 replays of "Easy Street" to get there, but now that Carol's back and mad as hell after finding out about Glenn and Abraham, sh*t is about to get real.
And then there are the walkers. They just keep getting grosser and grosser.
What has turned around Season 7 of The Walking Dead for you? Vote it up to the top of the list.
There Were Surprise Deaths
A lot of deaths on The Walking Dead are telegraphed. Every time someone gets a lot of screen time and show composer Bear McCreary drops in a soulful song, you can bet that character is going to bite it.
But even though Richard seemed marked for death, many fans didn't see the killing coming in episode 13. In an especially bold twist, Morgan strangled him in full view of King Ezekiel and the Saviors.
Agree or disagree?
Things Started Moving A Little Faster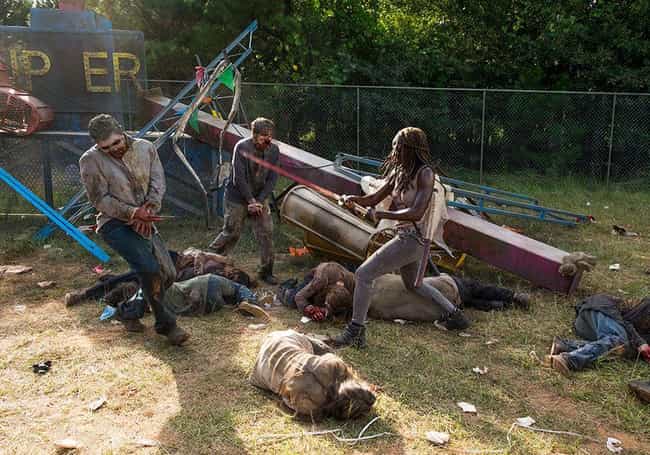 After a quick succession of deaths in the first episode, Season 7 slowed to a crawl for its first half. Luckily, the second half has been much better. With each episode, the story is barreling toward the big showdown between the Saviors and Rick's growing army. Hopefully, Scott M. Gimple and Greg Nicotero will make the conclusion big, noisy, bloody, and satisfying.

Agree or disagree?
Michonne And Rick Were A Real Couple
Michonne and Rick's sexcation turned into a wedding ceremony of sorts in Season 7, episode 12, "Say Yes." The title might refer to the vows the couple exchanges by candlelight (a shout out to the teen classic Sixteen Candles, according to episode director Greg Nictero). If you need more proof that Richonne got married, Nictero calls the episode as their "honeymoon."
In fact, the entire episode was a delight. Michonne and Rick got to enjoy lighter moments, like a date at the carnival, a walker killing competition, and van sex.
Agree or disagree?
The Caryl ship may have sailed, but fans will settle for these two sharing screen time in whatever capacity the show will allow.
When Daryl comes to Carol's cottage in episode 10, he doesn't tell her about Glenn and Abraham dying or the survivors' enslavement to Negan. He tells her a few white lies and recognizes that now is not the time to share the terrible news. That's true friendship.
Agree or disagree?