Buildings/Attractions

List of Famous Warwick Buildings & Structures

List of the famous landmarks that make up the Warwick skyline, listed alphabetically with photos when available. Warwick architectural landmarks as well as other major buildings, dwellings, and other structures in Warwick are included on this list. Information about these Warwick buildings is included on this list, such as when the building first opened and what architectural style it falls under. List includes both new buildings in Warwick and older historic landmarks.
List ranges from Warwick Castle to Kenilworth Castle and more.
This list answers the question, "What are the most famous buildings in Warwick?"
This is a good reference for research into the historical architecture in Warwick. Famous architectural houses within the city of Warwick are included as well, sometimes by address, other times listed by the name of the original home owner.
Budlong Farm is an historic farmhouse at 595 Buttonwoods Avenue in Warwick, Rhode Island. It is a 1-1/2 story wood frame house, with a gambrel roof and a large central chimney. Its current entrance is asymmetrically placed on the north facade, although the original main entry was on the south side. The house was probably built sometime between 1700 and 1720 by John Budlong, whose family was one of the first to settle the area after King Philip's War. The property is a rare local example of architecture to survive from that period. The house was listed on the National Register of Historic Places in 1983. ...more on Wikipedia
City/Town: Warwick, Rhode Island, USA
Style: American Colonial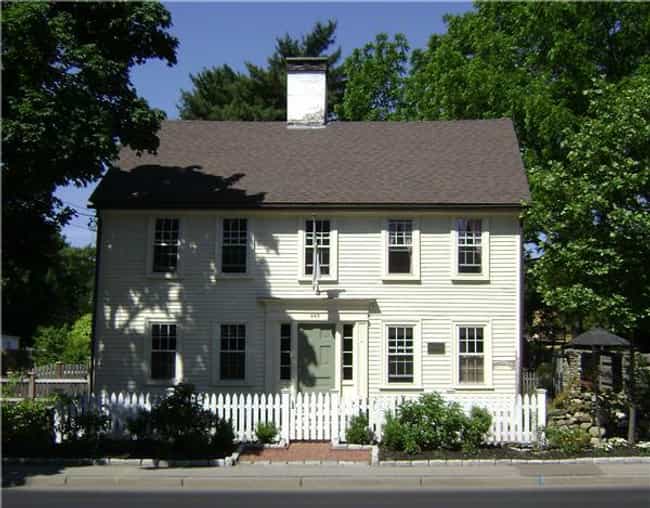 The Caleb Gorton House is an historic 18th-century house located in Warwick, Rhode Island. The Federal style house, a 2-1/2 story five-bay wood frame structure with a central chimney, was built c. 1790. It was restored by Steve Tyson, a preservationist who was featured in the film Old House Soul. The house was listed on the National Register of Historic Places in 1983. ...more on Wikipedia
City/Town: Warwick, Rhode Island, USA
Style: Federal architecture
The Caleb Greene House is an historic house at 15 Centerville Road in Warwick, Rhode Island. The 2-1/2 story wood frame Federal era house was built in 1800 by Caleb Greene, a local businessman. Caleb Greene was a cousin to the American Revolutionary War General Nathanael Greene and the father to Major General George Sears Greene, the man credited with holding the right flank of the Union Army on Culp's Hill at the Battle of Gettysburg on July 2, 1863. The house, one of the better-preserved of the period in the Apponaug area of Warwick, was listed on the National Register of Historic Places in 1978. ...more on Wikipedia
City/Town: Warwick, Rhode Island, USA
Opened: Jan 01 1800
Style: Federal architecture
4
Capt. Oliver Gardiner House
Captain Oliver Gardiner House is an historic house prominently located at 4451 Post Road in Warwick, Rhode Island. Built about 1750, it is a 2-1/2 story wood frame structure with a gambrel roof. Its main facade has six irregularly-spaced bays, with a centrally positioned entrance. The house is unusual for its period in that it has a large central hallway, a feature not commonly seen until the Federal period. Oliver Gardiner, its first owner, was a ship's captain. The house was listed on the National Register of Historic Places in 1983. ...more on Wikipedia
City/Town: Warwick, Rhode Island, USA
Opened: Jan 01 1750
Style: American Colonial