Celebrities

Outright Weird Guy Fieri Facts That Are Actually 100% True

3.9k votes
1k voters
94.1k views
15 items
List Rules Vote up the most bizarre stories about the celebrity restaurateur.
In the traditionally sedate world of cooking shows and celebrity chefs, Guy Fieri has always stood out. With his bleach-blond hair, goatee, wraparound shades, and trademark "Donkey Sauce," it's hardly surprising that there is no lack of strange but true Guy Fieri stories out there. Love him or hate him, he's always marched to the beat of his own drum - whether in the world of television cooking shows or in the restaurant industry - and he's made no apologies for the unique brand of frat-boy food he's popularized.
The Guy Fieri biography starts in Columbus, Ohio, in 1968, where Fieri was born. He grew up in Northern California and graduated from the University of Nevada with a degree in hotel management. He worked in management for a few different restaurants before launching his first eatery in 1996. Ten years later, he won The Next Food Network Star. Since then, Fieri has worked his way to nothing short of TV-chef superstardom, hosting a number of shows on various networks.
Read on for some weird but true facts you didn't know about Guy Fieri and vote up the most bizarre stories about the larger-than-life celebrity restauranteur.
He Has A Large Shopping Cart, Which He Drives Around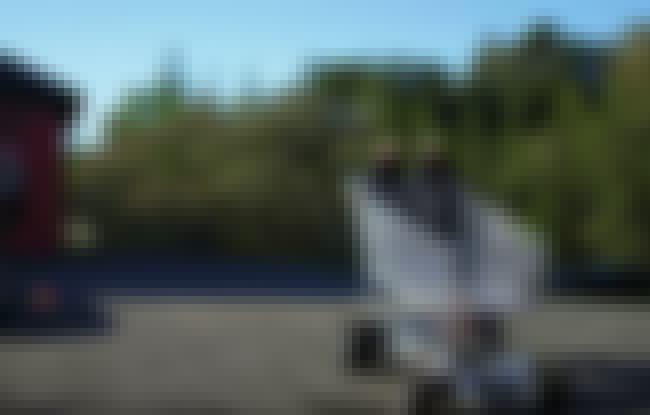 Fieri appeared on an episode of Jay Leno's Garage, where he featured his giant, mobile shopping cart, which runs on a 300-horsepower Chevy 350 engine. Fieri calls his cart the "Express Lane." Eater speculates that the cart may be a nod to Fieri's television show, Guy's Grocery Games.

Is this bizarre?
He Inspired Melissa McCarthy's Character In 'Bridesmaids'
The movie Bridesmaids is unimaginable without Melissa McCarthy's brilliant performance as Megan, the accident-prone, rough-around-the-edges character who seems to have no filter and no fear. McCarthy has said that she modeled the character after Fieri. She told Conan O'Brien:
"Every scene I would have my glasses on the back of my head. I tried for a long time to convince them to let me wear short, white, spiky hair, and they were like, 'You can't actually be Guy Fieri. Cut it off at some point!'"
Is this bizarre?
His Yellow Lamborghini Was Stolen By A Teenager
It's hardly surprising that Guy Fieri drives a bright yellow Lamborghini. What is surprising, though, is the chain of events that followed the car's theft in 2011. 16-year-old Max Wade was the culprit, and the car was eventually recovered a year later, hidden in Wade's storage locker. The teen was given an unusually harsh sentence - life imprisonment. Take note, kids: going after Guy Fieri's flashy toys will destroy your life. If you want the glamorous Fieri lifestyle, just bleach your hair and strap your sunglasses to the back of your head.
Is this bizarre?
He Was Trampled By A Horse As A Child
At the age of 10, Fieri was thrown from a horse, which then proceeded to trample him. The incident caused extensive damage, including a ligament tear from his liver and bruising to his heart. He had to have emergency surgery to save his life, and he still bears a scar on his stomach from this epically close call.