More than almost any other ancient ruler, facts about King Tut, the boy who led an empire and was buried in a tomb stuffed with gold and artifacts, have been hard to deduce. Who was this young man given the responsibility of carrying on a line descended from the gods? How did he live? And how did he die?
Since Tut's tomb was found in 1922, these questions have slowly been answered. Thanks to advanced technology in DNA analysis, we've found some surprising facts about his heritage and his physical stature. It turns out that he wasn't the sensual, dashing boy portrayed in the iconography found in his tomb and afterwards in pop culture. Instead, he was the product of incest, born with deformities, with strings pulled by powerful generals, and a death not from murder, but from injuries caused by his ailments.
Even so, mythology swirls around Tut, his death, the "curse" on his tomb, and the mythical figures in his life. Here are some of the stranger, but completely true, facts about this legendary boy king.
Photo: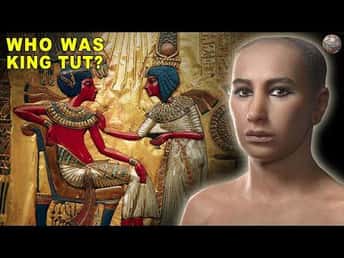 Photo: Wellcome Images / Wikimedia Commons / CC BY 4.0

He Had Numerous Disfigurements

Because of the incest that protected the bloodline of the Egyptian royal family, Tut had a number of prominent physical disfigurements. Far from being the virile boy shown in his golden death mask, Tut probably had a severe overbite, curved spine, a massively disfigured foot, extremely slim hips, a skewed face, and epilepsy. He also may have had pronounced breasts. It's likely that Tut lived in extreme pain most of his short life.