Nostalgia
10 Super Weird Kids' WB Shows You Only Kinda Remember

Rare is the kid's show that actually holds up when you rewatch it as an adult. Somehow, though, throughout the nineties, Kids' WB managed to assemble a bizarre string of borderline brilliant cartoon shows that are just as much fun to watch as an adult as they were when you were racing home from school in order to plop yourself down in front of the tube for another installment of Pinky and the Brain. From Histeria! to Freakazoid!, the Kids' WB specialized in a brand of weirdness that was singularly of its time. It was a slate of bizarre cartoons put together in a way no other outlet had before. And a lot of it worked.
Though the channel is now defunct, its contribution to cartoon history was a fixture in a lot of childhoods and the individual shows that made up the programming block live on in the memories of a legion of adults who are slightly weirder for the experience. Take a look at these weird Kids' WB shows and see which ones you remember.
What happens when nerdy teen Dexter Douglas enters a random string of characters into his computer and then hits "Delete"? He turns into the super fast, super smart, super nuts hero Freakazoid, a zany skewering of more than fifty years of superhero comics. Think of Freakazoid like a PG-rated Deadpool. He loves breaking the fourth wall, screwing with random people, and watching reruns of trashy old cop shows.
Detention is what you'd call a transition series. It was for people who fell somewhere between Disney's Recess and MTV's Daria. Though the tween-oriented show was undoubtedly bizarre, it still went the extra mile to talk about the actual struggles and hassles of an average, hormone-riddled tween's life.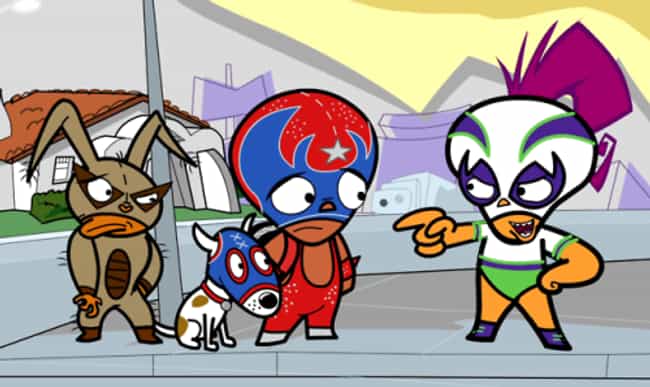 It's almost surprising that lucha libre doesn't appear more frequently in cartoon shows, because the dramatic Mexican wrestling is perfect for an animated series, as ¡Mucha Lucha! so aptly demonstrated as it followed three kids working their way through the world's toughest lucha libre academy, a school that was based in a fictional town filled with current and retired lucha libre wrestlers, all with their own mask and signature move.
Who would have thought learning could be fun? Every episode, Father Time and his cast of weirdos would tell three historically accurate tales in the form of an animated sketch comedy program. Once you've seen Descartes visit a Jerry Springer-style talk show to discuss the question of "Which came first: the chicken or the egg?" you'll be hooked.