Music
20 Disturbing And Ridiculous Stories From Korn That Prove They Were Hardcore Dudes

Updated April 16, 2020
16.6k votes
4.1k voters
334.6k views
20 items
List Rules Vote up the downright strangest stories about nu metal pioneers Korn.
There's no denying the members of Korn are weird dudes. When the band emerged from an underground metal scene in which such disparate bands as Tool, Helmet, Tree, Downset, and Deftones collided, sneaking out of grunge's shadow and into the limelight, they were so emphatically different from anything in mainstream music that they created a complete image and sound other bands emphatically ripped off, including their dress, hairstyle, guitar tuning, vocal affectations, and even those weird little head movements they do.
And then there's the band's behavior. They were weird, they were hedonists, and they were outsiders, but they had the same lust for drugs and sex as rock stars. They presented an image of damage and frailty, buried under crushing instrumentation that went hand-in-hand with their unabashed attitudes about conspicuous consumption and the inherent brutality of life. With this came many insane stories about Korn, which float around the internet and print publications, some of which are so strange they're hard to believe.
The band's haunting music, dark and sometimes disturbing lyrics, and even darker image have long intrigued fans and critics, which makes it no wonder such crazy Korn stories still intrigue the masses more than 20 years after the band formed. If you don't know Life is Peachy from Follow the Leader, here are a few basic facts about Korn. The band formed in 1993, though three of its original members had been playing together for four years at that point. Korn's self-titled 1994 debut album is a landmark in the nu metal scene, opening the doors for a largely lamentable flood to follow. They have had two No. 1 albums in the US, despite the violent, tortured lyrics and extremely creepy music videos.
Whether you're new to the band or have been a hardcore fan all your life, these weird Korn stories will surely shed a little light on what makes this band so entertaining and so captivating.
The Band Sued A School After A Student Wearing A Korn Shirt Was Suspended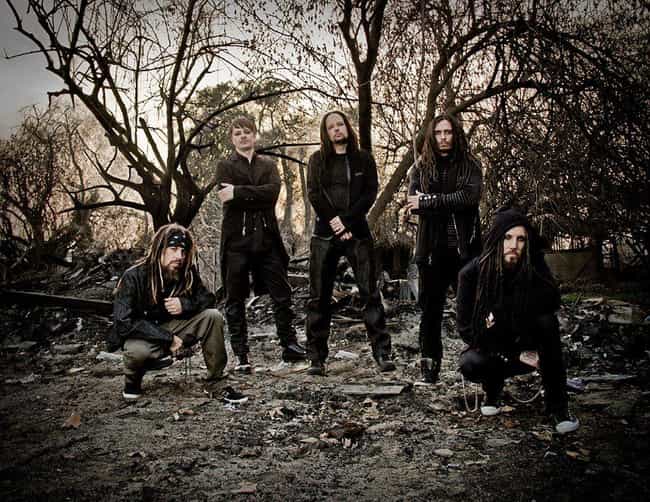 Korn is loyal to fans. Case in point: In 1998, 18-year-old Zeeland High School student Eric VanHoven was suspended for wearing a Korn shirt to the Michigan school. The school's assistant principal, Gretchen Plewes, declared the shirt was "indecent, vulgar, obscene, and intends to be insulting" to a local newspaper, and said wearing a Korn shirt "is no different than a person wearing a middle finger on their shirt."
In response, Korn sued, filing a cease-and-desist order against Plewes and her school district, claiming she made defamatory comments about Korn and infringed on their civil liberties. They also spoke publicly, defending the student and his attire. VanHoven's fellow students planned a walkout in support. Apparently, there wasn't much going on in Michigan in 1998.
Head Had A Tough Time As A Single Suburban Dad Covered In Tattoos
In his book With My Eyes Wide Open: Miracles and Mistakes on My Way Back to Korn, Brian Welch discusses the trials and tribulations of a rock star and former addict raising a daughter as a single father in suburbia.
While living in Arizona with his daughter, Welch alarmed many fellow parents at her school. He writes:
[A] very troubled mother came into the principal's office to voice a serious concernt. Apparently, there was "a strange man in the parking lot with long hair and lots of tattoos." Needless to say, she was extremely worried for the child's safety.

"Was he skinny with long, straight black hair?" the principal asked.

"Yes, exactly!" the woman answered excitedly, thinking she was doing her civic duty by calling out the scary loser in the parking lot.

"Oh, no, that's just Brian Welch, Jennea's dad. He's a sweetheart. Loves Jesus. He's harmless," the principal said with a laugh.
Jonathan Davis Went To Mortician School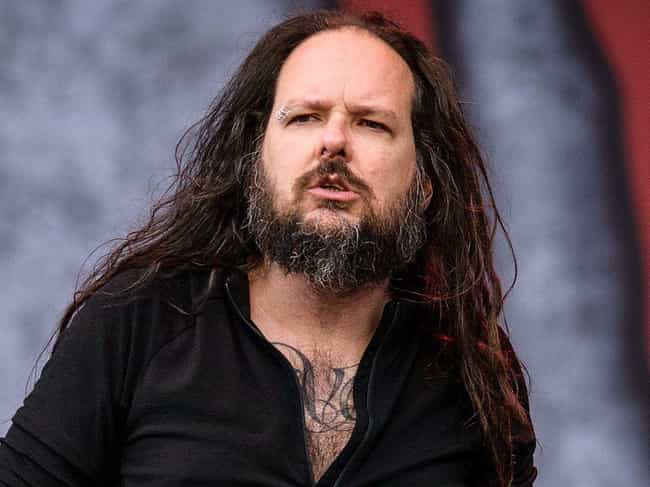 Before Jonathan Davis made a living with Korn, he had another, much darker career path. When he was 16, he began working at a local coroner's office, helping out with cadavers. After graduating high school, he attended the San Francisco School of Mortuary Science, and continued working with human remains until joining the band. He recalls:
[M]y dad and mom both thought I was a problem child or something that wanted to cut up dead bodies. But from the beginning, since my dad owned a music store and was in the music business, he always preached to me, "I'm not letting you go in the music business. You can't be in a band. You can't go and do that." Because he was in it, he didn't want it for me. You're poor one minute, you're rich the next, I don't want that kind of life for you.
Davis has often spoken of gruesome things he encountered during his time as a coroner, including deceased babies, bodies that had to be pulled out of cars, and an adult toy he found in a corpse. In the end, he recalls that his previous career path taught him an important lesson:
The only thing I learned is to appreciate life more. I cut up a lot of my friends, and have seen everything that I could possible imagine, every kind of heinous crime you could imagine.
The Whole Band Cried While Recording 'Daddy'
It's a common misconception that Korn's "Daddy," an extremely disturbing track from the band's self-titled debut album, is about Davis's father sexually abusing him. Davis was molested as a child, though he has said time and again that he was not molested by his father. Years after the song's release, Davis admitted his molester was a babysitter who has since passed, and the problem was exacerbated by adults around him not believing him when he told them about being molested.
The recording session for "Daddy" was a tear-fest. While recording the track, Davis and the rest of the band had a collective mental breakdown. As he puts it:
And I remember that moment, when I came out of [the vocal booth], and I was f*cking sobbing, my whole band was crying, and they just all hugged me and sh*t. It was a crazy f*cking experience... I haven't listened to ["Daddy"] in 20 f*cking years. It makes me cry... So I stopped listening to it. It's a painful, fucking five minutes...