Weird History
The Original, Rejected Designs For New York's Central Park Were Absolutely Insane

Updated October 13, 2018
3k views
10 items
The construction of Central Park was truly the beginning of a cultural movement – it's a landmark that remains one of the most visited parks in the United States today. This expansive patch of green within Manhattan's concrete jungle attracts over 25 million visitors a year, but did you know it was almost a whole lot different?
In 1857, New York City held a design competition to choose a plan for a plot of city-owned land. Out of 33 entries, the city chose the "Greensward Plan," which was created by Frederick Law Olmsted, a landscape architect, and Calver Vaux, an architect. Their submission eventually evolved into the Central Park you know today, with winding foot trails and grassy patches for sunning and sports. But what if Olmsted and Vaux never won?
John Rink isn't the guy who designed Central Park, but he was a true visionary. His failed designs for Central Park show a much different idea – one that goes against the park's current-day organic feeling. John Rink's Central Park designs are orderly and geometric, and they feature a whole lot of topiaries. Check out the Central Park that's more akin to the gardens of Versailles than it is to a city park below.
John Rink's Plan Was Almost Lost Forever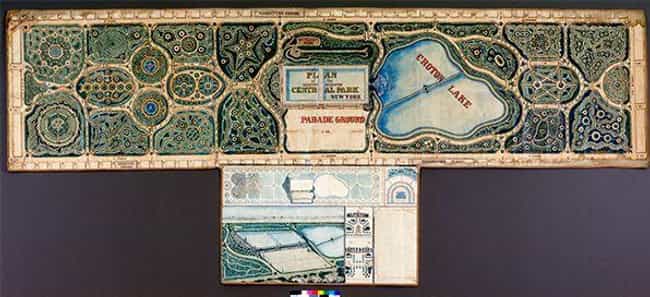 John Rink's plan for Central Park didn't win the 1857 design competition. It was overlooked and discarded. From there, it went missing for decades – until it was discovered in an attic in 2008. As of 2017, the 8 ½-foot-long design was on display at the New-York Historical Society.
In Rink's Plan, The Park Was Totally Devoid Of Open Green Spaces
Central Park is known for being a sweeping patch of nature that contrasts with the metal and concrete of Manhattan's streets and skyscrapers. This patch of serenity includes various meadows and gardens, including the East Meadow, the North Meadow, the Great Hill, the Great Lawn, and the Conservatory Garden. These large fields of grass and open spaces were non-existent in Rink's plan. The only open space was the Parade Ground.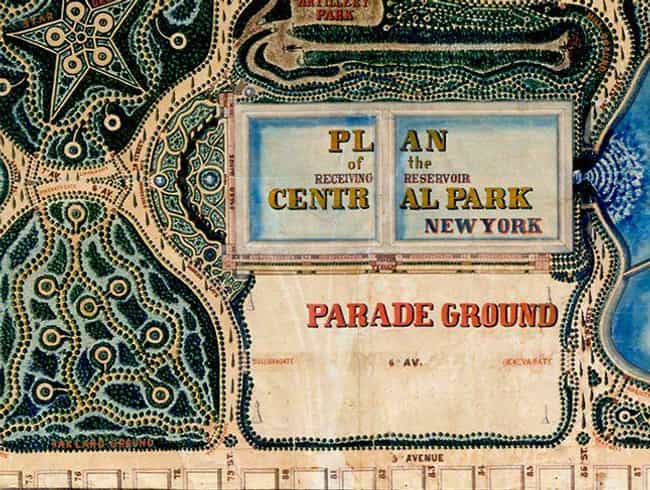 John Rink's idea for Central Park had just a single open space – the Parade Ground. This area, which would have either been dirt, concrete, or very short grass, rested next to the reservoir. It would have been an ideal place for outdoor events, including concerts and fairs. Today, that area is teeming with winding paths, tennis courts, and a police station.
Rink's Park Featured Geometric Paths And An Abundance Of Topiaries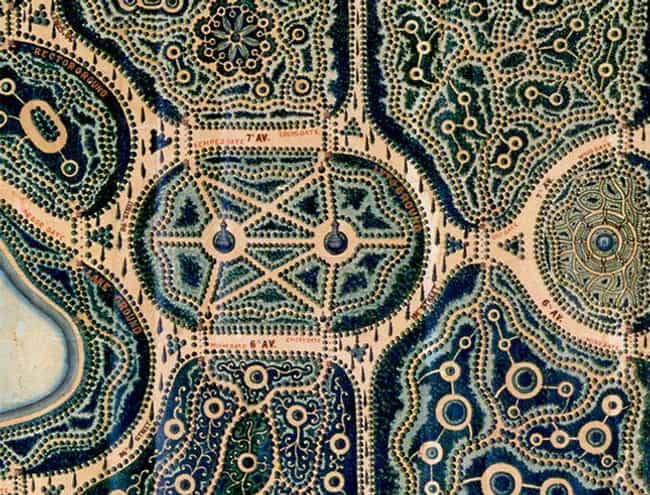 Rink's design was perfectly manicured – almost obsessively so. Rather than opting for a park where nature could run its course and grow wild, the plans were filled with hundreds and hundreds of topiaries laid out in a very calculated, geometric design. Today, historians locate Rink's plan in the Victorian tradition of highly stylized, ornamented landscapes.