Culture
16 Of The Craziest Public Toilets From Around The World

2.5k votes
814 voters
89.3k views
16 items
List Rules Vote up the strangest public toilets from around the world that you're almost curious enough to use.
Most people don't like to use public restrooms, and rightfully so. They can be pretty disgusting. But you may want to rethink that notion after taking a look inside some of the strangest public bathrooms around the world. This list features the funniest and weirdest bathrooms you'll ever see and may even have you eager to use them. These aren't just a funny concept for the Internet, these are real public restrooms that anyone can visit.
Some of these bathrooms are even considered a work of art! Like one toilet created by Maurizio Cattelan that can now be found in the Guggenheim Museum. How often do you get the chance to relieve yourself inside of a bulletproof bathroom, grace your rear with solid gold, or see urinals emerge from the sidewalk? Much like the countless funny toilets around the world, these strange bathrooms are a sight to add to any travel itinerary.
The next time you find yourself in one of these cities, make sure to stop in to take care of business in these weird restrooms.
One-Way Mirror Bathroom In London
This 2004 art installation, entitled "Don't Miss a Sec," was the work of Italian artist Monica Bonvicini. This functioning restroom for the public to use sat outside the Tate Britain museum in London. The artist took a prison toilet and surrounded it in a room built of one-way mirrors. On the outside it looks like a mirrored cube, reflecting only you and your surroundings. But inside, the user can see through the glass, giving the feel of using a restroom with no privacy.
Is this strange?
Pod Toilets In London's Sketch Restaurant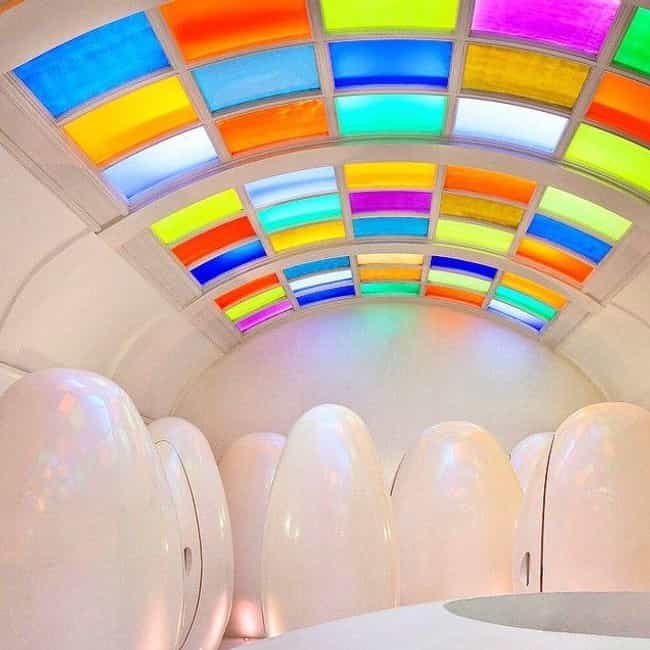 There's nothing ordinary about London's restaurant Sketch. Located in Mayfair, London, England, this restaurant is like nothing you've seen before, from its elaborate tables to its unique bathrooms. Entering the restrooms, you will find a colorful ceiling over a sterile, white room, a couple of sinks, and several white, large pods. Rather than a traditional bathroom stall, you'll find individual toilets in each of these pods.

Is this strange?
The Gold Toilet In New York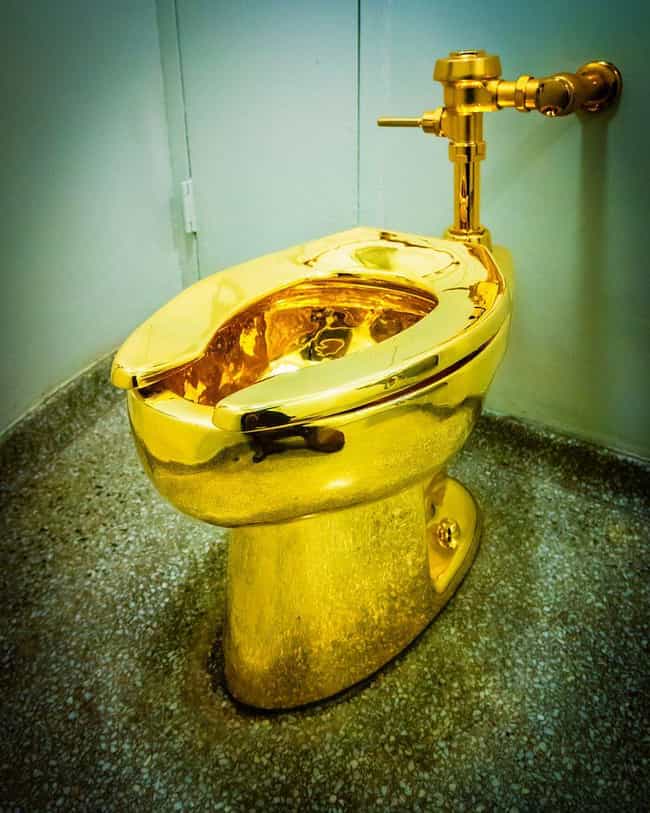 Many people enjoy the luxury of gold jewelry. But what about gracing your rear end with gold? Inside New York's Guggenheim Museum, you can use a toilet cast in 18-karat gold. In 2016, the Guggenheim featured this piece, entitled "America," by Italian artist Maurizio Cattelan. But it's not just for show: it's a fully functioning toilet that museum guests can use.

Is this strange?
Jungle Jim's Restroom In Fairfield, Ohio
You know those times where you retch at the thought of having to use a porta-potty? Well, retch not at this "porta-potty" at Jungle Jim's market in Fairfield, OH. At this international market, it seems they set up porta-potties in the midsts of restroom renovations. But when shoppers get a closer look, they find it is a porta-potty door opening into a hallway which leads to a sizable, clean restroom.

Is this strange?