Culture
16 Of The Craziest Public Toilets From Around The World

2.5k votes
814 voters
89.4k views
16 items
List Rules Vote up the strangest public toilets from around the world that you're almost curious enough to use.
Most people don't like to use public restrooms, and rightfully so. They can be pretty disgusting. But you may want to rethink that notion after taking a look inside some of the strangest public bathrooms around the world. This list features the funniest and weirdest bathrooms you'll ever see and may even have you eager to use them. These aren't just a funny concept for the Internet, these are real public restrooms that anyone can visit.
Some of these bathrooms are even considered a work of art! Like one toilet created by Maurizio Cattelan that can now be found in the Guggenheim Museum. How often do you get the chance to relieve yourself inside of a bulletproof bathroom, grace your rear with solid gold, or see urinals emerge from the sidewalk? Much like the countless funny toilets around the world, these strange bathrooms are a sight to add to any travel itinerary.
The next time you find yourself in one of these cities, make sure to stop in to take care of business in these weird restrooms.
back to page 1
This timed toilet disappears into the ground during the day and rises up at night. These toilets, or loos as they are commonly called, were created to help put an end to the growing issue of public urination. From 10 p.m. until the wee hours of the morning, men roaming the streets of London need not worry about finding a place to release the alcohol that has been gathering in their system. Each of these units is connected to London's sewage systems. Unfortunately, this amazing creation doesn't solve a woman's need to relieve herself.
Is this strange?
Interactive Urinals In England, Japan, And The United States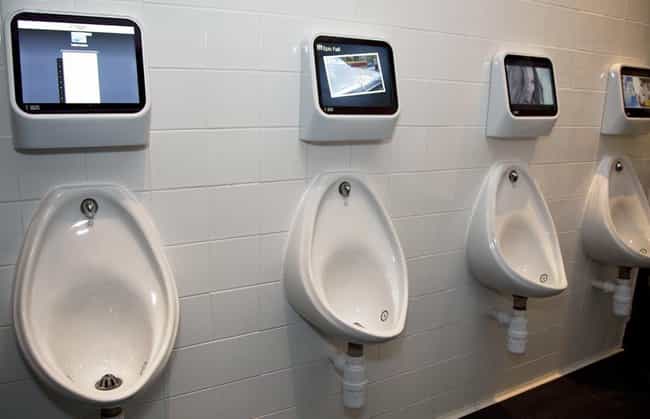 While the conversation about aiming has been raging on for decades, only in 2011 did it become an interactive video game created by the British company Captive Media. LCD screens were installed above pressure sensitive urinals. The concept is simple: the video game is fully controlled by aiming left or right. Now, these interactive urinals can be found all over the world, including Japan and America.

Is this strange?
See the View In Seoul Tower's Restrooms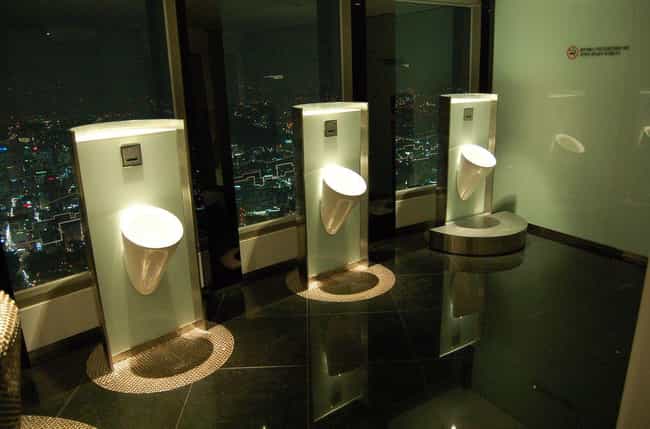 The Seoul Tower, located in Seoul, South Korea, is equipped with great amenities like its cable car, restaurants, cafes, and even a theater. But perhaps its greatest amenity is its view from the bathroom. The Sky Restroom is located on the fourth floor of the tower and the glass wall provides astonishing views looking out onto the city.

Is this strange?
The Madonna Inn's Waterfall Urinals In San Luis Obispo, California
The Madonna Inn in San Luis Obispo, CA, prides itself on its unique restrooms. Inside the men's room, you'll feel more like you're in the great outdoors than a hotel bathroom. It features a stone wall trickling with water, but it's not just for decoration - this is actually the urinal. To top things off, the sinks inside the bathroom are made from colossal clam shells.
Is this strange?