Food
28 Bizarre Restaurants That Really Exist

Updated October 13, 2018
10.5k votes
1.5k voters
172.2k views
28 items
List Rules Vote up the strangest restaurants from around the globe.
Why would you ever eat at one of these weird restaurants? Well, sometimes you're hungry, and all you want to do is go out and eat a hamburger. But other times you're up for something... different. What are some of the weirdest restaurants in America? What are the weirdest restaurants in the whole world? Boy are you in for a treat - a very strange treat.
From gourmet, science-themed concept restaurants, to remote tree house restaurants, to urban dining in pitch darkness, there are plenty of bizarre places all over the US, and all over the globe, for you to stop and refuel. Some of these places are intentional tourist traps; others appeal to the daring by offering strange or gross food items (one restaurant in Taiwan deals exclusively in food resembling human waste, served in dishes shaped like toilets). Others just want to create a unique experience that their patrons can't find anywhere else.
Is there a completely bizarre restaurant in your city, just waiting for your patronage? Scroll down to find out, and be sure to vote up the craziest places to grab a bite below.
Ithaa Undersea Restaurant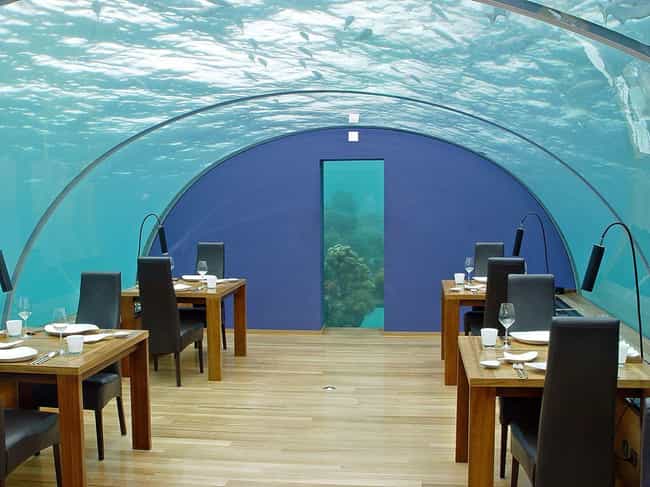 Who among us hasn't dreamed of eating a gourmet meal while surrounded by frolicking deep sea creatures? For those who maybe saw The Little Mermaid a few too many times as a kid, this possibility now exists. Ithaa Undersea Restaurant is located in the Maldives, and has a glass-domed ceiling, which makes it possible for diners to bear witness to leisurely stingrays and schools of deep sea fish gliding over their heads while they're eating.
The Yellow Treehouse Restaurant
The Yellow Treehouse
is a pod-shaped restaurant that hangs out in one of New Zealand's famous redwood trees. At night, it lights up like a big, crazy-shaped light bulb and can be seen from miles away.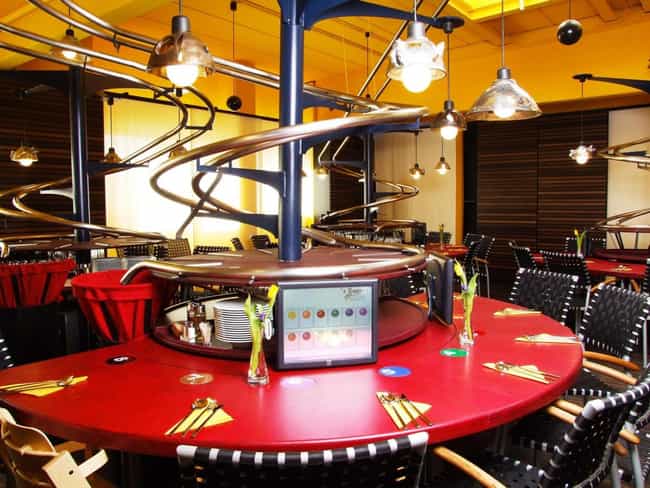 's Baggers, a restaurant in Nuremberg, Germany, has kind of a confusing name, but what's really weird and confusing about it is the interior set-up, which is like a giant Rube Goldberg contraption. Nicknamed "the roller coaster restaurant," 's Baggers delivers food to customers' tables via a crazy network of interlocking metal track systems, like little railroad cars filled with tasty goodness.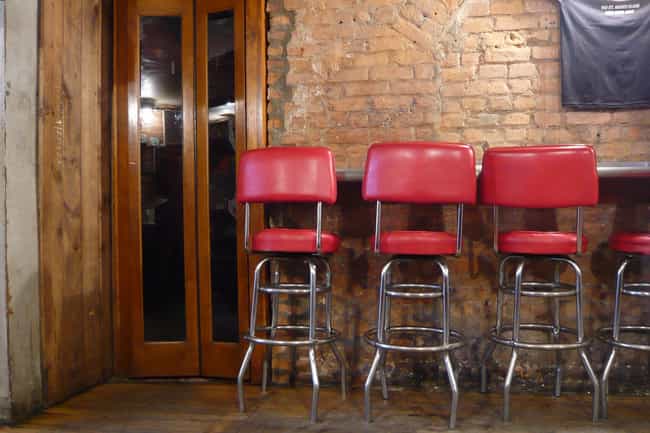 Sequestered away behind an unassuming hot dog restaurant, Please Don't Tell is one of the trickiest pubs for customers to get into in all of New York City. The only way to get in is by sidling inconspicuously into an old-fashioned phone booth tucked way into the back corner of New York's Crif Dogs, picking up the receiver, and asking the voice on the other end for permission to be granted access through a secret panel in the wall. Most nights, the bar is full, and it's usually a good idea to call ahead and make a reservation just to be safe – lots of people try for months and never make it inside.