Royalty
The Weirdest Royal Wedding Merchandise You Can Actually Buy

215 votes
39 voters
1.3k views
15 items
List Rules Vote up the most bizarre souvenirs.
On May 19, 2018, Meghan Markle becomes Prince Harry's wife and an official member of the British royal family. While invitations to the event may have been scant, there's no lack of royal wedding tie-ins to keep the masses from feeling left out. Whether you prefer to eat your crazy royal wedding souvenirs or keep them for a lifetime, there's something for you on this collection of the weirdest royal wedding merchandise.
Some bizarre souvenirs come from enterprising types who had the foresight to put Harry and Meghan's faces on pairs of socks or novelty wiper blade decals. As it turns out, though, even some of the prince's titled relatives have gotten in on the merchandising bonanza. You may have to go to Amazon to get your Prince Harry mask fix, but the folks at Buckingham Palace are taking care of your commemorative china needs. If the product exists, then it can be sold to profit off the royal wedding.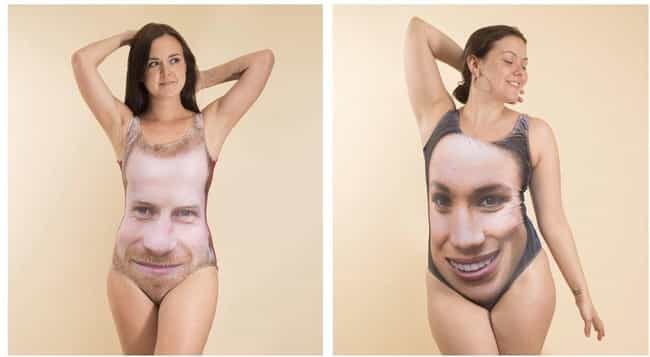 Nothing says true love like going for a dip in a swimsuit plastered with the face of either Prince Harry or Meghan Markle. The swimsuits, sold on Bags of Love, retail for around $40 a piece. True, the swimsuit featuring Harry's face arguably has some unfortunate beard placement. But don't let that stop you from enjoying the royal wedding in style from your swimming pool of choice.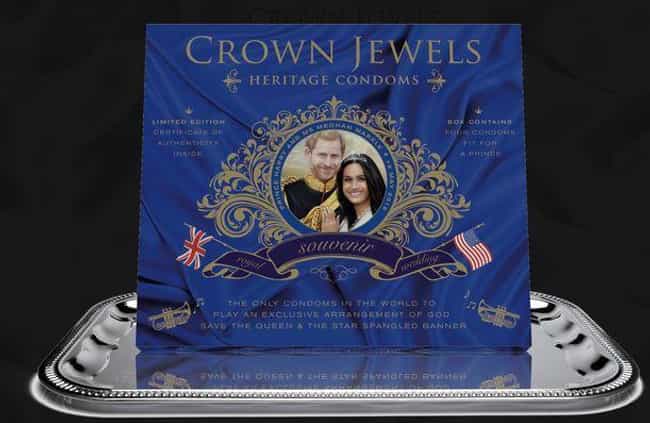 What better way to celebrate the royal wedding than by treating you and your partner to an evening of consensual and safe intimacy? Heritage Condoms have rolled out a line of "artisan sheaths" they call their "Crown Jewels." They retail at £10 (about $14) for 80 condoms, and feature Prince Harry and Meghan Markle on the front of the box.
The fun doesn't stop with the box's design. Once it's opened, the box plays both "God Save The Queen" and "The Star Spangled Banner."
Looking for the perfect finishing touch for your wedding viewing party ensemble? Slip on these earrings from Etsy maker WittyChicken. One earring features Meghan Markle; Prince Harry is on the other. These laminated paper gems sell for $8.50.
4
Velveeta Macaroni And Cheese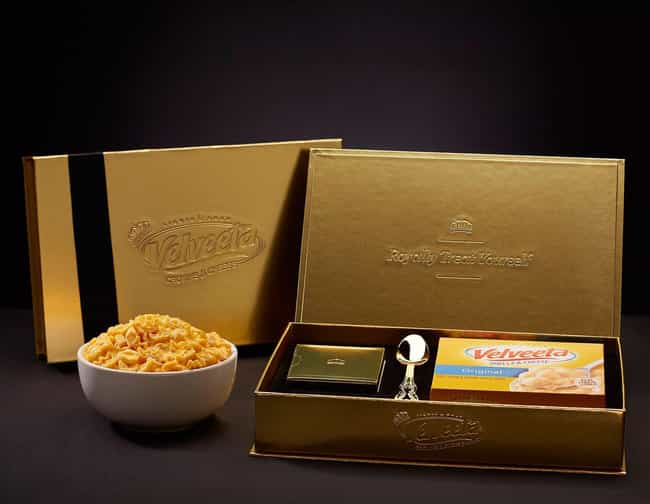 Velveeta rolled out a special edition of their classic macaroni and cheese for Prince Harry and Meghan Markle. The company calls this version of their boxed meal "luxurious" and "extra indulgent." The shells are in the shape of crowns, but the regal culinary experience doesn't end there: the mac and cheese also comes with a gold-plated spoon in a gold foil box.
Unfortunately you can't just pop out to Sainsbury's and buy a box of the royal mac and cheese. You have to enter a contest and be chosen at random to receive that right.