Total Nerd
The Weirdest Comic Book Gimmicks Of All Time

May 27, 2020
437 votes
73 voters
3.1k views
15 items
List Rules Vote up the comics that you have a hard time believing actually got made.
Filled with colorful characters and fantastic adventures, it's easy to forget that comic books are products and that comic book publishers are driven by profits. In the crowded comic book marketplace, the competition is so intense publishers big and small have taken risks with comic book gimmicks designed to capture an audience, expand their product lines, or simply stave off bankruptcy.
Whether the industry is booming or busting, comic book publishers have frequently tried to put a new spin on time-tested superheroes by pairing them with athletes, merging them with other characters, or objectifying them in lingerie or swimwear (Marvel's annual swimsuit edition ran from 1991-1995). Some have even ditched superheroes altogether in favor of rock stars, rappers, and actors, or supplemented their comic books with records and cassette tapes.
Some publishers have used quick-and-dirty gimmicks designed to attract attention and make a quick buck. Others have invested a great deal of time, energy, and expense into creative risks designed to broaden the appeal of comic books altogether. We combed through our long boxes to bring you a list of the weirdest, most ingenious - and sometimes egregious - comic book gimmicks ever devised.
The Blood Of Band Members Was Mixed With Red Ink To Print Marvel's First KISS Comic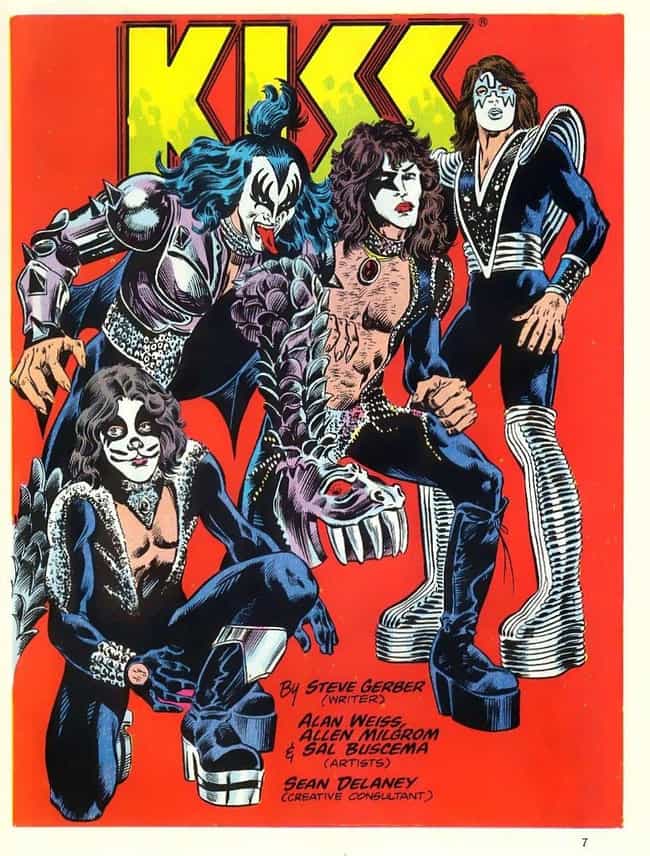 Ranked as one of the greatest metal bands of all time and still rocking the pants off of fans after nearly 50 years, KISS has become a pop-culture institution. KISS is also a merchandising powerhouse, the Star Wars of licensing in the music industry. Their patented likenesses and the distinctive "KISS" logo can be found on countless products (including coffins!) and, in 2020, the band joined forces with Marvel to release new, co-branded retail items.
With such distinctive fantasy-themed alter-egos as "The Space Ace" and "The Demon," and stage performances that involve smoke, fire, and blood, KISS and comic books seem like a match made in heaven. And, in fact, the relationship between the band and comics has lasted nearly as long as the band itself. First appearing in, of all comics, Howard the Duck #12 (April 1977), KISS would go on to appear in countless comics from various publishers over the next 40 years.
Some of KISS's comics have been good, some have been terrible, but none of them compare in sheer KISS-ness to their debut solo appearance in Marvel Comics Super Special #1 (September 1977). The issue was a 40-page monster filled with never-before-seen photos of the band, as well as their own four-color adventure. To hype the book, KISS made a "contract" with their fans... in blood! A nurse drew their blood during one of their tour stops, and it was sent to Marvel's printing plant where the it was mixed into the red ink used to print the comic. A notary was even on hand to authenticate the process.
Marvel Pandered To Horny Teenagers With 'Swimsuit' Issues Filled With Hero Pin-Ups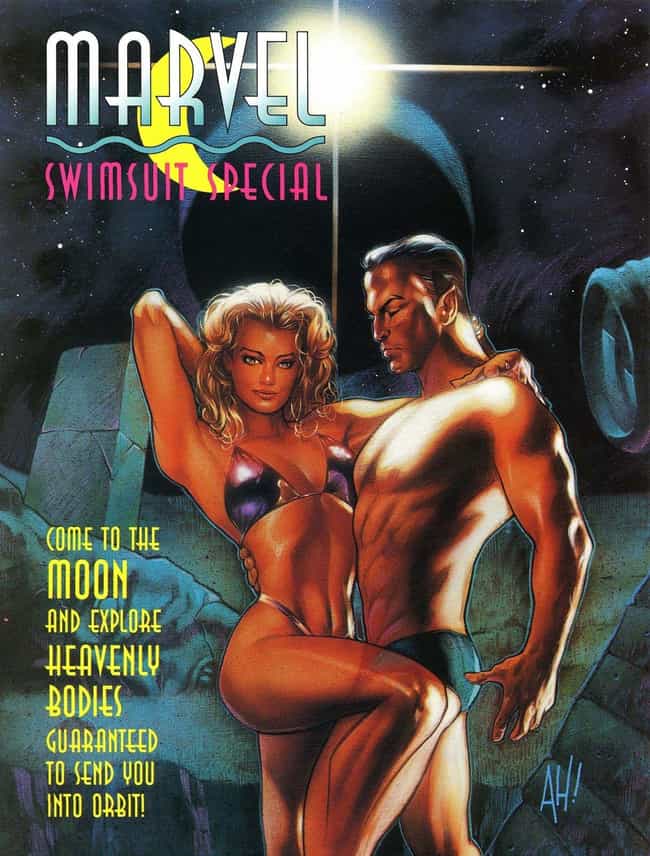 As the average age of comic book readers rose during the late 1980s and early '90s, publishers adapted to the trend by offering more mature content, including a whole spate of aggressive new characters and titles targeted at high school-age teens. Marvel had already found success tapping and retapping the "extreme" well for years when they decided to cater to the runaway libidos of their target audience with comics stripped of stories - and clothing - that turned superheroes into sex objects.
In what was later admitted to be a desperate cash grab, Marvel gambled that its readers would be just as interested in gazing at pin-ups of frolicking, mostly unclothed comic book characters as they had been about reading about grim armored terminators covered in pouches and blood. Five Sports Illustrated-style Swimsuit issues were published between 1991 and 1995, each with a different theme or reason for the characters to be stripped to their bare essentials.
The series inspired other publishers to follow suit over the years, but Marvel has yet to revive the concept. A "sun-splashed" Swimsuit homage was solicited in 2019, but Marvel canceled the title without explanation.
DC & Marvel Merged Their Characters Together To Create The Amalgam Universe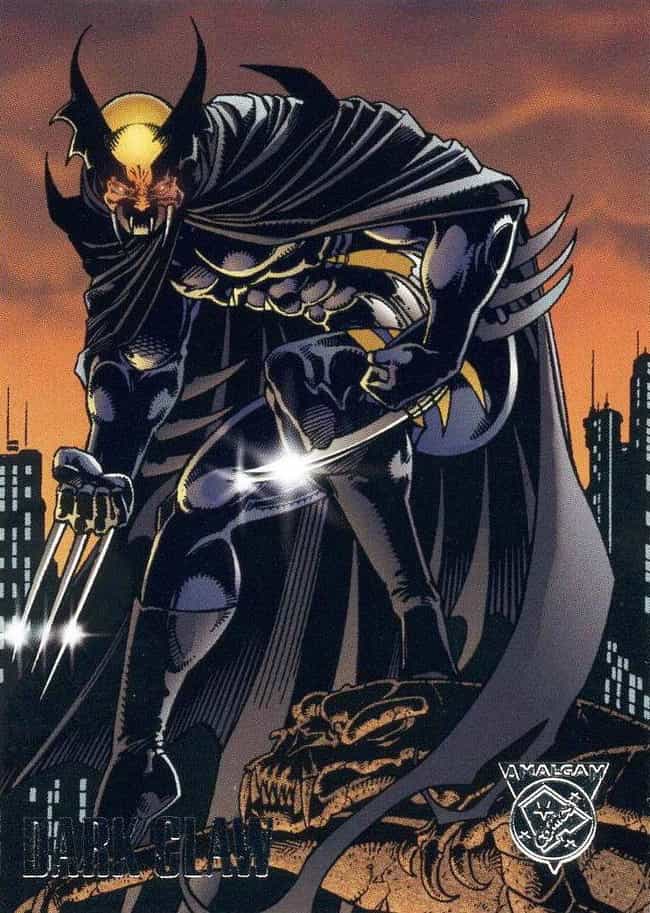 Though they had previously teamed up in joint publications a handful of times between 1976 and 1982, DC and Marvel Comics were bitter rivals for the better part of 30 years when the speculator bubble finally burst in 1993. After a few years of sharp declines in comic book sales, both companies were forced to cancel a number of long-running titles and the once-mighty Marvel was even staring down the barrel of bankruptcy.
In an unprecedented act of cooperation between the two titans, DC and Marvel put aside their differences to give the fans - and struggling retailers - something to get excited about. In two issues of DC versus Marvel Comics and two issues of Marvel Comics versus DC (April to May 1996), the Big Two pitted their mightiest heroes against one another and let the fans decide on the outcomes. In a convoluted story about slumbering celestial "Brothers" and colliding universes, the Flash smoked Quicksilver in a race, Superman smashed the Hulk, and Wolverine diced up Lobo, setting the stage for an even bigger, crazier, event.
Between the third and fourth issues of the series, DC and Marvel jointly published 12 comic books under the shared Amalgam Comics that combined their characters into new ones. Created by DC's Spectre and Marvel's Living Tribunal to prevent the Brothers from destroying both universes, the amalgamated universe saw Batman and Wolverine combined into Dark Claw, Superman and Captain America combined into Super-Soldier, and the Flash and Ghost Rider melded into Speed Demon, just to name a few. Each issue read as if the characters had always existed within the shared universe, and the comic books themselves even included letter columns with letters from Amalgam Comics "fans."
Twelve more issues of Amalgam Comics were published a year later, with the stories taking place during the same fictional time period as the original 12. The spirit of cooperation between the Big Two fizzled and faded when the financial crisis that necessitated the merger abated, and we have yet to see another appearance of Lobo the Duck or Iron Lantern.
CBS Promoted Its Soap Opera Superhero With A Marvel Comics Tie-In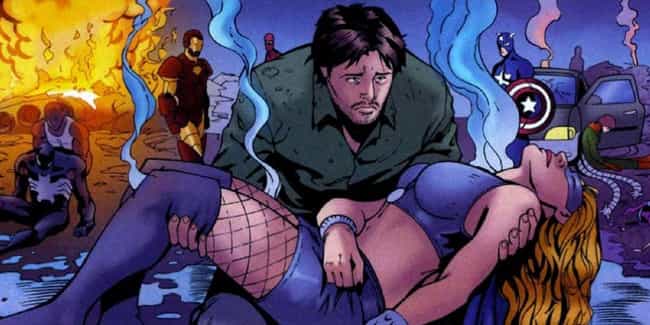 With wildly disparate target audiences and established fan bases, superhero comic books and daytime soap operas have little in common besides "evil twins" and characters who never stay in the ground. But with talk shows and reality programs taking over daytime TV in the mid-2000s, networks found even their long-running staple soaps struggling to hold an audience. In a desperate gambit to attract new viewers and stave off the impending cancellation of its Guiding Light series, CBS in 2006 attempted to bridge the worlds of soaps and supers with a bizarre cross-promotion between the show and the Marvel Universe.
In the November 1 episode of Guiding Light titled "She's a Marvel," Harley Cooper (Beth Aitoro) developed super powers after a freak incident involving spilled soda and electricity. With super speed, electrical powers, and a disturbing lack of irises, Harley chose to use her newfound powers for good. Donning a superhero costume and calling herself "Guiding Light," Harley attempted to clean up the mean streets of fictional Springfield one overly dramatic event at a time.
The episode was promoted with an eight-page Marvel Comics back-up story that brought Guiding Light together with Wolverine, Spider-Man, and the Avengers in a battle against the Sinister Six. Harley's powers dissipated after the comic book battle, the off-screen explanation for why she never used them again in the series.